No one likes to think about death, let alone plan for it. In many families, discussing one's mortality is an extremely uncomfortable topic. But it is a topic that should be discussed and planned for well in advance of your death.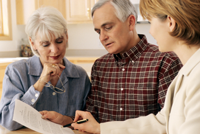 By pre-planning your funeral, you relieve your family of having to make important financial decisions during a period of great stress and grief-a time when
people aren't thinking very clearly and may not know what to do because you never made your wishes known.
It's easy to say, "Don't make a fuss. I don't want a ceremony. Just bury me and be done with it." But it is important to realize that the ritual of a funeral and/or memorial service isn't for the deceased but for the living. It is a time when friends and family can gather together to grieve openly and to provide support for one another.
Pre-planning your funeral can be very informal, and as simple as following our pre-planning checklist and sharing your wishes with a family member. More formal arrangements in the form of a pre-need contract can be set up with a funeral director and pre-funded through life insurance, bank trust agreement, or another method.
Pre-planning, when done properly, can give you peace of mind because you know that your arrangements are complete and pre-funded.  There are several options available for pre-funding funerals.  We can help you make the best choice for you and your financial situation.
By pre-planning your funeral, you can:
make all the arrangements during a time of peace and not leave them to your family during their time of grief
make your wishes known
control the cost of your funeral and protect from inflation
ensure that personal records are organized and easy for your survivors to locate
provide protection in case the need arises before it is expected
When a person dies, we acknowledge his or her passing by holding a funeral, which is the traditional way in this country to honor and pay last respects to a dear departed. A call is made to a funeral home, which takes care of removing the body, often from a nursing home, hospital or hospice.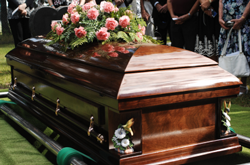 The body is prepared-embalmed, dressed and ready for viewing. For some families, viewing is imperative.  It is important that the family can view the body before the funeral in order to prevent any late denial of death. 
A brief ceremony is usually held at the funeral home, then continued at the church- with hymns, scripture readings, short sermon, and sometimes a eulogy.
A procession to the cemetery follows (for either ground or above-ground burial in a mausoleum or crypt) and concludes with a brief graveside service. Afterwards it is customary for friends and other mourners to gather at the family home or local restaurant for more expressions of sympathy.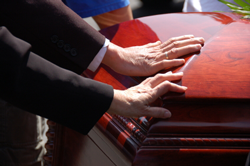 Funerals, in whatever form, are beneficial to the survivors not only as a reminder of their mortality, but also for making easier accepting the loss and moving on with life.
For many, having this whole ceremony with viewing is beneficial.  They need to see the body of their loved one, be close to it and also provides closure and makes them realize that indeed a life has ended.  And that life is celebrated when you hold a funeral.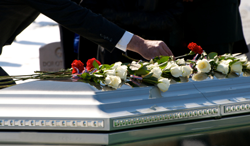 For many families, the graveside service can provide closure to the entire death process.  This option is chosen by families who do not wish to have a visitation or traditional funeral service.  The service is often very simple and can be used in conjunction with other services. Last rituals are often done here - military honors, placing flowers on the casket, and provide a final goodbye. This service can be very important for family members who want to escort their loved one to their final resting place.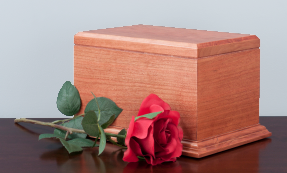 Cremation does not take the place of customary funeral services; it's merely another form of final disposition. Funeral services are the way we, the living, share our grief, acknowledge the contributions the deceased has made to our lives, and prepare ourselves for going on with life.
When choosing cremation, there are three options available to you: a traditional service followed by cremation, cremation followed by a memorial service, and direct cremation.  The first type, traditional service, includes a visitation at the funeral home, followed by a funeral service, then the cremation of the deceased and interment of the ashes.  The second type, cremation followed by a memorial service, includes the cremation of the deceased followed by a visitation, service and interment of the ashes.  The third type, direct cremation, includes the cremation of the deceased, with either the ashes being returned to the family or interred.
Nowadays, you have a wide choice of options on where to place cremated remains. You may select a niche in a columbarium with space for one, two, or even an entire family. You may choose interment in a single burial site, an urn garden, or family plot.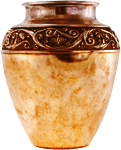 Laws concerning ash scattering differ in each state. If state law permits it, ashes or cremains may be scattered in lieu of preserving them in a columbarium, burying them in a grave, or keeping them at home. Because it's expedient and inexpensive, ash scattering is beginning to appeal especially to busy and mobile families who can't always find time to visit a columbarium or a cemetery.
Whatever your decision, you'll have created a lasting memorial that will serve as a focal point not only for present-day survivors, but also for future generations. This is cremation with dignity.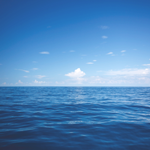 Burial at sea is a means of final disposition of remains, that is performed on United States Naval vessels. The committal ceremony is performed while the ship is deployed, therefore, family members are not allowed to be present. The commanding officer of the ship assigned to perform the ceremony will make notification to the family of the date, time, latitude and longitude, once the committal service has been completed.



Eligibility
Individuals eligible for this program are:
active duty members of the uniformed services
retirees and veterans who were honorably discharged
U.S. civilian marine personnel of the Military Sealift Command
dependent family members of active duty personnel, retirees, and veterans of the uniformed services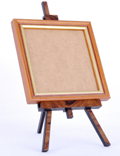 Honoring the life of your loved one and celebrating the life you shared together are the cornerstones of the healing process.  We encourage you to make your loved ones funeral or memorial service as personal as you would want it to be.  This can include bringing in photos of the deceased to be placed on our memorial easels, bringing in framed photos or favorite items of the deceased which can be displayed for the services.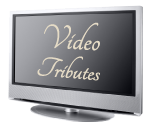 A service our funeral home also offers is memorial tribute videos.  We encourage you to bring in your family photos so we can create a personalized video that can be viewed throughout the visitation, funeral or memorial service on a large screen plasma television.  It can be an integral part of any service. After the service, the video will become a family keepsake.
You Can Never Go Back And Do It Over
Some may say it is harsh to remind you of this, but we know that we must.  We want you to honor your loved one in a way that allows you look back years from now and cherish the memories that were created by your family for your loved one.  Our mission is to provide your family professional services during your time of need.  Allow our family business to serve your family during your time of loss.  We will strive to meet your expectations and allow you time to reflect upon the life of your loved one.