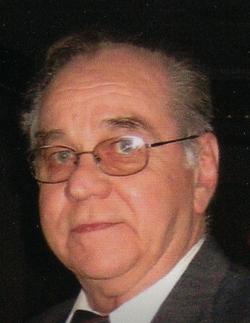 Mr. William B. Balchune, 74, of Duryea, passed away on Thursday, December 14, 2017 surrounded by his loving family.
Born in Duryea on August 28, 1943, he was the son of the late William and Stella (Matthews) Balchune.
Bill was a graduate of Duryea High School, where he met his loving wife, Charlotte (Korpusik) Balchune. After high school, he enrolled in the United States Navy in August 1961. Upon completing his service in 1964, Bill was accepted into the Pennsylvania State Police Academy. For the next 28 years he served and protected with honor. First, as an Undercover Narcotics Officer, then as a Detective, a PSP Helicopter Crew Member, and finally as the PSP Fire Marshal. Bill was also a proud partner in many businesses including Balchune Construction, Kyla Koncrete, Balchune Partners and Lake Scranton Urgent Care.
Bill was a member of Nativity of Our Lord Parish.
He was a member of the American Legion Post 585 and VFW Post 1227, both of Duryea. He loved the outdoors and was an avid hunter and fisherman in his younger days, loved to go yard saling and antiquing with his wife and golfing with his sons and family. Bill always enjoyed participating in politics. He served as a councilman for Duryea Borough.
In addition to his parents, he was preceded in death by brothers, Bernard and Charles, sisters, Patricia Capitano and Margaret Balchune, nephews Frank Williams, William and Jason Baclawski , and Henry Korpusik II.
It was Bill's family who brought him the greatest joy. He is survived by his loving wife of 50 years, Charlotte
Son, William J. Balchune of Duryea
Son, Brandon Balchune and Lisa Bartolomei, of Duryea
Daughter, Chartan Innamorati and her husband, Jamison, of Duryea
Daughter, Brianne Balchune of Duryea
Daughter, Bridgette Poirier and her husband, Martin, of Mountain Top
Daughter, Brittany Bomber and her husband, Lee, of East Benton
Bill was blessed with grandchildren who were the lights of his life. Kyla, Giavanna, Nina, Emerson, Sadie, Remington and Eli.
Brother, Joseph Balchune and his wife, Eileen, of Duryea
Brother, Frank Balchune and his wife, Florence, of Duryea
Sister, Marta Balchune of Duryea
Sister, Jean Wycallis of Dunmore
Sister in law, Ruth Balchune of Duryea
Sister in law, Lois Balchune of Duryea
Bill had many nieces and nephews and extended family members whom he loved dearly.
Daughter in law, Michelle Balchune of Pittston and her daughter, Staci and her granddaughter, Aria
Bill greatly touched the lives of all his family and many friends. He will be missed and forever remembered by all those who loved him.
A Mass of Christian Burial will be held on Monday, December 18, 2017, at 9:30 am in Holy Rosary Church, 127 Stephenson Street, Duryea. Interment will be in the Parish Cemetery, Duryea. A viewing will be held on Sunday from 4:00 pm to 8:00 pm at the Bernard J. Piontek Funeral Home Inc., 204 Main Street, Duryea. The American Legion Post 585 Duryea will conduct Military Services Sunday evening at 7:00 pm. Family and friends are asked to go directly to the church the morning of the funeral. To leave the family an online condolence, please visit the funeral home website, www.piontekfuneralhome.com. In lieu of flowers, the family asks that you make memorial donations to Children's Hospital of Philadelphia, PO Box 781352, Philadelphia, PA 19178-1352.
PLEASE NOTE: YOUR ONLINE CONDOLENCE WILL NOT APPEAR UNDER THE GUESTBOOK ENTRIES UNTIL IT IS APPROVED BY THE FUNERAL HOME
Guestbook Entries
Deepest Sympathies to the Balchune Family Sorry I could not attend due to a knee problem

Jimmy :McAndrew and Family

(almost 4 years ago)
May Eternal Light Shine Upon Him and May He Rest in Peace. Prayers to the family.

Cathy Ryzner

(almost 4 years ago)
To the Balchune Family, Sending many prayers for peace and strength. We are so very sorry for your loss. May you all find comfort in many good memories.

Alfred and Anissa Akulonis

(almost 4 years ago)
Brittany and the entire Balchune family, thoughts and prayers are with you and your family during this difficult time. Your father was an amazing man and he will be greatly missed.

Daria and Tony Bryk

(almost 4 years ago)
So very sorry for your loss. God bless your family during this time.

JOHN & Jeanne Zinkavich

(almost 4 years ago)
Billy, Brandon and the entire Balchune Family: I was very saddened to read in today's paper of your father's passing. It was alway's a pleasure to speak with your dad on his job site visits along with understanding early on what an outstanding person he was, I will forever miss the opportunity to speak and converse with him again. He was a man who stood strongly and was very proud of his family. It is an honor to know him for the time I did. You have my deepest sympathy and condolences and may God Bless you and your dad. As alway's with respect, Bob.

Bob Morris

(almost 4 years ago)
Billy, Michelle, Staci, Kyla, and Family: We are very sorry to hear about the passing of your dad/loved one. Our sincerest condolences go out to your entire family, who have always been nothing but kind to us. We will keep each one of you in our thoughts and prayers. God bless you during this difficult time. Love, Geoff and Kim Vincelli.

(almost 4 years ago)
Balchune Family....He will be missed by everyone,a great man.. Bill &Char always a special place in my heart!!! Prayers ,and my deepest condolences. Rest In Peace Fat...

Christine Russick

(almost 4 years ago)
An outstanding and dedicated member of the Pennsylvania State Police.To members of his family,please accept my sympathy.

Daniel Pillets

(almost 4 years ago)
I will miss my visits with Bill, I will always remember him as a good friend.

Bill Jesse

(almost 4 years ago)
I am so sorry for your loss. Thoughts and prayers to your family.

Michele (Callahan) Gorto

(almost 4 years ago)
My DEEPEST SYMPATHY for you, your Mother, and your entire family. Your Father was a GREAT MAN. He was one of God's Angels working here on Earth. My Heart is feeling your Pain. LOTS OF LOVE, PRAYERS, AND ENERGY to All Of You. XOXOXOXOXOXO

Kathleen Adams

(almost 4 years ago)
So sorry to the whole Balchune family ... Ur gonna be missed Bill ,,

Jim bender

(almost 4 years ago)
Our deepest sympathy to the Balchune family. Our thoughts and prayers are with you. Love to you all.

Jean Peterson and Fred Ford

(almost 4 years ago)
My sympathies to the entire Balchune family. Billy was a good man and a good friend. May he rest in peace. He is up in heaven with his buddy Bob probably getting in trouble already..

Lynn Girman

(almost 4 years ago)
With deepest sympathy. So sorry for your loss. Peace, love and bless the family.

The Turner family

(almost 4 years ago)
So sorry for your loss. He was a great man. Sending prayers to Mrs. Balchune and her family.. Just remember he is now an angel watching down on his family to keep them all safe.

Denise Gosse-Crolly

(almost 4 years ago)
Mr. Balchune, you always made me laugh and always had the best advice! You were one of a kind. May you rest now in heaven with the Angels. My sweet Bridgette, Brianne, Brittany, and family we wish you all the love, prayers, and our deepest condolences during this difficult time.

Jennifer Schwartz

(almost 4 years ago)
to charlotte and family, all my thought and prayers are with you at this most difficult time, may Bill R.I.P.

mary mcandrew

(almost 4 years ago)
Words at this time can mean so much and so little. Duryea lost a great asset and friend with the loss of Mr Balchune. My wife and i extend our deepest sympathies. Our prayers are with your family and Bill.

John and Mary Mlaker

(almost 4 years ago)
May you Rest In Peace

Rose Collins

(almost 4 years ago)
Sign the Guestbook