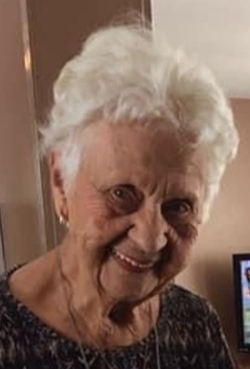 Wanda Rincavage, 98, of Pittston, passed into eternal life on Sunday, January 31, 2021, at home surrounded by her most prized treasure, her family.
Wanda was born on April 4, 1922 in Duryea, Pennsylvania, the daughter of the late Alexander and Anna Jarmulowski Waselewski.
She served as a staff sergeant in the United States Army during World War II with her main task of interrogating prisoners of war. After her service, she met the love of her life "Fran" on a bus. After the two wed and were blessed with two children.
She was employed at RCA, Dunmore for 30 years. After retirement, she devoted her life to her granddaughters. She was a member of Nativity of Our Lord Parish, Duryea where you could find her in her usual seat at 4:00 mass on Saturday.
She was a devoted bingo player and could be found in her weekly bingo spots in her reserved seats. She loved playing pinochle and the penny slots.


She was preceded in death by her loving husband, Francis (Rinky), who passed away on December 7, 1995, her beloved son, Paul, and several brothers and sisters.
She is survived by:
Daughter, Phyllis Falkowski and her husband, Joseph, of Pittston
Granddaughter, Fallon Plis and her husband, John, of Moosic
Granddaughter, Jillian Campbell and her husband, Anthony, of Pittston
Granddaughter, Meagan Rincavage of Scranton
Granddaughter, Danielle Hewitt and her husband, Nicholas, of Pittston
Great grandchildren:
Jayden Falkowski
Skylar and Cole Campbell
Harper and Grayson Hewitt
A Mass of Christian Burial will be held on Saturday, February 6, 2021, at 11:00 am in Holy Rosary Church, 127 Stephenson Street, Duryea with the Rev. John Polednak officiating. Interment will be in Holy Rosary Cemetery, Duryea. There will be no viewing. Arrangements are by the Bernard J. Piontek Funeral Home Inc., 204 Main Street, Duryea. To leave an online condolence for Wanda's family, please visit the funeral home website, www.piontekfuneralhome.com.
PLEASE NOTE: YOUR ONLINE CONDOLENCE WILL NOT APPEAR UNDER THE GUESTBOOK ENTRIES UNTIL IT IS APPROVED BY THE FUNERAL HOME
Guestbook Entries
Joe, Phyllis & family. Prayers for Wanda and your family during this difficult time. No matter how long we have them - it never seems long enough. She truly was a remarkable woman. Take care, Stay safe and God Bless.

Valerie Olszewski

(20 days ago)
WANDA WAS A STRONG LEADER AND A GENTILE TEACHER AND SHE WILL SURELY SIT AT THE RIGHT HAND OF GOD.

TOM MAZIARZ (RCA)

(22 days ago)
Such a lovely woman! I remember sitting by the pool with her and the grandkids, enjoying the day. So sorry for your loss

Rose Yarmel

(22 days ago)
My deepest sympathy to the family. May the good Lord comfort you all at this time.

Cathy Ryzner

(23 days ago)
Dear Phyllis, Joe, & family, We only met Wanda about a year ago but she felt like family She was always ready with a smile and a hug. We will miss her.

Kathy & Nicky Roberto

(23 days ago)
So sorry for your loss .

Lorraine marancik

(23 days ago)
Dear Phyllis, I am so sorry for your loss .I will remember Wanda by meeting her at Redner's and gabbing away. Such a nice lady. My sincere condolances to you and your beautiful family.

Carolyn Fee

(23 days ago)
Such a strong woman. RIP Aunt Wanda

Diane tonte

(24 days ago)
My heart goes out to you all on the loss of such a special woman. I loved my Aunt Wanda to the moon and back. She is now with her hubby, son and all her sisters and brother's. Im sure they having a high old time up in heaven.

Ruth Hessling

(24 days ago)
Dear Phyllis, Joe, girls and family, Very sorry for the loss of your Mom/Gramma. We know she is happy as a lark being with her boys. Wanda was my buddy and I loved her dearly. May she rest in paradise.

Lynn

(24 days ago)
Wanda you will be missed. Thank you for being a part of our lives. Love Tiffany, Ethan and Evan

Tiffany Kingrey

(24 days ago)
My sincere thoughts and prayers to Phyllis, Joe, their children, and grandchildren. I was very fortunate to have met and been in Wanda's company on several occasions and she was just the sweetest and kindest person. She will be greatly missed.

Rita Molino

(24 days ago)
Sign the Guestbook