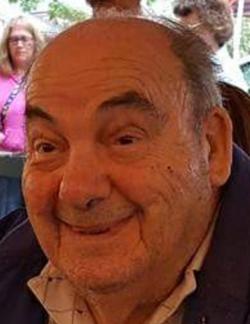 Mr. Vincent G. (Papa Bear) Tonte Sr., 85, of Duryea, passed away Wednesday, April 25, 2018, at The Gardens at Lakeside, Dallas.
Born in Avoca, he was the son of the late James and Grace Tonte. Prior to his retirement, he was employed by the former Topps Chewing Gum Co., Duryea.
Vince was a member of Our Fathers House, Scranton and the Pittston Senior Citizens Center, Pittston.
Vince was preceded in death by his wife, the former Theresa Scott, who passed away on January 24, 2011 and several brothers and sisters.
Surviving are:
Son, Vincent Tonte Jr. and his wife, Kim, of Hunlock Creek
Daughter, Victoria Tonte of Duryea
Son, Geno Tonte and his wife, Nikki, of Kulpmont
Daughter, Teri Roginski and her husband, John, of Pittston
Son, Jason Tonte of Duryea
12 grandchildren
Sister, Josie Gardner of Pittston
Brother, Peter Tonte of Shavertown
Sister, Louise Durkin of Avoca
Nieces and nephews
Funeral services will be held on Monday, April 30, 2018, at 10:00 am at the Bernard J. Piontek Funeral Home Inc., 204 Main Street, Duryea by Pastor Bob Walls. Interment will be in St. Joseph's Cemetery, Duryea. A viewing will be held on Sunday from 2:00 pm to 4:00 pm at the funeral home. To leave an online condolence for Vince's family, please visit the funeral home website, www.piontekfuneralhome.com.
PLEASE NOTE: YOUR ONLINE CONDOLENCE WILL NOT APPEAR UNDER THE GUESTBOOK ENTRIES UNTIL IT IS APPROVED BY THE FUNERAL HOME
Guestbook Entries
Teri, John & Family, We are so very sorry for your loss. Your Dad was a man of great strength & a joy to get to know.

Vince & Ellen Masters

(over 2 years ago)
My deepest sympathies to all Uncle Vince's friends and family members in the Avoca, Duryea and Pittston areas. Even though I did not know him well, and wasn't able to spend as much time as I would have liked with my Tonte relatives, my thoughts and prayers go out to everyone whose heart he touched. He was always so happy when my mom and I came to visit. May the memories you have for him carry you through this difficult time and may his soul forever rest in peace.

Stephanie (Schoffstall) Kahres

(over 2 years ago)
Teri & John, Ray and I are so very sorry to learn of your father's passing. We know it has been a difficult year for both of you and the future year will be one of healing and adjustment. Your Dad is still with you because Love Never Dies.

Ray and Andrea Pilch

(over 2 years ago)
THERESA , GOD KNEW HE COULDNT TAKE ANY MORE, SO GOD LIFTED HIM UP AND PUT HIM IN A BETTER PLACE.. I KNOW HE IS LOOKING DOWN AND SAYING " MY DAUGHTER TOOK SUCH GOOD CARE OF ME" MAY YOU BE AT PEACE .

JERRY JOHNSON

(almost 3 years ago)
So Sorry for your loss, I worked with Vince at Topps. He was a likable guy. Thoughts and prayers to the family.

Sidney Sweetman

(almost 3 years ago)
Geno and family so sorry for the loss of your father Sending prayers

Kelly Jacobs

(almost 3 years ago)
So sorry for your loss... Mr Tonte was a great man. Always kind and friendly...He will be missed.... God Bless him.

Jeanette (Menze) Martin

(almost 3 years ago)
So sorry for your loss, thoughts and prayers to you and your family

Denise Gosse-Crolly

(almost 3 years ago)
Geno and family, our deepest condolences. Take comfort in the memories that you have shared together.

Kimberly Alexander Gillott

(almost 3 years ago)
So Sorry for your loss Prayers go out to you and the family !! God rest his soul !!

Donna Griffin

(almost 3 years ago)
So very sorry for your loss Tonte's. Praying for comfort for your entire family

Lou & Sheila Ebersole

(almost 3 years ago)
I'm very sorry for the passing of your beloved family member. Geno you and your family are in my thoughts.

Jim Zablosky

(almost 3 years ago)
Thoughts and prayers to you all at this timee. He is a blessed man to have come to know Jesus, and now is with him. Terri and John thank you for sharing Christ with him and rest knowing where he is now. Love you guys.

Rappenglieck Family

(almost 3 years ago)
Teri, John, Victoria (and family). I count it a privilege to have known Papa Bear. His smile always lit up the room. He will be greatly missed. Praying for God's comfort and peace during this time. May you feel His loving arms holding you close. Love you!!

Elsie J Ward

(almost 3 years ago)
I'm very sorry for your loss. Papa bear is a great man ! I'll pray for the Lord's favor and peace upon your family.

Andrew Flynn

(almost 3 years ago)
Rest in peace Uncle Vince. We'll never forget you. Prayers for your family. God Bless

George & Angela Schoffstall Jr.

(almost 3 years ago)
So sorry for your loss, our thoughts and prayers go out to you and your family.

Bernie & Donna Karlowicz

(almost 3 years ago)
Sign the Guestbook