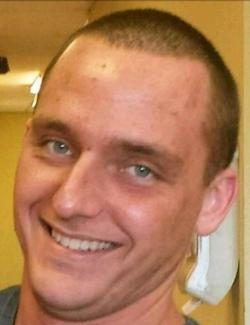 Mr. Thomas Skylar Kule, 34, of Avoca, passed away Monday, June 18, 2018, at his home.
Born in Jacksonville, Florida, he was the son of Thomas and Therese Roberts Kule. Skylar was a graduate of Central Bucks West High School, Doylestown. He was currently employed by Hansen Electric, Avoca.
Skylar was a loving son, father, brother and grandson who is going to be deeply missed by his family. Skylar enjoyed spending time with his dog, Lucy, weight lifting and learning to speak several different languages.
In addition to his parents, Skylar is survived by:
Son, Thomas Skylar Kule Jr.
Daughter, Samantha Creegan
Sister, Bambi Meier
Nieces, Ashlynn and Annabella
Grandmother, Joan Boutwell
Girlfriend, Amber Pacovsky
Aunts, uncles and cousins
Private funeral services will be held at the convenience of the family. In lieu of flowers, memorial contributions may be made to NAMI, 3803 North Fairfax Drive, Suite 100, Arlington, Virginia 22203 or www.nami.org.  Arrangements are by the Bernard J. Piontek Funeral Home Inc., 204 Main Street, Duryea. To leave an online condolence for Skylar's family, please visit the funeral home website, www.piontekfuneralhome.com.
PLEASE NOTE: YOUR ONLINE CONDOLENCE WILL NOT APPEAR UNDER THE GUESTBOOK ENTRIES UNTIL IT IS APPROVED BY THE FUNERAL HOME
Guestbook Entries
Sky it's been 2 month and I still can't wrap my head around that your gone!!! I love you so much I went to our concert it was an amazing show really super bummed you weren't there with me to see it. But I think you were I got a towel from Manson and a shirt I plan to put in a box as a memorial to you. It's going to be amazing. I understand why you had to go just wish I was able to say good bye 1 last time and to truly let you know I love you more than life it's self. You were my everything and I don't think you even knew. RIP until we meet again. Please guide me now I know you can you were so smart. I LOVE YOU WITH ALL MY HEART!!!!!!

Bambi

(7 months ago)
My family and I send our sincere condolences to you for your recent loss. Though words may not soothe your pain, may knowing that others care for you, share your grief, and are praying for your continued strength, courage and endurance, along with God's promise to eliminate death and all source of pain, and to use his Son to resurrect our dear loved ones who have passed away, in time help you to get through this difficult time (Isaiah 25:8; John 5:28).

J Mitchell

(8 months ago)
Thomas and Therese, I'm so sorry for your loss, thoughts are with you.

Fred Donato

(8 months ago)
May he already be in the eternal embrace of our Lord.

Ken & Pam Urtz

(8 months ago)
Tom, I am so very sorry to learn of your loss.

Dave Kramer

(8 months ago)
I am so sorry for your loss. The Bible describes death as an enemy, and how fitting, since death brings us so much pain. But there is someone who is stronger than death. "He will swallow up death forever, And the Sovereign Lord Jehovah will wipe away the tears from all faces. The reproach of his people he will take away from all the earth, For Jehovah himself has spoken it." Isaiah 25:8 Jehovah will remove the cause of our suffering and dry our eyes. Death will be destroyed, and those who have died will be brought back to life, with the prospect of living forever in paradise on earth. Right now it may be hard to see past the pain, but there is hope for the future. May this hope comfort your grieving hearts.

LJ

(8 months ago)
Our deepest condolences to the Kule family. You are all in our thoughts and prayers.

Joe and Jean Kutz

(9 months ago)
Still in disbelief. Wish that I could have been there for you, Sky. May you Rest In Peace.

Patty Walter

(9 months ago)
Very sorry for your pain and loss. Your family is in our thoughts and prayers.

Mark and Lisa Hoover

(9 months ago)
so sorry for your loss will keep you in my prayers

Randy Grant

(9 months ago)
Tom, I'm so sorry for your loss of Sky. I'll keep you and your family in my prayers.

Bob Lacriox

(9 months ago)
My heart goes out to Skylar's family. Prayers are with you.

Margaret Grimes

(9 months ago)
May you rest forever in His peace and may the hand of the Father be on the family during this time. You are loved forever.

Yvette Mathews

(9 months ago)
The world is a darker place without you in it, your smile was as gorgeous as your love was deep. It lit up more than just your face, I love you my friend...

Jessica Murphy

(9 months ago)
Our hearts are full of sorrow for all the Kule family and the tragic loss of Skylar. We are so sorry and send our heartfelt condolences.

Jon and Kathy Reed

(9 months ago)
Kule family you are in our prayers. Very sorry for your loss.

Andrew and Terri Runyon

(9 months ago)
a sad loss,so very young.rest in peace

Kim and Stan Towarnicki

(9 months ago)
Skylar you are so very precious to so many. You will live in our hearts & thoughts forever.

Joanne & Gary Palmer

(9 months ago)
To the Kule Family My Deepest Condolences for the loss Skylar. Thinking of you all at this sad moment

Donna Fritz Bugg

(9 months ago)
I am very sorry for your loss of Skylar. Thoughts and many prayers to the family's..Hope there is peace where he now rests..

Michael J Cecero

(9 months ago)
RIP my dear cousin. You will be missed by all your family and friends.

Vickie Work

(9 months ago)
We know how loved and how missed you will be. Praying for comfort and strength for your family.

Jill Hale

(9 months ago)
We only knew you for a short time but we know how much your family loved you. May God rest your soul

Mary& Don Christian

(9 months ago)
I'm so sorry for your loss. Many thoughts, prayers, hugs and love to all of you. RIP

Teresa Cecero Beideman

(9 months ago)
RIP sweet boy, may you finally have peace. You will be missed forevermore.

Deanne Sevier

(9 months ago)
You are loved by many people— you are home with angels and peace

Nancy gill

(9 months ago)
You are with God, safe in his care. Praying for you and the family who loved you.

Linda Gossard

(9 months ago)
RIP Sky You will be missed by so many.

Debbie Peck

(9 months ago)
Sign the Guestbook