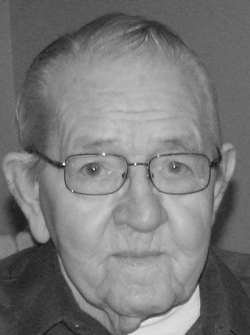 Mr. Thomas J. McGlynn Sr. 81, of Duryea, passed away Tuesday afternoon at Regional Hospital, Scranton.
Born in Avoca, he was the son of the late Thomas and Mary Marley McGlynn. He was a graduate of Duryea High School. He served in the United States Army during the Korean Conflict. He was formerly employed by Pepsi Cola, Wilkes Barre and prior to his retirement, he was employed by RCA, Dunmore.
He was a member of Nativity of Our Lord Parish, Duryea.
He was a member and post adjutant of the V.F.W. Post 1227 Duryea and a life member of the West Side Social Club, Avoca.
He loved to read and watch sporting events, especially golf. He was a loving husband and father. Affectionately known as PaPa, he loved spending time with his grandchildren. Tom enjoyed all the meals that his son-in-law cooked for him.
He was proceeded in death by: brother: Martin McGlynn, brothers-in-law: John (Doc) Blanchard and John Ochall and sisters-in-law: Mercedes and Rosemarie McGlynn.
He and his wife the former Anna Rita Ochall celebrated their 53rd wedding anniversary this past July 4th.
Surviving in addition to his wife are:
Son: Thomas J. McGlynn Jr. of London, England
Daughter: Mary Ann Kabacinski and her husband, Andre, of Duryea
Grandchildren:
Ashley, Kristen and Christopher Kabacinski
Alexander, Jonathan, Andrew and Mary Kathryn McGlynn
Brother: John (Hoppy) McGlynn of Duryea
Brother: Leo (Buzz) McGlynn and his wife, Patricia, of Avoca
Sister: Mary Blanchard of Duryea
Sister in law: Connie Ochall of Hobart, In.
Nieces and Nephews
Great Nieces and Great Nephews
The family would like to thank the staff of Riverside Nursing and Rehabilitation Center, Taylor and Regional Hospital, Scranton for the care and compassion that was shown to Thomas and his family during his illness.
A Mass of Christian Burial will be held Tuesday, May 14, 2013 at 11:00 A.M. in Holy Rosary Church, Duryea with the Rev. Andrew Sinnott officiating. Interment will be in Holy Rosary Cemetery, Duryea. There will be no public calling hours. Family and friends are asked to go directly to the church the morning of the funeral. The V.F.W. Post 1227 Duryea, will conduct military services. In lieu of flowers, memorial contributions may be made to Nativity of Our Lord Parish, Duryea. Arrangements are by the Bernard J. Piontek Funeral Home Inc., 204 Main Street, Duryea. To leave the family an online condolence or for further information, please visit our website: www.piontekfuneralhome.com.
Guestbook Entries
Thomas McGlynn was a man who loved stories. There were few things he enjoyed more than sitting in his recliner, watching war movies and classic films. If he wasn't watching, he was reading. He had an impressive collection of paperback novels, turning their pages in his recliner, in parking lots, in waiting rooms or on the front porch. As much as he loved his films and his books, he would pause the television and place his bookmark whenever someone wanted to tell him their own story. Tom was an extraordinary listener, absorbing the stories of his siblings, children, grandchildren, friends, and other family members. He would sit attentively, listening to the narratives, appreciating each one. It's no wonder that this man – a true lover of stories – was a master storyteller himself. Tom knew exactly when to speak and what to say. He seldom spoke, but each word was carefully chosen. When Tom spoke, you listened. His profound stories belied his quiet demeanor. He was a private man, but if you were someone whom he knew and trusted and loved, you would become a keeper of his stories. How many of us has sat near his recliner, or at the VFW or West Side Club, or on the front porch, or at a dinner table and listened to him speak? Only if we all compiled our separate collections of his stories could we write Tom's own history. He grew up on McAlpine Street, the son of Thomas and Mary Marley-McGlynn. He was the oldest brother of Marty, Hoppy, Mary, and Buzz. His childhood was normal, as he caused trouble around Duryea and Avoca. His classmates at St. Mary's Avoca and Duryea High School knew him for playing sports. His love of reading made it no surprise that his favorite subject in school was English. In grade school, Ashley interviewed Papa for a biography, and her favorite story was when he killed a rattlesnake. This act of bravery prefigured his service in the United States Army in Germany during the Korean Conflict. He first met our grandma, Anna Rita, at his brother Hoppy's wedding. They were married soon after on July 4, 1959, and they had two children – as Grandma so fondly referred to them as, their Irish twins, Thomas and Mary Ann. He raised them with the wisdom of his expertly chosen stories, and his children are living examples of his wonderful job as a father. His happiness came from time spent with his children, his son-in-law Andre, his grandchildren: Alex, Ashley, Jon, Andy, Kristen, Chris, and Mary. Even though separated by distance, Papa loved and was proud of all 7 of them. Our Papa was our family Cookie Monster, he loved nothing more than a cup of coffee and some sort of baked good. Whenever Ashley was ready to try a new recipe, Papa was her official taste tester always ready for whatever she baked up. He always enjoyed all the goodies his friends sent him, though he could never turn down his all-time favorite, chocolate chip cookies. Though he always seemed to dodge family photo opportunities and slip silently away from family dinners, our Grandpa always made his love and presence known. Whether in his recliner, on his front porch, at his daughter's house, or from the driver's seat of his car, Tom collected the stories of his children, grandchildren, nieces, and nephews. He was beyond proud of their successes in school, at practice, and in life. There was an unspoken rule in Tom's car – the radio was never to be turned on. Drives to practices, school, or appointments were quiet. He allowed his passengers – most often his grandchildren, driving them to dance rehearsals or soccer practices – to fill the quiet. Though he let me do most of the talking as I drove him in his own car to appointments or pick up hoagies, I always knew to quiet down and listen to the stories he chose to share with me. Tom drew our stories out of us. Just as he taught us to share ours, he taught us how to listen. Only by compiling our individual stories of Tom the husband, the father, the brother, the friend, the grandpa, and the uncle can we put together the chapters of his life. Only by listening to the stories of Thomas that we never heard can we understand his book. I can't think of any better way to remember him than by sharing our own stories and listening to each other's stories of him. I have no doubt that somewhere, listening to us all retell our stories of him, Tom is quietly smiling and listening. Chris Kabacinski May 14, 2013

Chris

(over 6 years ago)
Our deepest sympathy to Tom ,his children and the whole family. May the angels bring you peace and fond memories fill your hearts with love.

Kevin and Linda Jones

(over 6 years ago)
Dear Tom and Family, With deepest sympathy and sorrow and much love and concern

Samarpana Tamm

(over 6 years ago)
Dear McGlynn Family: the partners and employees of KPMG in London send you our condolences and sympathy. We are especially mindful of our colleague, Tom, and send him and the whole McGlynn family our prayers of support.

KPMG - London

(over 6 years ago)
Dear Buzz...May God bless you and your family at this sad time. You will be remembered in our prayers.

Al & Peggy Exter

(over 6 years ago)
God bless Tom and his family- all of you are in our prayers.

Mark George

(over 6 years ago)
Anna Rita, Please accept my deepest sympathy.

MaryAnn Zukauskas VanDyk

(over 6 years ago)
Dear Tom, so sorry to hear of this sad news. My thoughts and prayers are with you and your family.

Joanne Murphy Ball

(over 6 years ago)
Please accept our condolences. Your family is in our thoughts and prayers.

Jim and Cathy Rose

(over 6 years ago)
Mary Ann and Andre, may God be with you and bring peace to you and all of your family. We pray for you in this time of need.

Walter and norma

(over 6 years ago)
Our prayers are with you at this sad time. Please accept our deepest sympathy.

Deacon Ed and Patti Kelly

(over 6 years ago)
MaryAnn and Andre, please accept our deepest sympathy.

Al and Joanne Giacometti

(over 6 years ago)
We are sorry for your loss. Your Family will be in our prayers.

Joe and Liz Zbylicki

(over 6 years ago)
Sign the Guestbook