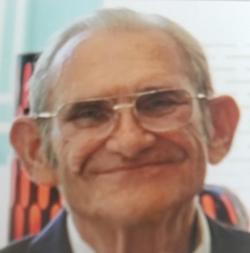 Mr. Stanley E. Matys, of Duryea, passed away on Monday, April 9, 2018, his 74th birthday, surrounded by his loving family at Highland Park Senior Living, Wilkes-Barre.
Born in Pittston, he was the son of the late Chester and Sophia Szumski Matys. Stanley was a graduate of Duryea High School. He served in the United States Air Force during the Vietnam War. During the 1980's, Stanley served Duryea Borough as a police officer. Prior to his retirement, he was employed by the former Panel Prints, Old Forge. In addition to working for Panel Prints, Stanley was employed by the Bernard J. Piontek Funeral Home Inc. for many years.
Stanley was a member of Nativity of Our Lord Parish, Duryea where he served as a Eucharistic Minister.
Stanley was a member of Excelsior Hose Co #2, Duryea for 48 years, the American Legion Post 585, Duryea, the Polish American Citizens Club, Dupont, the Northeast PA Volunteer Fireman's Federation, a board member of the Northeast PA Fire Training Grounds, Rolling Thunder and Northeast Pleasure Riders. He was a board member, officer and driver of the former Duryea Ambulance and Rescue, Deputy Director of the Duryea Civil Defense and Duryea EMA, the Greater Pittston Mutual Aide, the PA State Constable Association, and board member of Community Regional Credit Union.
Stanley enjoyed spending time with his family, especially his granddaughter, Sophia, who was the light of his life. He and his wife were season ticket holders for the Red Barons for many years.
He was preceded in death by his brother and sister in law, Anthony and Jean Matys.
He and his wife, the former Nancy J. Peifer, were married for 51 years.
Surviving in addition to his wife are:
Son, Steve Matys and his wife, Kim, of Duryea
Son, Christopher D. Matys and his wife, Deirdre of Jenkins Township
Granddaughter, Sophia Claire Matys
Step grandson, Marcus Frable and his companion, Danielle Acernese
Step great granddaughter, Faith Frable
Sister, Angelica Borysiewicz and her husband Joseph Sr. of Dupont
Nieces and nephews
The family would like to thank the staff of Highland Park Senior Living, the staff at Geisinger Wyoming Valley Medical Center, Dr. Torbik and Dr. Radzwilka and their staff for the care and compassion that was shown to Stanley. The family would also like to extend their gratitude to the Excelsior, Germania and Hughestown Hose Companies and the Avoca Ambulance for their friendship and brotherhood they have always shown to "Dad."
Funeral will be held on Saturday, April 14, 2018, at 9:00 am from the Bernard J. Piontek Funeral Home Inc., 204 Main Street, Duryea with the Mass of Christian Burial at 9:30 am in Holy Rosary Church, 127 Stephenson Street, Duryea. Interment will be in St. John's Cemetery, Duryea. A viewing will be held on Friday from 5:00 pm to 8:00 pm at the funeral home. The American Legion Post 585, Duryea will conduct military services Friday at 7:00 pm. The Greater Pittston AMVETS will conduct military services on Saturday morning. Due to family allergies, the family requests that flowers be omitted and memorial contributions be made to Nativity of Our Lord Parish, 127 Stephenson Street, Duryea. To leave an online condolence for Stanley's family, please visit the funeral home website, www.piontekfuneralhome.com.
PLEASE NOTE: YOUR ONLINE CONDOLENCE WILL NOT APPEAR UNDER THE GUESTBOOK ENTRIES UNTIL IT IS APPROVED BY THE FUNERAL HOME
Guestbook Entries
Steve, Nancy, Chris and family. I was sorry to have heard about the passing of your Dad, He was a great person. I am glad I had to opportunity to work with (Panel Prints) and Know him. Rose and I send our Deepest condolences to you and your family.

Mike Rohland

(over 4 years ago)
Nancy and family, So sorry to hear about Stan. He was a great person who gave freely of himself to so many causes and made us better for knowing him. His love of family was very evident when he spoke of you Nancy, and especially his granddaughter. He has left us with many great memories of his dedication to veterans through his time with Rolling Thunder Pa Chapter3.

Augie and Peg Barhight

(over 4 years ago)
Our deepest sympathies to Nancy, Chris and family. Stanley was one of nicest persons we have ever known. Sorry we were away and could not pay our respects in person. Good bye to a good friend and classmate. God Speed.

Lou & Mary Ann Cremard

(over 4 years ago)
So very sorry for your loss. Stanley was a great person, His hotel family MIsses him very much. Our Thoughts and prayers are with you.

Amanda Evans

(over 4 years ago)
Chris and the Matys Family My Sincere and Heartfelt Sympathies on your loss. I hope in time you will find comfort in all the wonderful memories of times shared thru the years. 'Death leaves a heartache No One can Heal Your Love will leave Memories No One can steal"

Sharon Martini Jones

(over 4 years ago)
Our deepest sympathy to Nancy, Steve, Chris, Angie and the rest of the family. Although we aren't able to be with you today, we are there with you in our thoughts and in our prayers. May God bless him and also all of you.

Monica Ziezulewicz Osentoski, Tom and Marianna Osentoski, and Phillip Ziezulewicz

(over 4 years ago)
R.I.P. Pops. Our thoughts and prayers are with his family.

Theresa Chapman & Christopher Harris Sr

(over 4 years ago)
Chris....So very sorry to learn about the loss of your Dad.May all the good memories bring you peace and may his love always be with you.

Karen Stanavage Hoover

(over 4 years ago)
Stan was a good friend for over 25 years. He will be missed by all of us. Our thoughts and prayers are with all his family.

Frank and Debbie Peters

(over 4 years ago)
So sorry for you loss. Stanly was a wonderful person and a true gentleman. Our prayers are with you.

Joe and Liz Zbylicki

(over 4 years ago)
So sorry to hear about your fathers passing Chris... my thoughts and prayers are with you and your family

LeeAnn Matthews

(over 4 years ago)
Rest easy in God's loving care, dear friend from years ago. My sincere condolences to Stanley's beloved Nancy and his family. Always a gentleman , Stanley was patient, kibd, compassionate and willing to help anyone. A truly good man.

Judi Nowak

(over 4 years ago)
Deepest sympathy to the entire Matys Family, Stanley was such a sweet, kind and gentle soul.

Debbie Mozal

(over 4 years ago)
RIP Stanley, brother fireman. Condolences to the Matys family.

Kenneth Matthews

(over 4 years ago)
May you Rest in Peace fellow classmate of the last class of Duryea High School 1962

William Aruscavage

(over 4 years ago)
My sincere condolences to Stanley's family on his passing. Stan was always there to help people. He was a true gentleman. May he Rest In Peace in the arms of his Lord and Savior. God Bless!

Valerie Olszewski

(over 4 years ago)
It was always a pleasure to see Stanley and to chat about our motorcycles. He was a true gentleman and will be missed.

Justin McKenna

(over 4 years ago)
Steve, Nancy, Chris and family , we are so sorry for your loss. He was a wonderful person and will be missed. He was always so nice to me and I'm so glad I had the opportunity to meet him. My dad and I send our thoughts and prayers during this difficult time.

Andrea and Andy Barycki

(over 4 years ago)
Very sorry to hear this, prayers for your family Dave.

Rebecca Craft

(over 4 years ago)
So sorry for your loss knee Stanley since 1978 work with him at police dept and Fire dept

Robert Webb

(over 4 years ago)
So sorry for your loss! Prayers sent your way, May he rest in peace.

Amy Merlino

(over 4 years ago)
My deepest sympathy to classmate Nancy and sincere condolence to your family for the passing of Stanley, another classmate. May God speed Stanley on to his greatly earned reward. He was a good and friendly classmate, may he rest in peace.

Kenneth R Hastie

(over 4 years ago)
My deepest sympathies Chris! Your father was a great person, may he Rest In Peace.

Jon Alaimo

(over 4 years ago)
RIP UNCLE Stanley prayers to the entire family

Eileen dewey

(over 4 years ago)
Nancy, Steve, and Chris, my deepest sympathies go out to you on Stanley's passing. He taught me a life's worth of Emergency Management skills with our town and most of all his respect and friendship given to me. God Speed my friend, your knowledge will carry on to all you have given it to.

John Witkowski

(over 4 years ago)
Sign the Guestbook