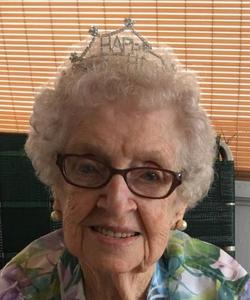 Mrs. Sophie Maziarz, 99, of Duryea, passed away Tuesday, June 25, 2019, at the Gardens at East Mountain, Wilkes-Barre.
Born in Dupont, she was the daughter of the late Walter and Catherine Nalepa Mlodzienski.
She was a member of Nativity of Our Lord Parish, Duryea. She was very active in her church and especially enjoyed helping make pierogies. Sophie's proudest moment in her life was helping to lock the doors of Sacred Heart of Jesus Church, Duryea and tie purple ribbons on the doors to signify its closing. Everyone looked up to Sophie as the matriarch of the family and enjoyed her sense of humor and good nature.
Sophie was preceded in death by her husband, Thomas Maziarz, who passed away on July 30, 1992, her son in law, the Honorable John Almeida, five brothers and two sisters.

Surviving are:
Daughter, Janet Maloy and her husband, Jim, of Wayne, NJ
Daughter, Elaine Almeida of Medford, NJ
Grandson, John Almeida and his wife, Melissa
Grandson, Jeff Almeida and his wife, Amy
Granddaughter, Jill Brady
Granddaughter, Jacqui Muniz
Great grandchildren:
Jack, Alex, Andrew, Grace, Caroline, Ellie, Charlie, Chloe and Mason
Sister, Jean Pramick of Dupont
Brother, Edmund Mlodzienski and his wife, Leona, of Duryea
Nieces, nephews, in laws and friends
Funeral will be held on Saturday, June 29, 2019 at 9:00 am from the Bernard J. Piontek Funeral Home Inc., 204 Main Street, Duryea with the Mass of Christian Burial at 9:30 am in Holy Rosary Church, 127 Stephenson Street, Duryea. Interment will be in Sacred Heart Cemetery, Dupont. A viewing will be held on Friday from 6:00 pm to 8:00 pm at the funeral home. If you would like to leave an online condolence for Sophie's family, please visit the funeral home website, www.piontekfuneralhome.com.
PLEASE NOTE: YOUR ONLINE CONDOLENCE WILL NOT APPEAR UNDER THE GUESTBOOK ENTRIES UNTIL IT IS APPROVED BY THE FUNERAL HOME
Guestbook Entries
To Sophie's family our deepest condolences on the loss of your mom,mom in law ,grandma, great grandma or sister or friend ! She was a dear lady who loved life!! Her dedication to family and church is to be commended and remembered...we were out of town tans unable to spend time with you all ... she loved you all very much .. no matter where we were together.. at Veronica's Beauty Shop or the Church you all were her topic of conversation... you were so lucky to have her for so many years ... keep her spirit alive in your daily life as she did by counting all your blessings as she did .. rest now Sophie your work is done !!!

Judy and Tom Lambert

(7 months ago)
Rest in PEACE, Sophie. Joe loved you. Now you're with your FRIENDS, Joe, Munda and Claire

Ann Fahey

(7 months ago)
Janet Elaine and Family! What is there to say! The world is a little less bright! Sophie was the light of any room! I cannot tell you enough about the love she had for you all. She always bragged. The love she had she her church! She always there to help and be active! She was one of my grandmas growing up! Aunt Connie Bauman were the best of friends! Connie always loved going place together or volunteering with Sophie. She gave me love as one of her own. I hold her very close to my heart and I thank you for sharing her with us at the church! She is a gem. She will be missed and certainly love my many.

Jef Bauman

(7 months ago)
Love you always Aunt Sophie! xo

Patty

(7 months ago)
Sign the Guestbook