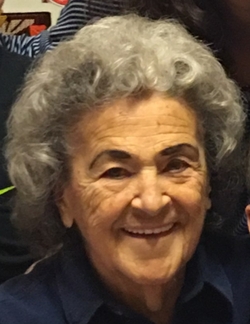 Mrs. Sophie Kridlo, of Pittston, passed away peacefully Thursday, September 27, 2018, surrounded by her loving family.
Born in Pittston, she was the daughter of the late Steve and Anna Prebish Rebovich. She attended Pittston Area Schools.
Sophie was a member of Nativity of Our Lord Parish, Duryea.
Sophie was a special and fun loving woman. She enjoyed polka dancing the Pennsylvania Polka on WVIA and various other polka events. She enjoyed cooking and baking, but most especially spending time with her family.
She was preceded in death by her husband, William (Tricky) Kridlo, who passed away on March 17, 1996, brothers, Andrew and John and sisters, Sue Chismar, Catherine Gima, Helen Rebovich and Anna Rebovich.


Surviving are:
Son, William Kridlo and his wife, Darla, of Annville
Son, Stephen Kridlo and his wife, Leona, of Falls
Son, Donald Kridlo and his wife, Maryann, of Avoca
Son, Kevin Kridlo and his wife, Janice, of Pittston
Daughter, Sharon Tonte and her husband, Richard, of Dupont
Grandchildren:
Kristi and Natalie
Stephanie and Lindsey
Kaitlin and Kacie
Richie and Ryan
Great granddaughter, Sophie
Nieces and nephews
The family would like to thank Dr. Guy Fasciana and the staff of Compassionate Care for the loving care that was given to Sophie.
Funeral will be held on Monday, October 1, 2018, at 9:00 am from the Bernard J. Piontek Funeral Home Inc., 204 Main Street, Duryea with the Mass of Christian Burial at 9:30 am in Holy Rosary Church, 127 Stephenson Street, Duryea. Interment will be in St. John the Baptist Cemetery, Exeter. A viewing will be held on Sunday from 5:00 pm to 8:00 pm at the funeral home. To leave an online condolence for Sophie's family, please visit the funeral home website, www.piontekfuneralhome.com.
PLEASE NOTE: YOUR ONLINE CONDOLENCE WILL NOT APPEAR UNDER THE GUESTBOOK ENTRIES UNTIL IT IS APPROVED BY THE FUNERAL HOME
Guestbook Entries
Stevie, Donnie, Sharon & all the Krildo Family: So sorry for the loss of your mother. I I want you all to know that you've been in my prayers & thoughts daily since I heard of your moms passing. Your mom was always such a friendly, kind & loving person & forever had a beautiful smile on her face whenever we meet her. The hardest thing in the whole world is to lose our mothers . May she forever RIP!

Doris Bilbow English

(9 months ago)
Dear Kevin, Janice, and Family, We were so sorry to hear of your Mom's passing. We will keep her and you in our prayers. With Our Deepest Condolences, Marilyn, Bob & Aiden Luke

Marilyn, Bob & Aiden Luke

(9 months ago)
I will never forget growing up next to your family on Cliff St. and always being welcome by your Mom and Dad as well as all of you. What a kind and caring family you all have been.

Danny Tighe.

(9 months ago)
Please accept my family's condolences on the passing of an awesome woman and friend. God will help you get through this trying time. Sophie may you rest in peace with God and His heavenly host.

Joan Mc Fadden

(9 months ago)
It made me so sad to hear this news. Loved you, Aunt Sophie. You'll be a shining star in heaven.

Betsy Sigafoose

(9 months ago)
God bless you, Sophie.

Michelle and Ken Dale

(9 months ago)
I am sorry for your loss. Death is an enemy, we look forward to when God gets rid of death permanently. May God give you strength. Revelation 21:4

TL

(9 months ago)
Alway so sad to hear. RIP

Joe Kredlow

(9 months ago)
The life of the party, ready to laugh, sing and dance! She was a peach!

Robert J Herakovich

(9 months ago)
To the family so sorry for your loss god bless hugs to all thoughts ANF prayers

Stephanie snow

(9 months ago)
Rest in Peace Aunt Sophie. Such fond memories of a fun loving and beautiful person.

Kevin Herakovich

(9 months ago)
I'm so sorry to hear about the loss of your beautiful mom. God bless you with healing. She'll always be with you.

AnnMarie LaFratte

(9 months ago)
I am so sorry for you and your family Sharon. I know you loved her very much. You will see her again one day.

Ann Marie D'Aiello

(9 months ago)
Aunt Sophie was always beautiful inside and out. She always made me feel special.

Liz Herakovich Pickering

(9 months ago)
Sign the Guestbook