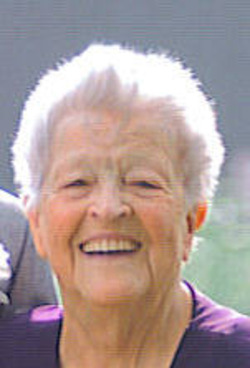 Mrs. Shirley L. Herron, 91, of Duryea, passed away Wednesday, March 16, 2016, at Hospice of the Sacred Heart, Dunmore.
Born in Flint, Michigan, she was the daughter of the late Lee and Uldean Butler St. John. She was a 1942 graduate of Davison High School, Michigan.
She was a member of the Marine Core League, Scranton.
She enjoyed reading, knitting and crocheting.
She was preceded in death by her husband, Robert C. Herron, who passed away on September 28, 1980, great granddaughter, Falyn Hope and brothers, Clare D. St. John and Wayne D. St. John.
Surviving are:
Daughter, Bonnie Gunton and her husband, Dave, of Noxen
Son, David D. Herron and his wife, Cheryl, of Duryea
Daughter, Vicki Zinkavich and her companion, Al Conner of Duryea
Daughter, Roberta Welling and her husband, Tim, of Duryea
Eight grandchildren
Numerous great grandchildren
Nieces and nephews
The family would like to thank Comprehensive Home Health, Pittston Township, especially her nurse, Penny and her aide, Christina for the care and compassion that was shown to Shirley.
A viewing will be held Sunday, March 20, 2016, from 2:00 pm to 4:00 pm at the Bernard J. Piontek Funeral Home Inc., 204 Main Street, Duryea. Interment services will be held at the convenience of the family. Shirley has requested that flowers be omitted and memorial contributions be made to the American Heart Association, 613 Baltimore Drive #3, Wilkes-Barre, PA 18702 or the American Cancer Society, 712 South Keyser Ave., Taylor, PA 18517. To leave the family an online condolence, please visit the funeral home website: www.piontekfuneralhome.com.
PLEASE NOTE: YOUR ONLINE CONDOLENCE WILL NOT APPEAR UNDER THE GUESTBOOK ENTRIES UNTIL IT IS APPROVED BY THE FUNERAL HOME
Guestbook Entries
She touched my heart the moment I laid eyes on her. I enjoyed every moment we spent together. She was truly a treasure, and am honored I got to know her and her family.

Shirley Herron

(almost 5 years ago)
Dear Bonnie and family. So sorry for the loss of your beloved mother Shirley. Our thoughts and prayers are with you during this most difficult time. May memories of her remain with you and comfort you. May she rest in peace. With love,friendship and our deepest sympathy.

Linda and Bob Wagner

(almost 5 years ago)
Condolences. You are in our prayers!

Ron Ritter

(almost 5 years ago)
Herron Family, I am so very sorry for your loss. My condolences to the family. God Bless

Stephen Stetina

(almost 5 years ago)
Dear Bonnie and Family, So sorry for the loss of your beloved Mother Shirley. Our thoughts and prayers are with you and family at this most difficult time. May memories of her help to comfort you. May she rest in peace.

Linda and Bob Wagner Dallas,Pa.

(almost 5 years ago)
So saddened to hear this news. Duryea lost another great one with her passing. Lots of fond memories of Shirley and the Herron Family going back to grade school days. Our condolences to the family.

Mike Lizonitz

(almost 5 years ago)
Vicki and Family - I am so sorry about the loss of your Mom she indeed was a special lady my prayers are with you

Pamela Brown

(almost 5 years ago)
My sympathy to your entire family. Grew up across the street from your house. Remember your Mom in the good times.

Arlene McHale

(almost 5 years ago)
Bert ,Vickie and Family so sorry for your loss Im so glad I went down to visit her a few days ago a lot of good memories with your mom and all of you

Bebe Yuhas

(almost 5 years ago)
The pleasure was mine. She was a special lady and I truly loved her

Penny Butler

(almost 5 years ago)
Dear Bert and Tim and family; So sorry the loss of your mom; may you find comfort in the special memories she left behind with you to cherish.

Ann Edwards and family

(almost 5 years ago)
Semper Fi my dear Aunt Shirley.

Lee Herron

(almost 5 years ago)
Bert and Timmy and Family, Mary and I would like to express our deepest sympathies for your loss. Shirley was one special Lady who called it like she saw it, and she always brought me a laugh when I was around her. She will be missed.

Ted Rysz

(almost 5 years ago)
Sign the Guestbook