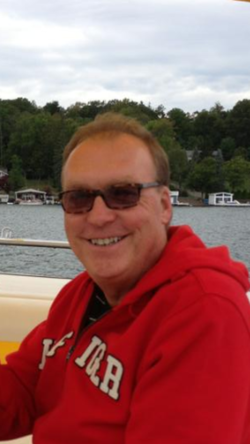 Mr. Scott V. Verdine, 58, of Duryea, passed away Thursday, January 23, 2014, in Hospice Community Care, Dunmore surrounded by his loving family.
Born in Pittston, he was the son of the late Andrew and Ruth Clarke Verdine. He was a graduate Pittston Area High School. Prior to his retirement, he was employed by Penn Dot, Dunmore office.
He was a member of Nativity of Our Lord Parish, Duryea.
He was an active member of the Duryea Lions Club.
In addition to his parents he was proceeded in death by his brothers, Drew and Christopher and father in law, Andrew Sacco.
He was an extraordinary family man that lived for his wife, children, and dogs.
He and his wife the former Patricia Sacco would have celebrated their 34th wedding anniversary on January 26, 2014.
Surviving in addition to his wife are:
Daughter, Jennifer Verdine of Duryea
Son, Scott Verdine and his wife, Marlene, of Duryea
His first grandson will be born in July
Mother in law, Nancy Sacco of Dunmore
Brother in law, Steve Sacco and his wife, Brenda, of Dunmore
A Mass of Christian Burial will be held Tuesday, January 28, 2014, at 9:30 AM in Sacred Heart of Jesus Church, Duryea with the Rev. Paul McDonald and Rev. Andrew Sinnott officiating. Family and friends may call Monday from 5:00 PM to 8:00 PM at the Bernard J. Piontek Funeral Home Inc., 204 Main Street, Duryea. Family and friends are asked to go directly to the church the morning of the funeral. To leave the family an online condolence, please visit our website, www.piontekfuneralhome.com.
Guestbook Entries
So sorry to hear Scott's passing. Cherish the memories of your life together.

Diane Skurjunis

(over 8 years ago)
Pat, My deepest heartfelt sympathy to you and your family.

Michele Rinaldi

(over 8 years ago)
Our deepest and heartfelt sympathy on the loss of Scott. He was a great family man....always a kind word and always with a smile.May the love of family and friends help support you and your family in your grief and sadness. We will keep you in our prayers and thoughts and may God grant you strength, peace and faith to meet each new day.

Joseph and Beverly McNulty

(over 8 years ago)
So sorry for your loss. He was my favorite customer at the store. Nicest man, will be missed.

Justin Tonte

(over 8 years ago)
I only had the honor of working with Scott for a few years, but he was a great man and very proud of his family. I will pray for you and your family Pat. Rest in Peace my freind.

Bob McGowan

(over 8 years ago)
It saddens us greatly to hear of the loss of your beloved husband and father and of our dear friend. He touched our lives tremendously. He was here to guide us like a father or a big brother would and he will always hold a special place in our hearts. Our sincere condolences to you and your family.

Rosanna Pugliese

(over 8 years ago)
We are so very sorry for your loss. Peace and love to you today and always.

Dr & Mrs. Todd Glynn & Family

(over 8 years ago)
We are very sorry for your loss.

Paul & Wendy DePrimo

(over 8 years ago)
My heart and my prayers go out to you Pat and your family. Scott was a wonderful man. Never a bad word to say. May he rest in peace !!!

Tony Bellenzeni

(over 8 years ago)
So many good memories with Scott over the past twenty-six years...thanks friend! Rest in Peace!

Wayne Walker

(over 8 years ago)
Scott is one of those guys that you can never forget, he was one amazing man that I'm glad to have known, he will be sadly missed. I am truly sorry to here what had happened. God bless you Pat, Scott, and Jenny.

Steve Pugliese (k&s marble)

(over 8 years ago)
Pat and family, we are so sad to hear of Scotts passing. He was a great guy and will be forever missed. We still think about all the good times we had together. You and your family are in our thoughts and prayers.

Dave & Cheryl Herron

(over 8 years ago)
My condolences to the family & friends of Scott!!! He was a great guy & will be missed!! Rest in Paradise Scott!!!! You, Chris & Drew got alot of catching up to do!!!

Cathy Ryzner

(over 8 years ago)
Pat so sorry to hear about Scott. He enjoyed life and was a good friend to all he knew. Rest in peace

John Rodriguez

(over 8 years ago)
So sad to hear about Scott. So many good times together.

Bob Madrak

(over 8 years ago)
Jen, I am so saddened to hear about your dad. May you and your family find Peace and Comfort during this difficult time .

Cynthia Kane

(over 8 years ago)
Our thoughts and prayers are with all of you at this difficult time.

Dominick and Tammy Uhrin

(over 8 years ago)
PaT, Scott & Jennifer. There are no words to take away the hurt. Possibly you may find some solace in this passage by Joshua Loth Liebman. I've known Scott for more than five decades. He will be missed. Please accept my condolences. "I often feel that Death is not the enemy of life, but it's friend for it is the knowledge that our years are limited which makes them so precious.....The day that we are privileged to spend in the great park of life is not the same for all human beings, but there is enough beauty, joy and gaiety in the hours if one will but treasure them. Then for each one of us the moment comes when the great nurse, Death, takes man, the Child, by the hand and quietly says 'It is time to go home. Night is coming. It is your bedtime, Child of earth. Come, you're tired. Lie down at last in the quiet nursery of nature and sleep. Sleep well. The day is gone. Stars shine in the canopy of eternity.' " Sleep well my friend.

Cully

(over 8 years ago)
Jen, I'm so sorry to hear about your father. God bless you and your family!

Nicole and Jimmy Bojonny

(over 8 years ago)
Pat, May God wrap his arms around you and your family and hold you tight during this difficult time. We will never forget the trip to Florida and Texas, the backyard swim parties and bbqs, Scott rail dancing at Maxes listing to the Caddilacs, and my favorite, cooking like 10 lbs of wings at my house with beers and frys and then pushing the kitchen table back and dancing all night. Memories we hold deep in our hearts. R.I.P. my friend.

Joe and Sharon Schmidt

(over 8 years ago)
Our deepest sympathies to Pat and the family..He's gone too soon, but now he is with his mom, dad and brothers..R.I.P. Scott..

Steve and Mary Rugletic

(over 8 years ago)
Verdine family,Thinking of you with the loss of Scott;may your faith & memories bring comfort,

jim & justine borino

(over 8 years ago)
Our deepest sympathy on the passing of Scott. Our thoughts and prayers are with you all. May God bless you and keep you close at this difficult time.

Bill, Denise, Brittany & Brian Roche

(over 8 years ago)
Im am very sorry for your loss.

Jeff Piazza

(over 8 years ago)
Our hearts go out to all of you at this sad and difficult time.

Kathy & Dominick Pesavento

(over 8 years ago)
Mrs Verdine, Scott Jr and Jenn. I'm truly sorry to hear of your loss. Time Flys but it seems like just yesterday when we would all be at the house. I will keep you and your families in our thoughts and prayers. Peace be with Scott.

steve konarzewski

(over 8 years ago)
So sorry to see this, Sorry for your loss Pat, Always remembered Scott as a great guy growing up. Prayers to your family.

Bobby Reed

(over 8 years ago)
Pat, our deepest sympathy to you and your family! We did not know of Scott's illness! We are very sorry to hear of his passing!! God bless you and him!!! Cannot believe we will mss our personal regrets since we are away! Sooo sad!! Our love!!

Elizabeth and Joseph Mihalka

(over 8 years ago)
When someone you love becomes a memory, the memory becomes a treasure. I cherish the memories we made together! What a kind soul Scott was. He leaves behind a beautiful legacy. Thoughts and prayers are with you always.

Jerri Anselmo

(over 8 years ago)
They say, önly the good die young¨ and in this case it's proven. Rest in Peace my friend!

Joseph Kollar

(over 8 years ago)
We are so sorry for your loss Pat. Scott was a wonderful guy. Our thoughts and prayers to you and your family.

Anita and Angelo Montante

(over 8 years ago)
May God Bless your family during this difficult time! Your family is in our prayers!

Chris & Tammy Silinskie

(over 8 years ago)
So sorry to hear about Scott; our prayers are with you at this time. God Bless you all

Gary Edwards Family

(over 8 years ago)
Im so sorry for your loss.my prayers go out to you

Lee Clark

(over 8 years ago)
Thanks Scott for the high school memory's and all the fun party's at your house god bless you and your family

Robin Pesotini

(over 8 years ago)
Jen I am so so sorry to hear about your dad my thoughts are with u and your family love u very much

Ben Altmiller

(over 8 years ago)
Our thoughts and prayers are with you and your family at this time. Heaven gained another angel....RIP Scott.

Carl and Betsy Craig and Family

(over 8 years ago)
So sorry for your loss prayers and thoughts to you and your family at this time

Bebe Yuhas

(over 8 years ago)
Sending you love at this difficult time .

Robert & Mary Jane Sloss

(over 8 years ago)
So sorry for your loss. Thoughts and prayers to Pat and your family. Heaven needed an angel to watch over his family.

Denise Gosse-Crolly

(over 8 years ago)
Pat, Scott , Marlene, & Jennifer we are so sorry to hear about Scott. We will always remember the good times with his parents and watching him grow up, get married and have a wonderful family. Our thoughts and prayers are with all of you.

Bill & Mariann Aruscavage

(over 8 years ago)
Thanks Scott for always putting a smile on my face. I couldn't help but feel like I wanted to be a better person when I was in your presence. You and your whole family were very special to me. Duryea would not have been the same without you! May your "Soul" rest,.. and be reunited with the rest of the gang!

Darlene DeBiasi

(over 8 years ago)
So very sorry for your loss! Our prayers are sent to your whole family. May God Bless all of you!

The Wasik Family

(over 8 years ago)
Pat and family...so sorry for your loss

Carla Hughes

(over 8 years ago)
We lost a good one. God speed...

Lisa Mojica

(over 8 years ago)
Our heartfelt condolences go out to the entire family ~ may he rest in peace.

Steve & Mary Stevenson

(over 8 years ago)
With Our Deepest Sympathy To The Family, We Are Sending Lots Of Prayers To Heaven And To The Family So They Have The Strength To Get Through This Most Difficult Time. May God Bless Scott"s Forever, & Rest In Peace Our Dear Friend.

Debbie, Lisa & Kyle Colausso, & Joe Gagliardi

(over 8 years ago)
I am so sorry for your loss. Scott was a great man. You are all in my prayers.

Ronda Manganiello

(over 8 years ago)
We are so sorry for your devistating loss. You will all be in our hearts and prayers.

Michelle and Joe Mullarkey

(over 8 years ago)
Our thoughts and prayers are with your family. Gods speed on your final journey Scott.

John & Jeanne zinkavich

(over 8 years ago)
Our prayers are with your family. If there is anything you need, just ask. He will be greatly missed.

Joe and Ellen Velehoski

(over 8 years ago)
What a beautiful Soul...that which made Scott who he was can never be gone from you...you will come to see him everywhere...look for the signs! Blessings...

Christine Kiesinger

(over 8 years ago)
Sending all my love, so deeply sorry for your loss.

Kristy Martin

(over 8 years ago)
Blessings in faith and love for a cherished life and a death too soon. May everyone close to Scott find solace and comfort in one another in this sad, sad time.

Mariella Confair

(over 8 years ago)
He is in the arms of the Angels God Bless lov and light to all the family

Terri Ozz

(over 8 years ago)
Anything you need I will always be thier as long as I can.

chuck kovach

(over 8 years ago)
We are so sad hearing of the passing of Scott. Our prayers go out to his family. We will always cherish the times we had together. They were the best! May he rest in peace!

Anthony & Kathy Alu

(over 8 years ago)
Sign the Guestbook