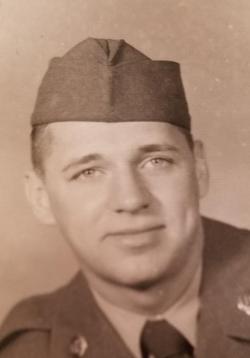 Mr. Robert (Zeke) Zikosky, 82, of Pittston, passed away Thursday, August 9, 2018, at Geisinger Wyoming Valley Medical, Plains Township.
Born in Pittston, he was the son of the late John and Frances Matusavage Zikosky. Robert was a graduate of Pittston High School and served in the United States Army during the Korean War. Prior to his retirement, he was employed by Kapa Graphics, Hughestown.
Robert was a loving dad, grandpa, an amazing wood worker and one of the best machinist and contractors.
Robert was preceded in death by his wife, the former Mary (Mame) Homschek, who passed away on May 2, 2018, his son, Robert, who passed away on May 31, 1981, brothers, Joseph, John and Walter, and sisters, Bernice, Frances, Betty, Anna, Helen and Marian.
Surviving are:
Daughter, Terry Hagan and her husband, Jack, of Bloomsburg
Son, Mark Zikosky and his wife, Karen, of Taylor
Son, Kenny Zikosky of Pittston
Son, Ronald Zikosky of Oklahoma
Grandson, Tyler Zikosky
Granddaughter, Samantha Resilavage
Sister, Dorothy Worth of King of Prussia
Niece, Nicole Emiliani and her husband, Greg
and his two buddies, Lorenzo and Santino
Nieces and nephews
Funeral services and interment will be held on Monday, August 13, 2018, at 10:00 am in Holy Rosary Cemetery, Duryea. The Greater Pittston AMVETS will conduct military services. A viewing will be held on Sunday from 5:00 pm to 7:00 pm at the Bernard J. Piontek Funeral Home Inc., 204 Main Street, Duryea. Family and friends are asked to go directly to the cemetery the morning of the funeral. To leave an online condolence for Robert's family, please visit the funeral home website, www.piontekfuneralhome.com.
PLEASE NOTE: YOUR ONLINE CONDOLENCE WILL NOT APPEAR UNDER THE GUESTBOOK ENTRIES UNTIL IT IS APPROVED BY THE FUNERAL HOME
Guestbook Entries
Love you Ter...here for you...words cannot convey my heartache for you and your family...

Holly

(11 months ago)
We are so sorry to hear of your father's passing. May your memories bring you some peace in this very difficult time.

Alan. Stephanie, Riley and Kendall Sandrock

(11 months ago)
Sign the Guestbook