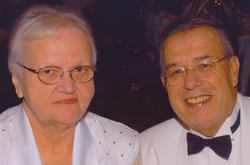 Mr. Robert G. Kundrat, 84, and Mrs. Rosemary R. Kundrat, 81, both of Duryea, passed away Sunday, December 13, 2020, at Geisinger Wyoming Valley Medical Center, Wilkes-Barre.
Born in Duryea, Bob was the son of the late John and Elizabeth Orloski Kundrat and was a graduate of Duryea High School and Keystone Barber College. He was the owner of Bob's Barber Shop, Duryea.
He was preceded in death by his brothers and sisters.
Born in Exeter, Rosemary was the daughter of the late Anthony and Agnes Shirko Simko and was a graduate of Exeter High School. Prior to her retirement, she was employed by Prudential, Moosic.
She was preceded in death by her brother, David Simko.
Bob and Rosemary were members of Nativity of Our Lord Parish, Duryea. Both Bob and Rosemary were very dedicated to the church, having given countless hours of their time in selling raffle tickets, working the lenten food sales and picnics, serving on various church councils and always lending a hand where ever they were needed. Bob enjoyed cooking, especially his meatballs and chili, and was a former member of the Holy Name Society at Sacred Heart of Jesus Church. Rosemary enjoyed baking, had an amazing knack for sewing, and was a member of the Women's Society.
Bob and Rosemary celebrated their 56th Wedding Anniversary this past September 12th. Bob and Rosemary loved to travel, especially taking cruises and traveling throughout Europe. They lived their life to the fullest and have left behind countless wonderful and loving memories for their family to remember them by. Bob and Rosemary were able to give their children every opportunity growing up so they would have a good life. They were very proud of their grandsons accomplishments, and the apple of their eye was their great granddaughter, Aubrey.
Surviving are:
Son, Jeff Kundrat and his wife, Cheryl, of Jefferson Hills, PA
Daughter, Diane Newcomer and her husband, Joe, of Leesburg, VA
Grandson, Matthew Newcomer of Leesburg, VA
Grandson, Sean Kundrat and his wife, Juliana, of Liberty Boro, PA
Great granddaughter, Aubrey Kundrat of Liberty Boro, PA
Rosemary is also survived by:
Brother, Mark Simko and his wife, Ann, of Pittston
Brother, Martin Simko of Pittston
Sister, Janet VanLeuven and her husband, William, of Pittston
Nieces, Heidi Marie and Holly VanLeuven
Nephew, Mark Simko
Niece, Erin Renz
Nephew, Brain Simko
Great nephews, Grayson Simko and Jacob Renz
The family would like to thank Dr. Paul Arkless and the staff of Geisinger Wyoming Valley Medical Center ICU for the care and compassion that was given to Bob and Rosemary.
If desired, memorial donations can be made in Bob and Rosemary's memory to the ICU at Geisinger Wyoming Valley Medical Center.
A Mass of Christian Burial will be held for Bob and Rosemary on Tuesday, December 22, 2020, at 10:00 am in Holy Rosary Church, 127 Stephenson Street, Duryea with the Rev. Paul McDonnell officiating. Entombment will be in Mt. Olivet Cemetery, Carverton. There will be no viewing. Arrangements are by the Bernard J. Piontek Funeral Home Inc., 204 Main Street, Duryea. To leave an online condolence for Bob and Rosemary's family, please visit the funeral home website, www.piontekfuneralhome.com.
PLEASE NOTE: YOUR ONLINE CONDOLENCE WILL NOT APPEAR UNDER THE GUESTBOOK ENTRIES UNTIL IT IS APPROVED BY THE FUNERAL HOME
Guestbook Entries
I am so sorry and sad to have just discovered this terrible loss. I worked with Rosemary at Prudential. We always had lunch together. She was such a special woman. My deepest sympathy to your family.

Laura Marx

(26 days ago)
Jeff, Cheryl, Sean, Juliana, Diane, Joe, Matthew - I am so sorry to hear about your mom and dad. They were a lovely couple. I was good friends with your mom/grandmom since we worked together at Prudential. She was a wonderful woman, very talented, a great baker and very funny. I will miss her friendship and the stories she shared at dinners we shared to catch up. You are all in my thoughts and prayers. Sandy Sherotski

Sandy Sherotski

(about 1 month ago)
Sorry for your loss. You are in my prayers during this difficult time.

Diane Plisga

(about 1 month ago)
To the Kundrat Family: I'm so sorry to read about Bob and Rosemary's passing. Thought and prayers for your family. May they Rest In Peace . Sincere sympathy, Rich Senker

Rich Senker

(about 1 month ago)
Your Mother and I worked together and became friends at Prudential. We nicknamed ourselves Arnie and Danny (because Rosemary was tall & I was short) we had so many good times together. I have been living out of the area for the past 20 years but we always kept in touch with each other. May they Rest In Peace!

Sarellen Cawley-McAndrew

(about 1 month ago)
Your parents were great people we traveled with them several times ,They were such fun people we are truly sorry for your loss

Mary LouFereck

(about 1 month ago)
Bob and Rose were the best people. Know how many lives they touched and how special they were to so many people. As long as their memories live, so shall they. Never forget what they did for everyone. We were all blessed to have them in our lives. Jeff, Diane, family, please know how lucky you are to have such amazing memories of such amazing people. Don't feel grief, feel joy for the lives that they lived. We are all happy to know that their faith has saved them and will see you again in paradise.

-S

(about 1 month ago)
We are heartbroken for you all. Your parents were just lovely. You are in our thoughts and prayers. Sending love.

Rich and Tahnee Hines

(about 1 month ago)
We are so sorry for your loss. We have many happy memories with your parents. We worked at the picnic and Lenten food sales together and in more recent years, bob came to our home to cut Len's hair. Bob was our friend. Both bob and Rosemary will be missed by many especially around the church community. Thoughts and prayers to all of you.

Helen and Len Negvesky

(about 1 month ago)
To the Kundrat family - I am very sorry for your loss. Your parents were examples of people living their faith. I will keep them in my prayers. God bless all of you.

Joan Waters

(about 1 month ago)
Rose and Bob have set a wonderful example for Amanda and I how to live and life in service to others and each other! Rose had a wonderful knack for baking and she always made them look just right! Bob, well Bob, had an eye for detail and getting things done! He was a man of his word and wanted you to be too. Bob made me a better person or so I hope! Rose was a trusted ally to me in making sure the volunteers in the outside kitchen of the picnic knew how to handle money and work efficiently. Bob was spectacular at his Wall of Cheer or any ideas he came up with! He took pride in his work and making sure things were done right! I bet that's why he was a fantastic barber! Rose had one of best senses of humor I have ever met, a quick witted quip in a room full of pierogi pinchers! To say I will miss them both is an understatement to say they have received their reward is for certain as they led a life full of faith dedictate to the Church! Thank you for showing me how that is done!

Jef & Amanda Bauman

(about 1 month ago)
To the Kundrat family, we are so sorry for your loss of two very special people. You cannot begin to imagine how well thought of and how special Bob and Rose were to us as well in the Duryea Catholic community. They will be deeply missed but never forgotten.

Adam Chase and family

(about 1 month ago)
To the family...So very sorry for the loss of Bob and Rosemary they were special people.Bob went out of his way to cut my Dad's hair when he couldn't get to the shop. They were true examples of having faith!

Clare and Ellen Kane

(about 1 month ago)
Dear Jeff and Diane and family,I am so very sorry for your loss. I will keep you in my thoughts and prayers.

Susann Savelli Keska

(about 1 month ago)
So Sorry To See Them Both Pass On And They Were Both So Good To People.

Martin Simko

(about 1 month ago)
To the Kundrat family: Your family values and love for one another is empowering. You never gave up on your parents. I'm very thankful and blessed to have met a family unit so strong and resilient. Please know many people are thinking of you during these trying times. God bless you all.

T.

(about 1 month ago)
To the family... Bob and Rose were wonderful people! Bob was so kind to his elderly customers my dad Don Hastie especially...in my opinion.. he would cut his hair even on days off to help me out with my schedule... and Rose and I had many conversations as we pinched thousands of pierogies together...we have so many great memories of them through the years ....we will miss them always! Please except our condolences and prayers for you all!

Tom and Judy Lambert

(about 1 month ago)
Sign the Guestbook