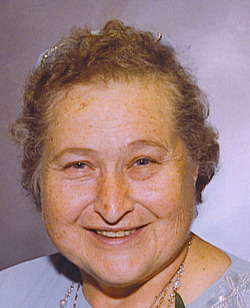 Mrs. Rita Ann Koshinski, 80, passed away Sunday, October 25, 2015, at her home. She was a long time resident of Old Forge and lived in the home that her husband built on Atherton Street where she lived with him and was married for 55 years until his passing on April 12, 2014. She is survived by her two daughters, Rita Susan Uchida and her husband, David, of Monterey, CA and Deborah Marie Koshinski Urban and her husband John, of Old Forge and her son, John Joseph Koshinski of Clarks Summit and her sister, Jean Kopetchny of Luzerne. She was preceded in death by her sister, Helen Grace Grassi.
Born in 1934 and a native of Swoyersville, PA she was the daughter of the late John and Helen Most Mechrina. Her father, John, was killed in the Hughestown Coal Mine when she was in 3rd grade. Despite this setback, she managed to flourish in school, participating in cheerleading and baton twirling and went on to become Valedictorian of Swoyersville High School. After graduation Rita worked for Bartikowski Jewelers in Wilkes-Barre and then became a bookkeeper for the Pennsylvania Turnpike Commission. She was very passionate about her family and her church, St John the Baptist, Pittston and Nativity of Our Lord Parish, Duryea. She sang in the Slovak Heritage Choir and held a prayer group at her home and was involved with the traveling Fatima Statue. She loved gardening, vacationing at the beach with her family and was an exceptional cook later supplying many wonderful meals at her daughter's business, Step By Step Dance Studio in Scranton.
She met her husband John at the Sansui Park Pavilion. Polka Dancing, was something they truly loved and they would follow the Connecticut Twins where ever they were playing. She married John in 1959, traveled to visit him when he was serving at Fort Indian Town Gap Army Depot, and started her family shortly there after. Rita was an avid artist and owned Natural Treasures, where she sold many of her beautiful silk and dried flower arrangements at various Arts and Crafts shows in the area. She also was very active at the YMCA where she taught challenged children to swim in the 1970's. A nurturing mother and loving wife, her priorities were with her family and her faith in God. She was dearly loved and will be forever missed.
A Mass of Christian Burial will be held on Thursday, October 29, 2015, at 10:30 am in Holy Rosary Church, Duryea. Interment will be in St. Stanislaus Polish National Cemetery, Scranton. There will be no public calling hours. Funeral arrangements are by the Bernard J. Piontek Funeral Home Inc., 204 Main Street, Duryea. To leave the family an online condolence, please visit the funeral home website: www.piontekfuneralhome.com.
PLEASE NOTE: YOUR ONLINE CONDOLENCE WILL NOT APPEAR UNDER THE GUESTBOOK ENTRIES UNTIL IT IS APPROVED BY THE FUNERAL HOME
Guestbook Entries
Debbie - Our deepest sympathy on the loss of your mom. You are in our thoughts and prayers. Christa and Pat Murman

Christa Murman

(about 6 years ago)
John Joseph, Celebrating Rita Ann Koshinski: My twin brother Edward just called relating the passing of your mother. Read the inspiring highlights of her life which indicates a rich life well-lived. You were blessed to be a member of a loving family which is reflected by your character and warmth. Rejoice in the many wondrous memories and milestones of her life. Hope to see you once again for the July 31, 2016 family reunion. Take care dear friend, Roman

Roman Andrew Borek

(about 6 years ago)
My thoughts and prayers are with you at this sad time Mickey

Mickey Brown

(about 6 years ago)
Dear Debbie my most sincere condolences are extended to you and your family my thoughts and prayers are with you all at this time. Sincerely Mary

Mary Conomos

(about 6 years ago)
My deepest sympathies to you Debbi on the loss of mom ! She raised a beautiful daughter !

Maureen Riggl

(about 6 years ago)
My dear, sweet Mrs. Koshinski... You were like a mother to me (and a grandmother to my children). You will always be in my heart. You are now able to be with your beloved husband. May the Lord comfort all those that feel the loss of your absence on Earth, for the heavens are rejoicing with acquiring a special angel. With ALL my LOVE - JoAnne "Terry" Serafin

Terry Serafin

(about 6 years ago)
Sign the Guestbook