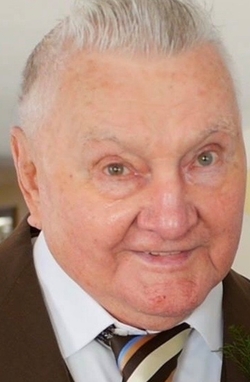 Mr. Richard "Fuge" Rachkowski, 94, of Harding, passed away Saturday, September 12, 2020, at his home surrounded by his family.
Born in Duryea, he was the son of the late Leo and Anna Motchnik Rachkowski. He was a locomotive mechanic for the Erie Railroad, worked in the area mines as a miner, a shift mechanic for Celotex and retired from Technaglass.
Richard enjoyed spending quality time with his family. He would build racing cars with his brother, Leonard, and would race them at Bone Stadium. After his retirement, he would restore old trucks and cars, especially FORDS and lawnmowers.
He was preceded in death by his wife, the former Mary Burilla, who passed away on March 1, 1971 and two brothers, Joseph and Leonard.
Surviving are:
Son, Richard Rachkowski Jr. and his wife, Lynn, of Harding
Granddaughter, Lauren Ceccoli and her husband, Richard, of Forty Fort
Grandson, Richard K. Rachkowski of Lake Township
Nieces, nephews and cousins
A viewing will be held on Wednesday, September 16, 2020, from 9:00 am to 10:00 am at the Bernard J. Piontek Funeral Home Inc., 204 Main Street, Duryea. A Blessing Service will be held at 10:00 am by Pastor Bill Brodbeck. Interment will be in St. John's Cemetery, Duryea. To leave an online condolence for Richards's family, please visit the funeral home website, www.piontekfuneralhome.com. In lieu of flowers, memorial contributions may be made to SPCA of Luzerne County, 524 East Main Street, Wilkes-Barre, PA 18702 or animal rescue of the donor's choice.
PLEASE NOTE: YOUR ONLINE CONDOLENCE WILL NOT APPEAR UNDER THE GUESTBOOK ENTRIES UNTIL IT IS APPROVED BY THE FUNERAL HOME
Guestbook Entries
Rich and family, sorry to hear about your loss. I always looked forward to the annual Christmas party and listening to your father tell jokes and stories from the past. He was a true and great human being, I'll miss him.

Ken Sands

(4 days ago)
Rich and Lynn I am so sorry for your loss. The world is a dimmer place without Fuge, and will miss hearing him yell " catch the big ones" from his porch. God blesses those who lovingly care for their parents late in their lives, and God will repay you for the great care and love you provided for Fuge.

ted kaminski

(4 days ago)
So sorry to hear of your loss. He was a gentlemen in every way and he will be greatly missed by all who knew him.

Joe and Joan Makala

(5 days ago)
Rich, We shared a lot of laughs and good memories. Our deepest thoughts and prayers are with you and your family. "Barnbeater" as your Dad would call me.

Joe Vavrek

(5 days ago)
My DEEPEST condolences to ur family and friends Im so sorry for ur loss. Lyynann and Richie and kids and my heart goes out to u.r

JoAnn and Edward Brown (Legg)

(5 days ago)
I am so Sorry for your loss Lynn and Richard

Vicki Thomas

(5 days ago)
Mr. Rachkowski was always so sweet and friendly. I loved giving him his mail!!!! He even took the bills with a smile. It turned out that he grew up near my entire family. Rest in peace and say hi to all of them in heaven .

Diane Vivalda

(5 days ago)
Ritchie and family so sorry for your loss. Your Dad was a great friend to my Dad and he was always smiling.

Helen Yuhas

(6 days ago)
So sorry for your loss our thoughts are with you and your family Rest In Peace God Bless

Pat and Terri Callahan

(6 days ago)
Richie and Family so sorry for your loss thoughts and Prayers to the Family

Bebe Yuhas

(6 days ago)
We care so sorry for your loss. RIP God Bless!! Our prayers are with you in this time of sorrow.

Mr. and Mrs. John La bar iii & daughters Christine & Samantha

(6 days ago)
Richard, Lynn , Lauren, Richard and Richard, We are so sorry for your loss. Our prayers and thoughts are with each of you during this time of sorrow. RIP God Bless

Mr. and Mrs. Michael J. Bonevich

(6 days ago)
We are so sorry for ur lost. The Lord needed another beautiful angel.

Mary and Donna Ceccoli Doudna

(6 days ago)
Sign the Guestbook