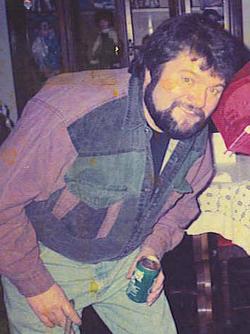 Mr. Richard D. Kachinsky, 60 of Avoca passed away Sunday at his home.
Born in Duryea. He was the son of Frances Kasperunas Kachinsky of Old Forge and the late Frank Kachinsky. He was a graduate of Pittston Area High School. He was currently employed by Sprint Print, Chinchilla.
He was a member of Nativity of Our Lord Parish, Duryea.
He was a member of the West Side Social Club, Avoca and a social member of the V.F.W. Post 1227, Duryea.
He was proceeded in death by his son: Richard (Little Richie) Kachinsky who passed away on September 18, 1994.
Surviving in addition to his mother are:
His wife the former Patricia Ryzner
Son: Ryan Kachinsky at home
Sister: Floreann Cawley and her husband Patrick of Old Forge
Nieces and Nephews
Funeral will be held Thursday at 9:00 A.M. from the Bernard J. Piontek Funeral Home Inc. 204 Main Street Duryea with the Mass of Christian Burial at 9:30 A.M. in Holy Rosary Church, Duryea with the Rev. Andrew Sinnott officiating. Interment will be in the Parish Cemetery, Duryea. Friends may call Wednesday from 5:00 P.M. to 8:00 P.M. at the funeral home. In lieu of flowers, memorial contributions may be made to the Pediatric Oncology Department, Geisinger Medical Center, Danville, Pa. 17821. To send the family an online condolence or for further information, please visit www.piontekfuneralhome.com.
Guestbook Entries
Expressing our deepest condolences & keeping you in our thoughts & prayers during this difficult time.

David & Dee Simpson

(about 7 years ago)
Aunt Floreann & Family, My deepest sympathies for the loss of your brother, Please accept my condolences.

Paul Andi, Jakarta, Indonesia.

(about 7 years ago)
Mom Frances, Floreann & family, I am praying for peace, comfort, and strength in this difficult time for you and your family. Love Peace and God Bless. x?x? ?Ï?rÏ

Mikri aka Ina Jakarta Indonesia

(about 7 years ago)
I am very sorry to hear of Ricky's passing. He played a huge role in my childhood. We romped all over 'Monkey Hill', rocked for hours on that old back swing under the grape vines pretending it was a jet. or something and sometimes we stole apples from the neighbor's backyard, (mostly if they were already on the groud.) We played forever in Ricky's garage and would sleighride across the street until we couldn't feel our hands or feet anymore. My mom always sent me to his mom to made my clothes fit just right. I will never forget you, Ricky. Never!

Robert O'Boyle

(about 7 years ago)
Patty, Ryan and Family. So sorry for your loss. You are in my thoughts and prayers.

Ken Matthews

(about 7 years ago)
Your in my thoughts... Im here if you guys need anything love ya

Kristian

(about 7 years ago)
Our prayers and sincere condolences to the Kachinsky family.

The Weitz Family

(about 7 years ago)
Dear Pat & family, I was so sorry to hear about Richie. My thoughts and prayers are with you.

Andrea Thiede Cooper

(about 7 years ago)
To Pat, Ryan and the entire Kachinsky Family, Please have comfort in knowing that Rich is at peace and spending eternity with your son lil Richie. Thoughts and Prayers to you all!

Christine Jones

(about 7 years ago)
Sending our condolences to the family..so sorry for your loss.

Stephen and Donna Koytek

(about 7 years ago)
Pat,Ryan & Family, So sorry to hear of your loss. Our prayers are with you in this time of need.

Wondoloski Family,

(about 7 years ago)
Rest well cousin, glad that you got to enjoy some of life without your demons. Now you can be reunited with little Ritchie, I'm sure he'll give you a great tour of the place.

Chrissy Ryzner

(about 7 years ago)
Sign the Guestbook