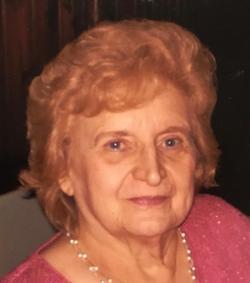 Mrs. Regina T. Kenia, 91, formerly of Duryea, passed away Tuesday, July 10, 2018, at Timer Ridge Health Care Center, Wilkes-Barre.
Born in Old Forge, she was the daughter of the late Joseph and Victoria Potempa Brzostowski. Regina was educated in Old Forge School and retired from the area garment industry.
Regina was known for making beautiful bridal dolls for her family.
She was preceded in death by her former husband, Harold Kenia, daughter, Linda Kenia, sister, Genevieve Juba and brothers, Joseph, Edward and Bernard Brzostowski.
Surviving are:
Daughter, Charlotte Madrak of Clark Summit
Son, Stephen Kenia of Mechanicsburg

Grandchildren:
Amy Caprari of Kingston
Patricia Nappi of Allentown
Alissa Pulaski of Kingston
Maria Chaya of Allentown
Scott Madrak of Scranton
Great grandchildren:
Kaylee, Milan and Lacey Caprari
Kaden Pulaski
Lillian and Sydney Chaya
Logan and Ava Madrak
Sister, Josephine Pagnotti of Old Forge
Sister, Elizabeth Salitis of Duryea
Sister, Barbara Michalowski of Scranton
Brother, Rev. Hilary O.F.M.
Nieces and nephews
The family would like to thank Timber Ridge Health Care Center and Compassionate Health Care for the care that was given to Regina.
Funeral services will be held on Saturday, July 14, 2018, at 11:00 am at the Bernard J. Piontek Funeral Home Inc., 204 Main Street, Duryea. Entombment will be in the Italian American Cemetery, Scranton. A viewing will be held on Saturday morning from 9:00 am to 11:00 am at the funeral home. To leave the family an online condolence, please visit the funeral home website, www.piontekfuneralhome.com.
PLEASE NOTE: YOUR ONLINE CONDOLENCE WILL NOT APPEAR UNDER THE GUESTBOOK ENTRIES UNTIL IT IS APPROVED BY THE FUNERAL HOME
Guestbook Entries
Thank you gramma Regina for everything you've done for us. You will be deeply missed.

Jeff pulaski

(8 months ago)
I love you and will miss you!

Kaden Pulaski

(8 months ago)
Thank you Gramma for all the wonderful things you did for me and my family. You were deeply loved and going to be missed terribly.

Alissa Pulaski

(8 months ago)
I am so sorry for your loss. The Bible describes death as an enemy, and how fitting, since death brings us so much pain. But there is someone who is stronger than death. "He will swallow up death forever, And the Sovereign Lord Jehovah will wipe away the tears from all faces. The reproach of his people he will take away from all the earth, For Jehovah himself has spoken it." Isaiah 25:8 Jehovah will remove the cause of our suffering and dry our eyes. Death will be destroyed, and those who have died will be brought back to life, with the prospect of living forever in paradise on earth. Right now it may be hard to see past the pain, but there is hope for the future. May this hope comfort your grieving hearts.

LJ

(8 months ago)
Charlotte and Amy I am so very sorry for your loss. May God Bless you and your family. My prayers are with you.

Vanessa York

(8 months ago)
We love you Babci!! Geeeeettttttttt as she chases the dogs. Sewing the barbie clothes Making the countless bride dolls Chicken with tomato and dill Noodles with cottage cheese The BESST potato salad ever!!!!!! Going to the candy store Oh boy...... the day you fell in the creek and down the bank Helping me when the babies were little. Never forget YOU!!!! I will love you forever! Till we meet again. So long for now....

Amy Caprari

(8 months ago)
Rest in Peace Mom. You will always have a place in our hearts. You leave behind many loving memories that will be your legacy. Love You!

Stephen Kenia

(8 months ago)
Sign the Guestbook