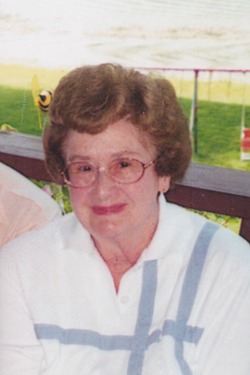 With the same courage, grace and faith that marked her life, Regina A. (Jean) Langan, 92, passed away peacefully on Wednesday, March 19, 2014, at Wesley Village, Pittston, where she was a resident. 
Born in Duryea, on March 21, 1921, Regina was a daughter of the late Peter and Margaret Hogan Langan.
She received a received a Bachelor of Science degree in Business Education from Bloomsburg State College and a Master of Science degree in Counselor Education from Marywood College. She also completed additional graduate studies at Temple University, The State University of New York and Marywood College.
Regina enjoyed a long and rewarding career beginning with a government post in Washington, D.C., during World War II. Following the War, she accepted a teaching position at East Hampton High School, Long Island, New York. She later served as the Administrative Assistant to the President of King's College, Wilkes-Barre.
In 1958, Regina joined the faculty of Marywood College (now Marywood University) in the Business Department, where she was a distinguished teacher and esteemed mentor for 27 years until her retirement in 1986. During her tenure she also served as Dean of Students – the first lay person in the history of the college to serve in that capacity. In 1978, she was awarded the school's prestigious gold medal and inducted into the Order Cor Mariae – Pro Fide et Cultura for distinguished vicennial service to the college.
A lifelong catholic and a woman of deep and unwavering faith, Regina was a member of the former Sacred Heart of Jesus Church, now Nativity of Our Lord Parish, Duryea, and its Women's Society.
Jean is remembered by family and friends for her generosity, insight, keen wit and fantastic sense of humor. She made true friends wherever she went.
In addition to her parents, she was preceded in death by her sister, Ruth Langan Sullivan, brothers-in-law, Stephen A. (Steve) Gike and Walter Sullivan, nephew, Brian Sullivan and dear friend, Henry (Hank) Bertram.
Regina is survived by her sister, Louise Langan Gike of Glen Mills, PA, as well as nieces and nephews: Mark Sullivan, Lora Sullivan and son Dan, Walter Sullivan, Teri Sullivan and her husband, Jerry Goebel and Margi Gike Watters and her husband, Bob and son Bobby.
The family would like to thank the staff of Wesley Village, who helped Regina in countless ways during her final years and Dr. Martin Moran, her kind physician who provided her with excellent care. Regina was most appreciative of their support and friendship.
The family requests that you kindly omit flowers. If desired, memorial contributions may be made in her memory to Wesley Village, 209 Roberts Road, Pittston, PA 18640 or to Nativity of Our Lord Parish, 127 Stephenson Street, Duryea, PA 18642.
A Mass of Christian Burial with be held on Saturday, March 29, 2014, at 11:00 AM in Sacred Heart of Jesus Church, 529 Stephenson Street, Duryea, with the Rev. Andrew Sinnott officiating. Interment will be in St. Mary's Cemetery, Hanover Township. A viewing will be held from 10:00 AM to the time of services at the church. To leave the family an online condolence, please visit our website: www.piontekfuneralhome.com. Arrangements are by the Bernard J. Piontek Funeral Home Inc., 204 Main Street, Duryea.
Guestbook Entries
So sorry to read about Jean's death. My mother Ann Flanagan was a very dear friend of Jean's. I have wonderful memories of Jean and Hank being at our home for dinner. The stories and the laughter were infectious. She was a great lady and I'm sure she will be missed by her family.

Joyce Flanagan Hirsch

(about 7 years ago)
Louise, please except my deepest heartfelt sympathy. Jean's spirit will live forever.

Ruth Mertz

(about 7 years ago)
Wonderful memories of Jean will help heal the pain of her loss. She touched the lives of so many--the world is a better place because Jean was here. May she rest in peace! Jim and Fran were here in spirit!

Jim and Fran Granahan

(about 7 years ago)
It was my pleasure to be able to rake care of Regina, she touched my heart in many ways. Thoughts and prayers go out to Louise , your family . I will always remember Regina.

ann marie alba,lpn

(about 7 years ago)
Sign the Guestbook