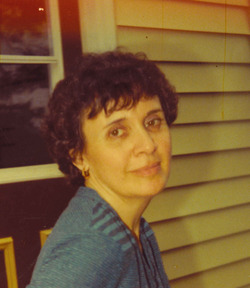 Mrs. Ramonda (Ronnie) P. Franko, of Falls, passed away Tuesday evening at her home.
Born in Throop. She was the daughter of the late Giammario and Sophia Pasko Equinozzi.

Graduate of Dunmore High School, where she served as head majorette.
She formerly served as Post Master at the Falls Post Office.
She was a member of Corpus Christi Parish, Falls, formerly Church of the Holy Redeemer.
She was proceed in death by her husband, Elmer Franko Jr. and brother,  Arthure Equinozzi


Surviving are:
Son: Elmer (EJ) Franko III of Falls
Daughter: Mrs. Samina Cognetti and husband, Bruno, of Falls
Daughter:Mrs. Judy Adams and husband, Robert, of Dallas
Grandchildren:
Bruno, John, and Elaina Cognetti, Robert and Jesteen  Adams and Great Grandson Robert Adams III
Sister Mrs. Matilda Gavalis of Uniondale,Pa.
Nieces and Nephews:
Ramonda Patricia Franko young at heart and mind, had an unbelievable sweet tooth. Ronnie sweetened
up the special moments in life. A sassy, outgoing women, the motorcycle driving certified postmaster from Falls, Pa.
She kept up a strong fight after being diagnosed with MS in 1972. Determined not to let the disease rule her life,
Ronnie overcame her own troubles to be an outstanding family women and a friend to many. A beloved wife,
mother, and grandmother, she was a strong, smart and independent women, strong in her beliefs. A devoted Catholic of Holy Redeemer Parish, Falls. She never lost her faith as she faced her struggles. A great thanks to all of the caregivers that kept her happy and able to continue to live in her home in Falls. She appreciated all that you did for her and greatly enjoyed the jokes you told her.
A Mass of the Christian Burial will be held Friday afternoon, May 3, 2012 at 3:00 P.M. in Holy Redeemer Church, Falls. Friends may call at the church from 2:30 P.M. until Mass. Interment will be held in St. John's Cemetery, Duryea.. The family asks that family and friends join them at Memorial Occasions, Main Street, Duryea following the cemetery services
Arrangements are by the Bernard J. Piontek Funeral Home Inc., 204 Main Street, Duryea.
To leave the family an online condolence or for additional information visit our website at www.piontekfuneralhome.com
Guestbook Entries
So very sorry to hear of cousin Ronnie's passing. She was my mom Irene's first cousin. My prayers go out to Samina, Elmer and Judy with sincere sympathy.

Linda L. Naro (Litvin family)

(about 6 years ago)
So sorry to read of the passing of my friend Ronnie. She was a joy to know. I am remembering the family in prayer.

Joy Daubert

(about 6 years ago)
So sorry, but so happy that she had a great family who helped her live at home. Love to each of you.

Elaine Dembowski

(about 6 years ago)
I just heard about Ronnie, I am so sorry. We will keep you in our thoughts and prayers.

Michelle Lewis Smith

(about 6 years ago)
Dear Fran and Danny and family. We are so sorry to hear about the passing of Ronnie. She was a beautiful person. And now she is a beautiful angel. You are all in our prayers. May God Bless you and yours always. Debra, Rob, Shelly, Robin and Connor.

Debra Butwin Corby, Rob and Shelly Wrobleski and Sons

(about 6 years ago)
Judy, I am so sorry for your loss! You are in my thoughts and prayers! Alecia Pasquino, St. Louis

Alecia Pasquino

(about 6 years ago)
Ronnie was a real joy to know. Our prayers are with your whole family.

Bob and Ruth Adams

(about 6 years ago)
Sign the Guestbook