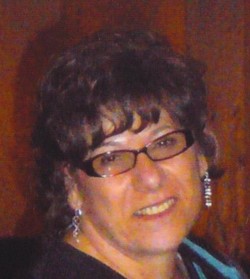 Mrs. Paulette Mary Sydor, 67, of Duryea, passed away Monday, September 28, 2020, at the Allied Hospice Inpatient Unit, Scranton.
Born in Moosic, she was the daughter of the late George and Mary Krifka Kobal and was a graduate of Riverside High School. Prior to her retirement, she was employed by the Social Security Administration, Wilkes-Barre.
Paulette loved spending time with her grandchildren, who were light of her life.  She was always willing to lend a helping hand wherever it was needed and she had a heart of gold.
She was preceded in death by her brother, Walter Kobal.
Surviving are her husband, Myron
Daughter, Nicole Sydor of Scranton
Daughter, Kristen Lininger and her husband, TJ, of Old Forge
Granddaughter, Makenzie Lininger
Grandson, Jacoby Lininger
Brother, Eugene Kobal and his wife, Patricia, of Erie
Brother, George Kobal and his wife, Veronica, of Clark Summit
Sister, Eleanore Skuban of Port St. Lucie, Florida
Sister, Barbara Martin of Charlotte, North Carolina
Nieces and nephews
Great nieces and nephews
The family would like to thank Dr. Armando Sallavanti and Allied Hospice Inpatient Unit for the care and compassion that was shown to Paulette.
A Mass of Christian Burial will be held on Friday, October 2, 2020, at 11:30 am in Holy Rosary Church, 127 Stephenson Street, Duryea. Interment will be at the convenience of the family. There will be no viewing. Arrangements are by the Bernard J. Piontek Funeral Home Inc., 204 Main Street, Duryea. To leave an online condolence for Paulette's family, please visit the funeral home website, www.piontekfuneralhome.com.
PLEASE NOTE: YOUR ONLINE CONDOLENCE WILL NOT APPEAR UNDER THE GUESTBOOK ENTRIES UNTIL IT IS APPROVED BY THE FUNERAL HOME
Guestbook Entries
To the friends and family of Mrs. Sydor, We are truly sad for your loss. Our prayers and thoughts are frequent for those who suffer due to the anguish of losing a loved one. We all experience this loss but the Bible teaches that soon death will end at Revelations 21:3,4 The scriptures brought us comfort when we've lost loved ones and I hope it helps by providing comfort at this most difficult time. For comfort from the Bible, please visit bit.ly/Deathjworg

Brother Erik

(15 days ago)
You were the best friend anyone could ask for and it was my privilege to call you mine. I will miss you so much. I will treasure our escapades and remember your laugh always.

Diane

(18 days ago)
A wonderful person from a wonderful family. I love you all and miss you. I am so, so sorry. With love and prayers. Ethel

Ethel Weeks

(19 days ago)
My sister Paulette will live in my heart forever.

Eleanor S!uban

(19 days ago)
Still can't believe this. We love you.

Eileen Frank/Skuban

(19 days ago)
Deepest sympathy to the Sydor/Kobal families. Till we meet again Paulette I will miss you.

Linda Sydor Gerrity

(19 days ago)
So sorry to hear about Paulette! We were friends in high school and had a lot of good times! My prayers are with the family! R.I.P. Paulette

Patty mulligan king

(20 days ago)
Kristen I am so sorry to hear about your mom!

Patty

(20 days ago)
Prayers and thoughts with Paulette and Family at this time, may all find peace in Paulettes Going Home. Had the best smile in school...Class of 1971

Michele Shea

(20 days ago)
Sorry for your loss my thoughts and prayers are with your family

John Dixon

(20 days ago)
Very sorry to see this , graduated with Paulette . Did not see her in a while but remembering all the good times that were had . Prayers to her family from ours .

Tom Jones

(20 days ago)
So sorry to hear about Paulette's passing. We were such good friends back in the day. Our hearts and prayers go out to the entire family!

Kathy (Deitzer) and Ron Wescott

(20 days ago)
SHE WILL BE MISSED

DENNIS KOBAL

(20 days ago)
Kristen so sorry to hear about the loss of your mother. My thoughts and prayers for you and your family.

Joni Meyers

(20 days ago)
so sorry to hear about one of our school mates. Prayers for her family

Lehrae Ann Edwards

(20 days ago)
rest in peace paulette so sorry to see you leave us so soon love & prayers to your family

elaine madus

(20 days ago)
Sign the Guestbook