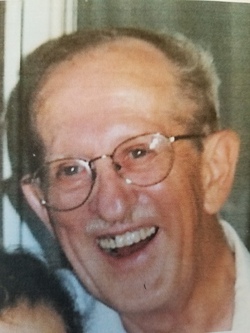 Mr. Paul Peter (Butty) Butrymowicz, 83, of Duryea, passed away Sunday, July 23, 2017, at the Green Ridge Health Care Center, Scranton.
Born in Duryea, he was the son of the late Joseph and Edna Parzych Butrymowicz. He was a graduate of Duryea High School and attended the New York University School of Music.

Paul was a gifted and talented musician. He was a three-time winner of the Ted Mack Amateur Hour and was the pianist for the famed Duryea Teenagers Orchestra. In addition to playing at many venues including Quantico, VA and Madison Square Garden NY, Paul and his fellow band members traveled to Washington, D. C., to play on the steps of the Capitol Building and were honored by Congress for their musical achievements. They went on to win the National Championship in 1954.

Paul loved to teach and mentor. He was the Band Director for the Throop Community Band Project, and for Bishop O'Hara and Dunmore Catholic High Schools. He directed and participated in many music projects at Our Lady of Fatima Orphanage. He opened the Paul Butty Music Studio in Duryea where he specialized in teaching students on most instruments. He organized many recitals to encourage students to hone their craft and share their talents.

Paul composed many beautiful ballads. He also was the organist for St. Vincent de Paul Church, Scranton for 27 years. Paul was a member of Nativity of Our Lord Parish, Duryea.

Paul had a great sense of humor; usually smiling and with a twinkle in his eye, he enjoyed telling jokes and wearing silly hats. He loved coffee and fishing, and he especially loved his entire family making sure to capture everyone and every life moment in picture and 8mm video.

He was preceded in death by his daughter, Debra Ann Butrymowicz; his brothers John, Edward and Joseph Butrymowicz; and sisters Stella Butrymowicz, Emily Butrymowicz Romanczuk Harzowski, and Eleanore Butrymowicz Rembecki.
Paul is survived by his former wife, Shirley Hoffman of Scranton
Daughter, Kimberly Butrymowicz Kreamer and her husband, Steven W. Kreamer, of Denver, PA
Son, Richard P. Butrymowicz and his wife, Kimberly Valkenburg Butrymowicz, of Scranton
Daughter, Holly Butrymowicz Bardzel, and her husband, George J. Bardzel, of Sterling
Son, Vincent Butrymowicz of Tampa, FL
Grandson, Anderson R. Kreamer of Denver, PA
Sister, Mary Ann Butrymowicz Costello of Duryea
Sister-in-law, Mercedes Dziak Butrymowicz of Duryea
Many nieces and nephews
The family wishes to thank his companion, Muriel Grossman, Dr. Nicholas Dodge, the staff at Green Ridge Health Care Center, and Hospice of Sacred Heart for their excellent, loving care of Paul during these many years.

A Mass of Christian Burial will be held on Friday, July 28, 2017, at 11:00 am in Our Lady of the Eucharist Parish, 535 North Main Street, Pittston. Interment will be in Holy Rosary Cemetery, Duryea. A viewing will be held from 10:00 am to 11:00 am at the church. Arrangements are by the Bernard J. Piontek Funeral Home Inc., 204 Main Street, Duryea. To leave the family an online condolence, please visit the funeral home website, www.piontekfuneralhome.com In lieu of flowers, the family requests that memorial contributions be made to the Juvenile Diabetes Research Foundation (JDRF), www.jdrf.org, 1-800-533-CURE (2873).
PLEASE NOTE: YOUR ONLINE CONDOLENCE WILL NOT APPEAR UNDER THE GUESTBOOK ENTRIES UNTIL IT IS APPROVED BY THE FUNERAL HOME
Guestbook Entries
Paul Butty also played for our wedding.

Steve Matys

(over 3 years ago)
I was a student of Paul Butty. He taught me piano and started me on Bass. Also many fishing trips on weekends. He taught me how to appreciate music now its a big part of my life. Rest in peace, Mr. B,

Steve Matys

(over 3 years ago)
I WAS A FORMER MUSIC STUDENT--PAUL WAS NOT ONLY A GREAT TEACHER BUT A GOOD FRIEND---WHAT A GENIUS OF A MUSICIAN

PAUL BUTTY

(over 3 years ago)
I WAS A FORMER MUSIC STUDENT AND PAUL WAS NOT ONLY A GREAT TEACHER BUT ALSO A GOOD FRIEND--WHAT A PHENOMINAL MUSICIAN--GOD BLESS YOU PAUL

WALLY BARTCZAK

(over 3 years ago)
RIP Paul Butty. I'll always have fond memories of choir and piano lessons.

Michelle (Malosh) Donato

(over 3 years ago)
A Kind & Gentle Man Rest in Peace Uncle Paul

Diane McDonald

(over 3 years ago)
RIP fellow 1952 classmate

Vincent Catania

(over 3 years ago)
You were a very kind and polite man. Rest in peace.

Peter Guitson

(over 3 years ago)
Very sorry for your loss, I also played with Paul in the Paul Butty Combo. He was a great musician.

Michael Dempsey

(over 3 years ago)
Rest In Peace Paul! You were such a sweet man. We all loved you!

Cathy

(over 3 years ago)
SO SORRY FOR YOUR LOSS,PAUL AND I PLAYED MANY YEARS TOGETHER IN THE PAUL BUTTY COMBO. MAY HE REST IN PEACE.

BILL KIESINGER

(over 3 years ago)
We loved you Paul. My Mom , Muriel Grossman really misses you. You were the best, you made everyone laugh. Rest in peace.....Fly high...

Debbie Jacobs

(over 3 years ago)
You were my favorite customer at the Duryea Weis. May you rest in peace.

Jolene

(over 3 years ago)
Sign the Guestbook