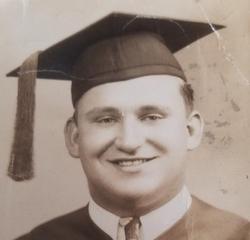 Mr. Paul Kopcho, 90, of Duryea, passed away Saturday, April 6, 2019, at Mt. View Care Center, Scranton surrounded by his loving family.
Born in Duryea, on April 16, 1928, he was the thirteenth of fourteen children born to Andrew and Theresa Pacolak Kopcho. He was a 1946 graduate of Duryea High School. He served in the United States Army as a military police officer in Germany during the Korean Conflict. Prior to his retirement, he was employed by local cigar factories, Atlas Chain and Topps Chewing Gum. Paul was also well known for his carpentry skills performing odd jobs in Duryea and surrounding towns for many years. A lifelong proud resident of Duryea, he built his own home next to his homestead.
Paul was president and sole caretaker of SS Peter & Paul Cemetery, Duryea for over 40 years and was very proud of the improvements he made there.
He and his wife, the former Mary Szymczak, celebrated 54 years of marriage on October 31st. They spent many hours dancing the polka on WVIA. He also loved to watch the Red Sox, especially when they were beating the Yankees.
Paul was a member of St. Michael's Byzantine Catholic Church, Pittston. He was a member of the American Legion Post 585 and the V.F.W. Post 1227, both of Duryea.
In addition to his parents, he was preceded in death by his brothers, Louis, Andrew, Michael, John, William and Joseph and sisters, Mary Sapolis, Helen Killino, Theresa Fortunato, Eleanor Kupcho and a baby sister, Julia.
Surviving in addition to his wife are:
Daughter, Diane Vivalda and her husband, Chris, of Duryea
His pride and joy, his granddaughter, Nicole Vivalda of Duryea
Daughter, Janet Kopcho of Pittston
Sister, Anna Ostroski of Falls
Sister, Margaret Arcarola of Brooklyn, New York
Nieces and nephews
The family would like to thank the staff of Mt. View Care Center, especially Dave and Bella, for their care to Paul and his family and also to Dr. Martin Moran.
Funeral will be held on Thursday, April 11, 2019, at 10:00 am from the Bernard J. Piontek Funeral Home Inc., 204 Main Street, Duryea, with Office of the Christian Burial at 10:30 am in St. Michael's Byzantine Catholic Church, 205 North Main Street, Pittston by Rev. Gary Mensinger. Interment will be in SS Peter & Paul Cemetery, Duryea. A viewing will be held on Wednesday from 6:00 pm to 8:00 pm at the funeral home. The American Legion Post 585, Duryea will conduct military services on Wednesday evening at 7:00 pm. Rev. Gary Mensinger will conduct Parastas Services Wednesday evening at 7:30 pm. The V.F.W. Post 1227, Duryea will conduct military services on Thursday morning. In lieu of flowers, the family asks that memorial contributions may be made SS Peter & Paul Cemetery, 205 North Main Street, Pittston, PA 18640. To leave an online condolence for Paul's family, please visit the funeral home website, www.piontekfuneralhome.com.
PLEASE NOTE: YOUR ONLINE CONDOLENCE WILL NOT APPEAR UNDER THE GUESTBOOK ENTRIES UNTIL IT IS APPROVED BY THE FUNERAL HOME
Guestbook Entries
Dear Uncle Paul...go with God, and rest in peace. Love, your niece Elaine

Elaine Sarcuni

(over 1 year ago)
Thank you for wonderful memories Uncle Paul. Julia loved when you visited Aunt Joan's. May You Rest In Peace.

Jennifer Sarcuni

(over 1 year ago)
Uncle Paul, Lou loved you like a brother and cherished your visits at the homestead having chats about baseball. You will be forever missed and in our hearts. Mary, my thoughts and prayers are with you and the family.

Mary Ann Sapolis

(over 1 year ago)
My Uncle Paul was a great uncle indeed! I will always treasure my childhood memories of his smiling face and gentle laugh. Aunt Mary, you are in my thoughts and prayers at this difficult time. Much love to you, Diane and Janet.

Suzanne Ross

(over 1 year ago)
SORRY FOR YOUR LOSS. GOD BLESSTO FAMILY.

MR&MRS ANDREW RUSINCHAK JR.

(over 1 year ago)
Dear uncle Paul, I always thought of you as a brother to me since we are just two years apart in age. Will meet you soon in heaven with all my love and prayers with love to Mary and children. Marie Decarlo and family

Marie DeCarlo

(over 1 year ago)
Mrs. Kopcho, Diane, Janet and Family, I'm so sorry for the great loss to your family. My thoughts and prayers are with you all.

Audrey (Battle) Bandru

(over 1 year ago)
Dear Uncle Paul, your smile and goodness will always be remembered by your loving family. We will miss you at our family reunions but will keep you forever in our prayers. Heaven has a wonderful new master carpenter. Your loving niece, Nancy

Nancy Arcarola

(over 1 year ago)
Dear gentle, kind, and loving Uncle Paul. We missed you at last year's reunion and will always miss you. You remain in my daily prayers forever. Love, Your Niece Andie

Andrea Arcarola

(over 1 year ago)
It is with heartfelt sadness to hear the passing of Uncle Paul. He was someone special. Alexis and Evan loved him. Thank you Uncle Paul for the fond memories. Rest In Peace. Love, Marian and Rich (Sapolis) Serafin

Marian Serafin

(over 1 year ago)
Dear Uncle Paul I will miss you, so very much. Love you! Your neice Joanie

Joan Arcarola

(over 1 year ago)
Sign the Guestbook