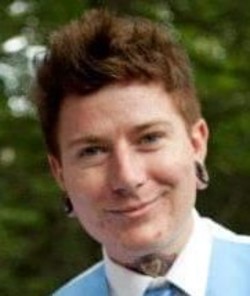 Michael Opiela, 29, of Pittston, passed away Wednesday, October 16, 2019, at his home.
Born in Wilkes-Barre, he was the son of Robert Opiela of Dupont and Gerri (Chesslock) Opiela of Pittston. He was currently employed by Kappa Graphics, Hughestown.
Michael enjoyed spending time watching the Philadelphia Phillies and Philadelphia Eagles games on television with his grandpa. He especially enjoyed spending time with his nephews and niece.
He was preceded in death by his grandparents, Vincent and Bernadine Chesslock and Bernard Opiela.
Surviving in addition to his parents are:
Sister, Ashley Pilosi and her husband, Joe, of Moosic
Sister, Lisa Folweiler and her husband, Brian, of Dupont


Nephew, Tyler Coles
Nephew, Logan Pilosi
Niece, Jessica Folweiler
Nephew, Jaxson Folweiler
Grandmother, Mary Opiela of Dupont
Uncles, aunts and cousins
A viewing will be held on Sunday, October 20, 2019 from 2:00 PM to 4:00 PM at the Bernard J. Piontek Funeral Home Inc., 204 Main Street, Duryea. Funeral services will be private. To leave an online condolence for Michael's family, please visit the funeral home website, www.piontekfuneralhome.com. In lieu of flowers, memorial contributions may be made to the Janet Weiss Children's Hospital, 100 North Academy Ave., Danville, PA 17822.
PLEASE NOTE: YOUR ONLINE CONDOLENCE WILL NOT APPEAR UNDER THE GUESTBOOK ENTRIES UNTIL IT IS APPROVED BY THE FUNERAL HOME
Guestbook Entries
So sorry for your loss. Very fond memories growing up side by side with Mike that will never be forgotten.

Michael McNulty

(4 months ago)
So sorry for your loss,,Ray & I are sending our thoughts and prayers to you and your family

Raynee Roxby- Ray Jopling

(4 months ago)
I'm so sorry for your loss. Prayers for the whole family.

Chris Muroski

(4 months ago)
Gerri and family, So very sorry for your loss. Our thoughts and prayers are with you.

John & JoAnne Zielinski

(4 months ago)
Gerri Our deepest and heartfelt sympathy to you and your family on the loss of Michael. I will always remember him as a sweet kid, always with a smile on his face. May God grant you strength ,courage and faith to face each new day. He will be remembered always. Rest in God's arms Michael.

Joseph & Beverly Mcnulty

(4 months ago)
I'm so very sorry for your loss. Mike was an amazing man. He will be missed dearly. Sending so much love and prayers to the entire family.

Nikole Kenyon

(4 months ago)
Sending so much love to the whole family... I'm so sorry for your loss. I have such fond memories of growing up with Mike. Love and miss you old friend.

Hayley (Karbowski) Heninger

(4 months ago)
Gerri and family, I am so sorry. You are in my prayers

Lois Allen

(4 months ago)
Fly high Mike, prayers for your family

The Demich Family

(4 months ago)
Michael Will Fly High With The Angels In Paradise! I'm so sorry for your loss!

Denise Paranich

(4 months ago)
condolences to the family .. had great times with mike in high school .. such a nice and friendly guy.. absolutely heartbreaking.

Brittany R.

(4 months ago)
So sorry for your loss. We remember him on the little league, he was a great player. Our prayers are with your family.

Nick Solano and family

(4 months ago)
Our thoughts & Prayers are with you & Family

Mr. & Mrs. Robert Wondoloski & Family

(4 months ago)
So sorry to hear about Mike's passing! Such a kind souls gone way too soon! I'll always remember how close he and Billy were as kids! God bless your family and may you all find peace through this difficult time!!

Mari Bidwell

(4 months ago)
So sorry for your loss, our thoughts and prayers are with your family.

Ann and Bill Dolinsky and family

(4 months ago)
Rest easy old friend. None of us will ever forget how genuinely good of a person that you are and always will be.

Jarrod Jordan

(4 months ago)
Rip young man syotos, Vince n bern are with you

John Mcglynn

(4 months ago)
So sorry for your loss. Your family is in our prayers.

Jerry Zielinski

(4 months ago)
Rest in peace Michael in Heaven with all of the loving family members that we have lost. You are an angel now so fly . May God bless you and your family.

Dawn Skrzysowski and family

(4 months ago)
I can't wait to skate with you and pat in heaven. You'll be missed.

Chris dailey

(4 months ago)
We are so very very sorry...remembering him and Corey and all the boys playing together as kids. I cannot imagine your heartbreak. Our deepest condolences...may he be at peace in God's arms..

Annette Hodick

(4 months ago)
Dear Geri we are so sorry for your loss. Our Family will remember you all in our payers. May Michael's soul rest in Peace

Joe and Liz Zbylicki and Family

(4 months ago)
Our thoughts and prayers are with you during this difficult time.

Karen and Mark Evitts

(4 months ago)
I love you friend, rest easy and fly high . You are so very missed buddy.

Matthew kopetchny

(4 months ago)
I love you friend, rest easy and fly high . You are so very missed buddy.

Matthew kopetchny

(4 months ago)
My deepest sympathy to you and your family. Prayers for all.

Kris Williams

(4 months ago)
this is heartbreaking. i could tell stories and go on and on about the time you had to walk me up to my dads because my face was so bloody and covered in mace that i couldn't see at all and how you let me use your brand new white tshirt as a rag because my dad was freaking out about me getting blood all over the house. i'm gunna miss you brother. i love you.

denny tats

(4 months ago)
Fly High Michael. You are resting in our Lord's arms. Sending love and prayers to your friends and family. Someday, you will be able to smile at the memories ... someday.

Cathy Ryzner

(4 months ago)
Joe and I extend our deepest sympathies to Mike's family. May each of you feel surrounded by his love during these most difficult days ahead. Our prayers are with you.

Paula & Joe Boyko

(4 months ago)
So very sorry for your loss. Mike was a great guy. Many laughs and always willing to help. Sending prayers.

The girls at My Sisters Kitchrn

(4 months ago)
I am very sorry for your loss. My prayers & thoughts are with your entire family.

Sonya Nardone

(4 months ago)
I'm so sorry for your loss..my condolences and prayers to you all ..he will be so missed :(...

Elizabeth Makaravage

(4 months ago)
So sorry for your loss! Sending prayers

Justin Tonte

(4 months ago)
God bless your son and my sympathies to the family....

Grace Marie McLaughlin

(4 months ago)
Sending our sincerest condolences and prayers to you all through this difficult time. God bless you all.

Ramy and Candice Gad

(4 months ago)
We are so sorry for your loss. We loved Mike and will always remember little league, vacations, and he and Billy side by side. Prayers and peace to your family. God bless you Mike, you will be missed.

Marie Bidwell

(4 months ago)
Sign the Guestbook