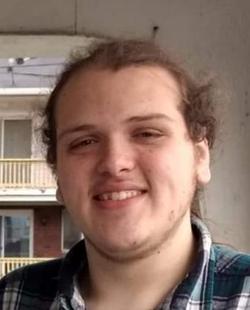 Mr. Michael J. Malzberg Jr., 20, of Duryea, passed away Thursday, June 11, 2020.
Born in Hackensack, New Jersey he was the son of Missandra Messer Kennedy of Duryea and Michael J. Malzberg of Mt. Carmel. He was a graduate of Pittston Area High School, Class of 2019 and worked at PNC Field and Reapers Revenge.
Michael was loving and caring to his brother and sisters and enjoyed spending time with his family. He loved to wrestle with his family and friends in his backyard and also watch it on tv. He enjoyed making wooden swords, hiking in the mountains, nature, music, swimming, traveling and the beach.
He was preceded in death by his grandfathers, Kenneth McDonough and Norman Malzberg.


Surviving in addition to his parents are:
Sister, Missandra Lynn of Duryea
Sister, Hayleigh Elizabeth of Duryea
Sister, Kayla of Mt. Carmel
Brother, Robert of Mt. Carmel
Sister, Tina of Mt. Carmel
Grandmother, Julia McDonough of Duryea
Grandmother, Toby Malzberg, Fort Lee, New Jersey
Step father, Keith Yarnell of Duryea
Step mother, Helen Homolovich of Mt. Carmel
Aunts, uncles, one nephew, cousins and friends
Private funeral services and interment will be held at the convenience of the family in St. Joseph's Cemetery, Duryea. There will be no public viewing. Arrangements are by the Bernard J. Piontek Funeral Home Inc., 204 Main Street, Duryea. To leave an online condolence for Michael's family, please visit the funeral home website, www.piontekfuneralhome.com.
PLEASE NOTE: YOUR ONLINE CONDOLENCE WILL NOT APPEAR UNDER THE GUESTBOOK ENTRIES UNTIL IT IS APPROVED BY THE FUNERAL HOME
Guestbook Entries
Rip buddy... Forever in our hearts

Megan Yarnell

(28 days ago)
So sad to see you go so soon You were practically still a baby My condolences to you mother and father missy and mike

Carrissa

(29 days ago)
You're in Valhalla with the gods and warriors now. Rest In Peace man

Donovan Sott

(29 days ago)
I love you so much baby boy I wished you would of came to me for help because I would of helped you. Your were my protector, heart cook, you helped me with your sister. Your sisters miss you and love very much and they are very sorry for being a butthead towards you just remember your sisters love you big much and I will always love you to the moon and back pumpkin I love you

Missandra J Kennedy (mom)

(29 days ago)
its been since middle school since I've talked to you or seen you i'm so shocked that you are gone I miss you so much Fly high Mike

Amanda Frye

(30 days ago)
Michael, Thank you for the light you gave to this world.

Hannah

(30 days ago)
Miss you Mike, you always knew how to make me and everyone else crack a smile.

Cassie

(30 days ago)
I miss u buddy u were the little brother i always wanted its hurting me that u left so soon

Cody bidwell

(30 days ago)
My deepest condolences to this family Michael ur death is a complete detestation I can't believe you are gone!

Jennifer milazzo

(30 days ago)
I knew you from Hugh J Boyd elm. School my prayets are with the family. remember this prayer. God Took thee home. It was his will. But in our hearts. We livith still.

Marianne Ramirez

(about 1 month ago)
i love & miss you so much. i looked up to you as a brother. you were honestly the best person i could have ever met in this lifetime. i am so grateful to have spent the time that i did with you.

hailey monahan

(about 1 month ago)
Gone way to soon, keep watch over your family

Cynthia Hannah

(about 1 month ago)
our hearts are so broken, in our souls a giant void, our world's shattered and forever changed. We will Love you always and miss you forever.

Helen Homolovich (2nd mom)

(about 1 month ago)
Oh My Little Crab. We love and miss you so much. Fly high sweetheart. You were an absolutely amazing kid. You are greatly missed and loved. Our heart are beyond shattered with you're passing.

Anton & Josie

(about 1 month ago)
Sign the Guestbook