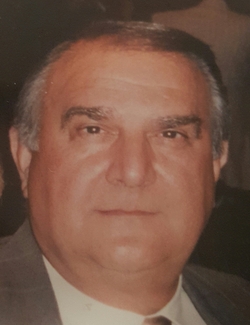 Mr. Michael J. Girman, of Avoca, passed away Wednesday, January 11, 2017, at Geisinger Wyoming Valley Medical Center, Plains Township.
Born in Pittston, he was the son of the late Michael and Sophie Smigel Girman. He was a graduate of Scranton Prep, Class of 1956 and the University of Scranton, Class of 1960. He served in the United States Air Force. Prior to his retirement, he was employed by the Scranton Regional Office of the Department of Labor and Industry.
He was a member of Nativity of Our Lord Parish, Duryea.
He was preceded in death by his two brothers, Robert and William.
Surviving are his wife the former Barbara Wilk
Daughter, Dr. Andrea Girman of Portland, Oregon
Son, Michael Girman and his wife, Pam, of Doylestown
Four grandchildren:
Jake, Julia, W. Andrew and Emily

Sister, Charlotte Bernardi and her husband, Robert, of Exeter
Sister, Barbara DeSanto and her husband, Joseph, of Pittston Township
Sister in law, Lynn Girman of Duryea
Sister in law, Patricia Girman of Avoca
Nieces and nephews

A Mass of Christian Burial will be held on Monday, January 16, 2017, at 11:00 am in Holy Rosary Church, 127 Stephenson Street, Duryea. Interment will be in Holy Rosary Cemetery, Duryea. Friends may call from 10:00 am to 11:00 am at the church. The AM VETS Post 189 will conduct military services on Monday morning. Arrangements are by the Bernard J. Piontek Funeral Home Inc., 204 Main Street, Duryea. To leave the family an online condolence, please visit the funeral home website, www.piontekfuneralhome.com.  In lieu of flowers memorial contributions may be made to the Wounded Warrior Project, 4899 Belfort Road, Suite 300, Jacksonville, Fl. 32256 or the SPCA of Luzerne County, 524 East Main Street, Wilkes-Barre, PA 18702.
PLEASE NOTE: YOUR ONLINE CONDOLENCE WILL NOT APPEAR UNDER THE GUESTBOOK ENTRIES UNTIL IT IS APPROVED BY THE FUNERAL HOME
Guestbook Entries
Mike, Pam and all the Girman Family - We were deeply saddened by your loss. Our thoughts and prayers are with you. With warm regards, Jack & Susan

Jack & Susan Conway

(over 3 years ago)
Dear Barbara, Michael and Andrea, I am sorry sorry to hear about Mike. I have the fondest of memories from the time I spent working with him. Please accept our deepest condolences and may God bless you and your families.

David Coffee

(over 3 years ago)
Barb and Family, so sorry to hear of Michael's passing. He was a great coworker

Joe & Elaine Bernardi

(over 3 years ago)
So sorry for your loss thoughts and Prayers with you anf your family

Bebe Yuhas Teddie Thomas

(over 3 years ago)
Our prayers and thoughts are with you Barbara and your Family on the loss of your loved one. Mike was kind , thoughtful and a good person. He will be missed by all. God Bless and May HE REST in PEACE until we all meet again !.

William & Bernard Kasulis

(over 3 years ago)
Barb... We are deeply saddened to hear about Mike and reach out to you and your family with sincere sympathy. We will always remember Mike as a friendly, warm, humble man with a contagious smile. We enjoyed our brief pre-dinner chats at all the company events as he always had something inspirational to say. We were blessed to have him... we pray for your comfort and a peaceful rest for Mike.

Pete & Sally Feisel

(over 3 years ago)
Barb, I can't tell you how sincerely sorry we are for your loss. He was one of a kind. I appreciated Mike whether at work or socializing. He'll be greatly missed. You and your family are in our prayers. May he rest in peace and God Bless.

Mike Girman

(over 3 years ago)
My sincere sympathy on your loss of Mike. I worked with Mike for many years and will always remember our many trips to Wellsboro, and Denver.

Dennis Kapuschinsky

(over 3 years ago)
Dear Barbara, Michael & Andrea, our deepest sympathies to you & your families at this sad time of life. Mike was a great guy who will be missed by all who were blessed to know him. May he rest in peace.

Diane & Jerry Coffee

(over 3 years ago)
Barbara - I am so sorry to hear about your loss. Wasn't it just this summer that Mike would be waving while passing my house in his truck? He was always so kind; smiling and waving hello. Please know that I am just down the street. Call me (570) 239-7988 if there is anything you need or you would like a visit for coffee. Warmest regards to Andrea and Mike also.

Maureen Reardon Diaz

(over 3 years ago)
The Girman Family I wish to express my sincere condolences to the entire family . Mike was a "man among men " ! America has lost a man of unquestionable character and a Patriot. Frank Paris , Major U.S. Army Retired . Spring Hill Fl.

Frank Paris

(over 3 years ago)
Barbara and family. I am so very sorry for your loss of Mike. I worked with Mike in Region and he was always such a gentleman to all of us. Prayers to you and your family.

Donna Inda

(over 3 years ago)
I'm sorry for your loss ... mike was a co-worker in Pittston and a friend. he will be missed

jarrett roan

(over 3 years ago)
Sympathy and prayers to you and your family. Mike was one of the good guys!

claire Gromelski

(over 3 years ago)
Our prayers and thoughts are with you and your family at this most difficult time. He was an amazing man.

Mr. & Mrs. Thomas McAndrew

(over 3 years ago)
My sincere sympathy to the family. God Bless. May he Rest In Peace.

Valerie Olszewski

(over 3 years ago)
My condolences to the entire family. He was great man.

Janice Gromelski Miller

(over 3 years ago)
Sign the Guestbook