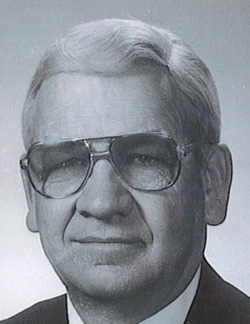 Mayor Eugene Chromey, 87, of Duryea, passed away peacefully in Wilkes Barre General Hospital on Wednesday, June 14, 2017 surrounded by his loving family. Born and raised on Cherry Street, Duryea, he was the youngest and last surviving child of Austro-Hungarian immigrant parents, Joseph and Anna Dzbor Chromey's eight children. He attended Duryea Public Schools and graduated from Duryea High School in 1948. There he met his future wife, Mary Ann Kulas in 1944. He played football for the Duryea Wild Cats as a guard and linebacker and earned a football scholarship to Mansfield State College which he declined for financial reasons. Instead, he enlisted in the U. S. Army and proudly served his country from 1948 – 1951 as a Corporal. Because of his excellent typing skills, he had a clerical position with the Army Transportation Core at Fort Lawton, Seattle, Washington during the Korean Conflict. For his 60th birthday, he returned to Fort Lawton with his daughter and was given a tour of the post which is now a state park. When returning to civilian life, he married Mary Ann on May 17, 1952. As a Veteran, he sought employment at Tobyhanna Army Depot where, once again, his typing skills were an asset and he was trained as a key punch operator when computers were are a new technology. He quickly progressed to the position of programmer/ analyst and spent many hours in training at IBM in Philadelphia. He retired after 20 years of service in the 1970's and started his career in politics. 
Eugene was a driving force in the formation of the Duryea Home Owner's and Taxpayers Association in the early 70's. An outspoken advocate for public affairs, he decided to enter politics and was elected to Council in Duryea in 1978, serving two years as the Council Chair. He was elected Mayor of Duryea in 1982 and served until 1994. Over the years, many Duryea businesses and residents remembered him as a devoted public servant. Unable to be idle, he then took a position with Luzerne County as a real estate assessor. He retired from the county in 2006. In his later years, he was a loving husband and caregiver to his wonderful wife, Mary Ann, to whom he was married 61 years.
He was a member of Nativity of Our Lord Parish, Duryea. He was a lifetime member of the American Legion Post 585, Duryea and a social member of the V.F.W. Post 1227, Duryea.
He was preceded in death by his loving wife, the former Mary Ann Kulas in 2013 as well as his seven siblings, brothers, Michael, Joseph and Henry Chromey, and sisters, Anna Borzik, Mary Dzurisin, Bertha Pero and Margaret Chromey.
Eugene is survived by his daughter, Rosemary Chromey and her husband Richard M. Goldberg, Wilkes Barre; his son, Atty. Barry Chromey and his wife Sheryl, Moscow and his son and caregiver, Kevin Chromey, Duryea Eugene is survived by his granddaughter Leah Ann Goldberg, a 2017 graduate of the University of Pennsylvania, whom he adored and was extremely proud of her accomplishments. He is also survived by Barbara Byran of Erwine Home Health Care, who was his aide and part of the family for four years.
Funeral services will be held on Monday, June 19, 2017, at 12:00 pm at the Bernard J. Piontek Funeral Home Inc., 204 Main Street, Duryea with Msgr. Vincent Grimalia officiating and Deacon Joe DeVisia assisting. Interment will be in Holy Rosary Cemetery, Duryea. A viewing will be held from 11:00 am until the time of services. To leave the family an online condolence, please visit the funeral home website, www.piontekfuneralhome.com.
Shiva will be observed on Monday, June 19, 2017, from 7:00 pm to 8:00 pm at the home of Rosemary Chromey and Richard Goldberg, 92 Riverside Dr., Wilkes Barre, PA .
In lieu of flowers, memorial donations may be made to Erwine Home Health and Hospice, 270 Pierce Street # 101, Kingston, PA 18704 or to Blue Chips Farm Animal Refuge, 974 Lockville Road, Dallas, PA 18612.
PLEASE NOTE: YOUR ONLINE CONDOLENCE WILL NOT APPEAR UNDER THE GUESTBOOK ENTRIES UNTIL IT IS APPROVED BY THE FUNERAL HOME
Guestbook Entries
We are sorry for your loss. Your Family is in our prayers. Mayor Chromey was a wonderful neighbor and a true Gentleman. May he Rest in Peace

Joseph and Elizabeth Zbylicki and Family

(11 months ago)
Rosemary, Please accept our deepest condolences on the passing of your father. He was a remarkable man and enjoyed a life well lived. May he be at peace in his heavenly home.

Hanover Nursery

(11 months ago)
We are very sorry for your loss. Mayor Chromey was very kind and helpful when we were involved with veterans' issues specifically our annual POW-MIA walk passing through Duryea. We have never forgotten his kindness. Our sincere sympathy.

Mike and Debbie Balash

(11 months ago)
A presence that could not be ignored. Truly one of the angels on earth, he tried to help everyone he could. He is with your mom and in the Lord's hands. Peace to you and your family. God bless

Patti Babkowski

(11 months ago)
Barry, Rosemary, Kevin, Sheryl, Dick and Leah: So very sorry for your loss. Having been down this road before myself, I understand the difficulty and sadness leading up to your dad's passing. The picture of him you shared the night before he passed spoke volumes. What a wonderful way to remember him, smiling and happy to be among his family. You should all be proud at the excellent care and attention you gave him, making it possible for him to live out his life with dignity until it was time that God called him home. May he rest eternally now as he rejoins his lovely bride.

Deborah Padavan

(11 months ago)
You were the best Mr Chromey! ! May Eternal Light Shine Upon Him and May He Rest in Peace! !

Cathy Ryzner

(11 months ago)
Barry, Sheryl, Rosemary, Dick and Kevin, So Sorry to hear about your father. Unfortunately, we will be at the airport on Monday going to Charlotte, NC to help out my sister who is having surgery and will be unable to attend the services. We are thinking about you all..

Mr. and Mrs. James Biesecker

(11 months ago)
Rest in peace Mayor Chromey .Worked at the Boro bldg when I was in high school and he was Mayor . Enjoyed our talks . Keeping your family in my prayers

Sue Dushko

(11 months ago)
Heaven awaits!

Vince Stankoski

(11 months ago)
Thanks for all the great memories Mr Chromey. You were a great Mayor and a good man. If not for your advice 37 years ago I might not have ended up in Vegas. Thank you for everything.

Duane Ryzner

(11 months ago)
Rosemary, Barry , Kevin and family, Prayers for God's Loving Peace are sent to you all during these trying days and beyond, remembering your Dad's perpetual smile and firm, honest handshake.

Stanley S Nazarchuk

(11 months ago)
I WAS VERY SORRY TO READ ABOUT EUGENE'S PASSING. I WORKED WITH HIM AT LUZERNE COUNTY. MY CONDOLENCES TO ROSEMARY AND HUSBAND RICHARD.

MR. & MRS. JOSEPH THOMAS

(11 months ago)
I am so very sorry to hear of Genre's passing. I met him when I was in high school. He was such a sweet, loving, and caring man. AWESOME MAYOR. !!!! Such wonderful memories I'll treasure. God bless you and family during this difficult time.

Kim Rugletic

(11 months ago)
Mayor Chromey made sure I had 2 boxes of Bazooka Joe bubblegum to take with me on each of my 4 tours on my submarine when I was in the Navy 82-87,it sure was a hit with the crew. I thanked him every time I seen him.RIP Mayor

David Guarilia

(11 months ago)
So very sorry for your loss

Lankowski Family

(11 months ago)
God Bless

Donna Wall Mead

(11 months ago)
Rest In Peace

Robin Pesotini

(11 months ago)
My thoughts and prayers with everyone who knew the Mayor. He was a great guy. RIP

John Zongilla

(11 months ago)
Rest In Peace Uncle Bootsie you are reunited with Aunt Mary Ann. I'll always remember how we all laughed when I introduced Scott to his great great Uncle Bootsie.

Barbara Chromey Smith

(11 months ago)
Our deepest sympathies at the falling asleep of your father. May he rest in peace.

Rev. Fr. & Mrs. Carmen G. Bolock

(11 months ago)
We met Gene in 1982 when we bought our home here in Duryea and he was so nice and helpful as Mayor with all the things we needed to settle in and vote here and he always had a smile. God Bless you and may you rest in peace.

Gary and Ann Edwards

(11 months ago)
Mayor will always be remembered, He always had a smile every time we met . Our condolences to the Chromey Famil.

Akulonis Family !

(11 months ago)
Gene will always be remembered for his generosity to St. Michael's Byzantine Catholic Church in Pittston, as well as many other charities in the area. May he trust in peace, may perpetual light shine upon him.

Felix & Pat Zelenowski

(11 months ago)
RIP Bootsie

Tom Stankowski

(11 months ago)
Uncle Bootsie will truly be missed. A trip home will not be the same without a visit to see him. Love and prayers to all. May he rest in peace.

Amy Chromey Meadows

(11 months ago)
Sign the Guestbook