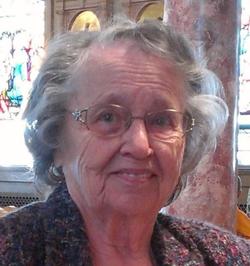 Mrs. Mary Lou Krimowski, 89, of Avoca, passed away Sunday, September 9, 2018, at Hospice of the Sacred Heart, Dunmore.
Born in Avoca, Mary Lou was the daughter of the late Michael and Mary Sulitka and was a graduate of Avoca High School, class of 1946. She had also received her LPN training from Baltimore City School of Nursing and was employed by the former Taylor Hospital. Mary Lou had worked the majority of her life as a waitress at various well known local restaurants , including the Woodlands Inn, Plains Township, for 17 years. She had also been employed by the Bon Ton, Wyoming Valley Mall, later in life.
Mary Lou was a loving and giving mother and grandmother, who enjoyed watching her grandkids grow up. She raised her family of four children in Duryea and was a member of Nativity of Our Lord Parish, Duryea.
She was preceded in death by her husband, Frank J. Krimowski who passed away in 1987.
Surviving are her children, Deborah Shovlin and husband, Jerry, Pittston; Adrienne Hafferty and husband, John, Alpharetta,GA; Frank Krimowski and his fiancée, Shaun Suddeth, Midlothian, VA; and Lisa Ardo and husband, Nick.
Fifteen beloved grandchildren who will sadly miss their grandma and Babci, Mrs. Maureen Shovlin Pikas, Mrs. Kate Shovlin Reynolds, Dr. Jerry Shovlin Jr., Ms. Lauren Shovlin, Atty. Deirdre Hafferty Macbeth, John Hafferty Jr., Sean Hafferty, Mrs. Diana Krimowski Fulton, Dan Krimowski, Thomas Krimowski, Frank Krimowski Jr., Elena, Dominique, Ariel and Kayla Ardo, and 22 great grandchildren.
Also surviving are her loving sisters, Mrs. Josephine Carpenter, Niagra Falls, NY and Mrs. Victoria Ose, and husband, Al, Bowie, MD. Cousins Mrs. Marie Leonard, Baltimore, MD and Mrs. Patricia Welch and husband, Joe, Bowie, MD., nieces & nephews.
In lieu of flowers, memorial donations may be made in Mary Lou's name to St. Jude's Children 's Research Hospital, 262 Danny Thomas Place, Memphis, TN 38105 or the building fund at Nativity of Our Lord Parish, 127 Stephenson Street, Duryea, PA 18642.
A Mass of Christian Burial will be celebrated on Thursday, September 13, 2018 at 9:30 A.M. in Holy Rosary Church, 127 Stephenson St., Duryea. Interment will be in Holy Rosary Cemetery, Duryea.  Family and friends are asked to go directly to the church the morning of the funeral. There will be no public viewing.  Arrangements are entrusted to Bernard J. Piontek Funeral Home Inc., 204 Main St., Duryea. To leave an online condolence for Mary Lou's family, please visit the funeral home website at www.piontekfuneralhome.com.
PLEASE NOTE: YOUR ONLINE CONDOLENCE WILL NOT APPEAR UNDER THE GUESTBOOK ENTRIES UNTIL IT IS APPROVED BY THE FUNERAL HOME
Guestbook Entries
So sorry for your loss. Many find memories.

Kaye Gibson, daughter of Mary Lou's cousin, Caroline

(10 months ago)
To the Family of Mary Lou, I'm a distant cousin of your family who became friendly with Mary Lou over the past few years while doing family research and am saddened to hear of your loss. Please know my thoughts and prayers are with all of you at this most difficult time. Bob Sulitka & Family, Kingston, PA 570-817-4961 marbeechrisbob@verizon.net

Bob Sulitka

(10 months ago)
I am so sorry for your loss . Everyone is in my prayers during this difficult time .

Kristen Wilce

(10 months ago)
Lisa , Elena and Family, Thoughts and Prayers with you all at this time. Such a Beautiful Soul!! Heartfelt Condolences.

Jill Griffith

(10 months ago)
Ciocia Mary Lou, Rest in Peace You held a special place in Marie's heart.

Jimmy and Peggy Leonard

(10 months ago)
Debbie so sorry about your mom she was a great lady. She will always be in your heart.

Peggy basara

(10 months ago)
Dear Debbie, Please accept my deepest sympathy for the passing of your mom. I was so sorry to hear of her death. Please extend my condolences to your whole family.

Rosemary Calabrese

(10 months ago)
Deepest sympathy to all the family left behind. This special lady will be truly missed. Thank you Cioci Mary Lou for all the great childhood memories. Rest in peace.

Nancy Pope and family

(10 months ago)
Rip

John mcglynn

(10 months ago)
Sign the Guestbook