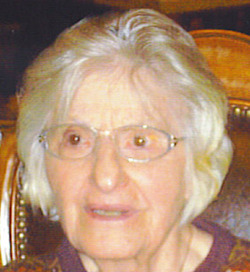 Mrs. Mary Alessandri, 94, of Old Forge, gained her angel wings on Monday, November 23, 2015, at Linwood Nursing Home, Scranton.
She was the wife of Leroy, who passed away on June 6, 2002.
Born in Old Forge, she was the daughter of the late Ralph and Eugenia Volpe Riviello.
She was preceded in death by siblings Vito, Frank, Joseph, John and Louis Riviello, Angeline Guariglia, Minnie Maccione and Rose Asaro.
Surviving are:
Daughter, Teresa Finegan and husband, Mike, of Duryea
Granddaughter, Carla Hughes and significant other, Mark Mullen, of Avoca
Grandson, Jeff Hughes and wife, Amy, of Duryea
Two great granddaughters, Julia Isabella and Graclyn Olivia
Sister, Ann Gianti
Sister, Jean Blasi and her husband, Angelo
Sister, Sistine Policare
Sister, Louise Riviello
Brother, Ralph Riviello and his wife, Pat
Several nieces and nephews
Her family would like to thank the staff at Linwood Center for the care and compassion shown to Mary for the past several months.
A Mass of Christian Burial will be held on Saturday, November 28, 2015, at 10:00 am in Prince of Peace Parish, 123 West Grace Street, Old Forge. Interment will be in Old Forge Cemetery, Old Forge. Friends may call Friday from 5:00 pm to 8:00 pm at the Bernard J. Piontek Funeral Home Inc., 204 Main Street, Duryea. Family and friends are asked to go directly to the church the morning of the funeral. To leave the family an online condolence, please visit the funeral home website, www.piontekfuneralhome.com.
PLEASE NOTE: YOUR ONLINE CONDOLENCE WILL NOT APPEAR UNDER THE GUESTBOOK ENTRIES UNTIL IT IS APPROVED BY THE FUNERAL HOME
Guestbook Entries
I just found out today of my Aunt Mary's passing. I will never forget her generosity of spirit and good times spent at her house when I was a kid...waking up to see her baking early morning in the kitchen and cooking dinners for the family every Sunday. I love you, Aunt Mary. Your love and kindness has forever touched my life.

Joan Asaro Lyons

(over 4 years ago)
I was so saddened to hear of Mary's passing. She was truly one of the most loving and caring person I have ever known. I have so many wonderful childhood memories visiting her with Mom. Not only is she an angel in Heaven, she was one here on Earth.

Donna Mudzo Baclaski

(almost 5 years ago)
WE SEND OUR CONDOLENCES--TO THE ALESSANDRI AND REVIELLO FAMILY--FROM RICH. AND JOSIE BURDYN

RICH. AND JOSIE BURDYN ----THROOP

(almost 5 years ago)
Please accept our deepest condolences. During times like this the Bible can be a source of comfort and hope. Acts 24:15, Psalms 9:10, 83:18 .

Milton

(almost 5 years ago)
I love you, Aunt Mary. You had the heart of a Saint. I will miss you. Holidays will never be the same because your goodness made them extra special. Love and peace to all those who you called family and friends.

Pam Rusnak

(almost 5 years ago)
To Teresa and Family, I am very sorry to hear of your Mothers passing. While I never met her, from the stories I have heard she sounded like a wonderful woman. The Heavens are blessed with another beautiful angel. Peace and Comfort to you and your family. Donna

Donna Gard

(almost 5 years ago)
So sorry for your loss, Prayers going out for your family

Jamie Tucker, Anne Marie Antal

(almost 5 years ago)
Sis and Ginger, I am so sorry to hear about Mary. My thoughts are with you at this time. Love Patti

Patti Brigido

(almost 5 years ago)
Heaven gained another Angel, Mary was a sweet, kind loving person. She has Angels of her own looking after her, her daughter, Mike and Karla and Jeff. May the love of family and friends that surrounds you now and freinds that be a source of comfort at this time, and may the sympathy of those who care make the sorrow of your heart less difficult to bear.

Ann Lee

(almost 5 years ago)
Theresa so sorry to hear about your loss.

Jean Lettieri

(almost 5 years ago)
Aunt Mary, rest in peace. You were a big part of my life when I was growing up that I can never forget. Love you....

Franny Talerico

(almost 5 years ago)
So truly sorry for your loss. Love and prayers to all. Heaven gained another angel.

John and Sandy Nat

(almost 5 years ago)
What a sweetheart of a woman! Love and sympathy to all her family and those whose lives she touched.

Lisa Golubiewski

(almost 5 years ago)
One of the sweetest , kindest, ladies I knew. Always made you feel at home. I will miss you.

Larry Alexander

(almost 5 years ago)
Sign the Guestbook