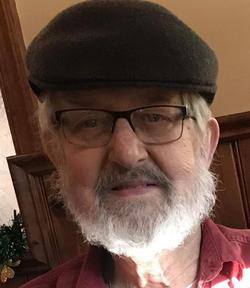 Mr. Martin (Marty) D. Hastie, of Duryea, passed away peacefully at his home on Saturday, July 25, 2020.
Born in Pittston, he was the son of the late Charles and Ruth McHale Hastie and was a graduate of Duryea High School.  He served in the United States Army. Prior to his retirement, he was employed by Tobyhanna Army Depot, as a supervisor of electronics and Maid Rite, Dunmore, as a supervisor of maintenance.
He was a member of Nativity of Our Lord Parish.
Marty was a true family man. He enjoyed spending time with his family, especially his grandchildren, who were the light of his life. He also enjoyed watching the Phillies, fishing, cooking, fixing things around the house and working around his yard. Years ago, he was the drummer in the Corvairs.
He was preceded in death by his son, Martin, who passed away on October 8, 1991.
Marty and his wife, the former Dorothy Keeler, would have celebrated their 59th Wedding Anniversary on August 1st.
Surviving in addition to his wife are:
Son, Kevin Hastie and his wife, Beth, of Clark Summit
Daughter, Cheryl Scartelli and her husband, Patrick, of Tafton
Grandchildren:
Martin, Katherine, Kyle and Avery
Sister, Beverly Lynch of Forty Fort
Brother, Kenneth Hastie of Florida
Nieces and nephews
The family would like to thank Dr. James Kosik, Abington Manor and Hospice of the Sacred Heart for the care and compassion that was shown to Marty and his family during this time.
A Mass of Christian Burial will be held on Thursday, July 30, 2020, at 9:30 am in Holy Rosary Church, 127 Stephenson Street, Duryea, with the Rev. John Polednak officiating. Interment will be at the convenience of the family in St. John's Cemetery, Duryea. There will be no viewing. Arrangements are by the Bernard J. Piontek Funeral Home Inc., 204 Main Street, Duryea. To leave an online condolence for Marty's family, please visit the funeral home website, www.piontekfuneralhome.com.
In lieu of flowers, memorial contributions may be made to St. Joseph's Center, 2010 Adams Ave., Scranton, PA 18509.
PLEASE NOTE: YOUR ONLINE CONDOLENCE WILL NOT APPEAR UNDER THE GUESTBOOK ENTRIES UNTIL IT IS APPROVED BY THE FUNERAL HOME
Guestbook Entries
Kevin and family, We are saddened to learn of your dad's passing. You are all in our thoughts and prayers.

Carol and Robert Kaluzavich

(14 days ago)
So sorry to hear of Marty's passing. I will never forget the good times we had together in our younger years.

Charles Resavy

(16 days ago)
We were so very sorry to hear of your loss. Sincere sympathies to your and your lovely family.

Joe and Elaine Beck

(16 days ago)
DEAR MRS. HASTIE, KEVIN, CHERYY AND FAMILY..PLEASE ACCPET OUR DEEPEST SYMPATHIES FOR YOUE LOSS. MR HASTIE WAS A GREAT GUY. SINCERELY, THE TUBRIDY FAMILY

MIKE TUBRIDY

(16 days ago)
Dear Hastie Family, We were so sorry to hear about your Dad, Kevin. We know that you were so attentive to him when the Coronavirus just began and everyone had stay-at-home orders. You were there with his groceries, etc. Certainly, your whole family will miss him. Savor the fond memories you all have of him. Thinking of you.

Cookie and Joel Goldman

(17 days ago)
Kevin, remembering your wonderful father and wishing you and your family comfort.

Joey & Michele Russick

(17 days ago)
DEAR KEVIN AND FAMILY..PLEASE EXCEPT OUR DEEPEST SYMPATHIES ON THE YOUR LOSS OF YOUR DAD..HE WAS A GREAT GUY..THE TUBRIDY FAMILY..

MIKE TUBRIDY

(17 days ago)
Beloved cousin.... many a happy memory growing up in the McHale household with Aunt Mame & the rest of the crew....

Arlene McHale

(18 days ago)
We are very sorry for your loss, and we have fond childhood memories of spending time at your home. He was a very kind soul and you all are in our thoughts.

Joe Komensky Jr. & Jacinta Vrabel

(18 days ago)
You will be missed.

Jackie and Jerry Herron

(18 days ago)
To the Hastie family - So very sorry to hear of Marty's passing. He was a great friend to my father and our family. Never got tired of the carpool stories! Deepest sympathy to your family.

John and Audrey (Battle) Bandru

(18 days ago)
So sorry for your loss. My thoughts and prayers are with all of you. May he rest in peace.

Sue Sebring

(18 days ago)
So sorry for your loss.

Carl & Laurie Imbt

(18 days ago)
Mrs. Hastie, Kevin, and Cheryl , I am so deeply sorry for your loss. Mr. Hastie was such a sweet, wonderful man and I am so happy I was able to see him from time to time over the years. Always a smile on his face ... I will always think of him fondly ... Love, Maria

Maria Smallacombe

(19 days ago)
Dear Kevin and family - My deepest sympathy. May you be comforted knowing your a dad is watching over.

Valerie Zigmund Pierson

(19 days ago)
Dorothy, Kevin, Cheryl, Marty was like my second father. I spent so much of my childhood at your house. He was a great Father to all of us, and always treated us like his own. I hope He and my Dad will have a few beers and play many rounds of pitch! We always have great memories with your family. Prayers and hugs to all of you. May he rest in peace.

Janice Gromelski Miller

(19 days ago)
I am so very sorry for your loss. Your family is in our prayers.

The Patire family

(19 days ago)
To my second family...I'm deeply sorry. Mr Hastie was the epitome of what a Father should be and am grateful to have been witness to this for most of my youth. Wishing strength and peace for the days to come. Love and peace to all.

Chrissy Morgan

(19 days ago)
To the Hastie Family Im so sorry for your loss Thoughts and Prayers to the family

Bebe Yuhas

(19 days ago)
We are so very sorry for your loss! Thinking of you during this difficult time.

Todd and Elisa Beckwith

(19 days ago)
A great guy wonderfull family and thanks for all the practice sessions in your basement especialy for all the soldering

Ron wolcott

(19 days ago)
So sad to lose a Friend and a great neighbor. We as well as all of Marty's friends and neighbors will surley miss him. Our condolences to the Family and Grandchildren

Charles and Teddie Thomas

(19 days ago)
Our deepest and sincere condolences to Dorothy, Kevin, Cheryl and the rest of the family. Many great memories and good times will always be remembered.

Edmund & Annette Gromelski

(19 days ago)
So sorry for your loss. Marty was always a very kind person. My thoughts and prayers are with you.

Linda Tomlinson

(19 days ago)
So sorry for your loss. I have very fond memories of you dad and the guys in the Tobyhanna car pool. I'm sure you do as well. Our sincere condolences .

Dr and Mrs Christopher Barbarevech and Family

(19 days ago)
Very sorry for your loss.

John Anderika

(19 days ago)
Our deepest sympathies go out to your family at this most difficult time. May you find comfort in your memories and knowing you have an angel watching over you.

Paula & Joseph Boyko

(19 days ago)
Dear Cheryl and Family We're so sorry for your loss. You are all in our thoughts and prayers.

Paul and Tammy Russick

(19 days ago)
So very sorry for the loss. He was truly a kind and gentle man.

Al and Donna McHale Michalec

(19 days ago)
Sign the Guestbook