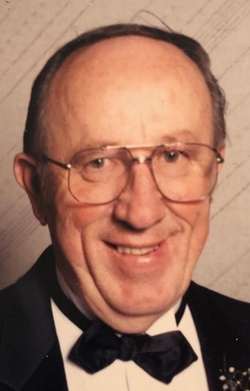 Mr. Martin "Frankie" Dunay, 88, of Duryea passed away peacefully on Sunday, May 19, 2019.
Martin was born in Duryea on December 8, 1930. He was the son of the late Martin and Anna Pavlisko Dunay. He was a graduate of Duryea High School, Class of 1949. He was a certified appliance repair technician and employed for over 50 years at Jacob Kurlancheek Furniture Store in Duryea as a repairman, warehouse manager and salesman. From 1976 through 1983, he served as a member of the Pittston Area School Board.
He was a member of the former St. John the Baptist Roman Catholic Church, Pittston, and a member of St. John the Evangelist Roman Catholic Church, Pittston. He was the president of the American Legion Fishing Club and a social member of both the American Legion Post 585 and VFW Post 1227 in Duryea.
He was a devoted and loving husband, father, grandfather, brother, uncle, and friend. He was the master of all trades and no work was too difficult for him. He was the first person you thought to call when something needed to be fixed. "He was a man of golden hands." He enjoyed fishing, gardening, building, and watching Penn State football.
Preceding him in death, besides his parents, were his brothers, Joseph, Michael, and Albert Dunay; his sisters, Mary Dunay, Pauline Vitek, Veronica Reese, Theresa Macuga, Ann Breig and Ruth Pernot.
Surviving is his loving wife Irene Yurkanin Dunay, Duryea. They would have celebrated their 63rd Wedding Anniversary on May 26th. Also surviving are two daughters, Dr. Darlene Ann Dunay and husband Anthony Wastella, Old Forge; Renee Poveromo and husband attorney Carl Poveromo, Duryea; one son, Martin Dunay and wife Cathy Dunay, Clarks Summit; six grandchildren, Anthony Wastella, Rachele Poveromo, Catherine Wastella, Julianne Dunay, Rhianna Dunay and Ricky Beccaloni; sisters, Helen Champi, Duryea; Irene Kosik, Dupont; brothers, Paul Dunay and sister-in-law Anna Mae Dunay, Shelton, Conn., Joseph Dunay, Enola; nieces, nephews, great-nieces, great-nephews, cousins and friends.
He will be remembered often, in a thousand different ways, in the morning with a cup of coffee, in the night working under the lights, by the water casting a hook, in the yard growing a garden and, in our hearts, forever.
His family would like to thank the staff and nurses at the Regional Hospital of Scranton and also the loving care of Dr. Linda Barrasse.
The funeral will be held Saturday, May 25, 2019, with a Mass of Christian Burial at 10:30 a.m. in St. John the Evangelist Church, 35 William Street, Pittston with Rev. John Kulavich and Rev. Phillip Sladicka officiating. Interment will be in St. John's Cemetery, Duryea. A viewing will be held on Friday from 5:00 pm to 8:00 pm at Bernard J. Piontek Funeral Home Inc., 204 Main St., Duryea. Family and friends are asked to go directly to the church the morning of the funeral. To leave an online condolence for Martin's family, please visit the funeral home website, www.piontekfuneralhome.com. In lieu of flowers, memorial contributions may be made to the Care and Concern Ministries, 35 William Street, Pittston, PA 18640.
PLEASE NOTE: YOUR ONLINE CONDOLENCE WILL NOT APPEAR UNDER THE GUESTBOOK ENTRIES UNTIL IT IS APPROVED BY THE FUNERAL HOME
Guestbook Entries
Our heartfelt sympathies to all the Dunay family. Linda, Sara & Charlotte Getson

Linda Getson

(11 months ago)
So sorry for your loss.Prayers for everyone.

Janice Gromelski Miller

(12 months ago)
So sorry for your loss. Your family is in our thoughts and prayers.

Eugene and Dolores Tomassoni

(almost 1 year ago)
Very sad to hear the news of Mr. Dunay's passing. Please accept my condolences. I have many fond memories of him, growing up on Cherry Street.

Kenneth Martin

(about 1 year ago)
Marty so sorry for your loss Thoughts and prayers to you and your Family

Bernie Hoover

(about 1 year ago)
Our thoughts are with your family. Please accept our condolences.

carol and jim wooler

(about 1 year ago)
Mrs. Dunay, Dr. Dunay, Renee, and Family my deepest condolences for your loss. My prayers and thoughts are with you all during this time of sadness. Love Mary Ann

Mary Ann Mistysyn

(about 1 year ago)
Sorry very sorry for the loss of your dad.

Karen Pribula Musloski

(about 1 year ago)
THOSE WE LOVE ARE ALWAYS WITH US. MAY YOU FIND COMFORT IN YOUR MEMORIES AND KNOW THAT OTHERS SYMPATHIZE WITH YOU IN YOUR LOSS . CONDOLENCES TO YOUR WHOLE FAMILY.

JERRI PRUSHINSKI

(about 1 year ago)
To Mrs. Dunay, Dr. Dunay and Renee and family. We are so sorry for your loss.

Rita Syslo and Joan Kryzanowski

(about 1 year ago)
VERY SORRY FOR YOUR LOSS. GOD BLESS THE FAMILY.

MR&MRS ANDREW RUSINCHAK JR.

(about 1 year ago)
My deepest sympathies to all. Celebrate his life and he will always remain with us. Now he must be enjoying fishing with Wallie, uncle Eddie, uncle Willie, and my dad, Michael. May they rest in God's peace.

JoAnn Dunay Sorber

(about 1 year ago)
So sorry for your loss.

Mary Lynn Grayeski

(about 1 year ago)
Dunay Family Sorry ro read of Frank passing. Please accept my most sincere condolences. Arnie Urban Northampton Pa

Arnie Urban

(about 1 year ago)
My heart aches for you all; especially Mrs Dunay. Mr Dunay was the definition of a true gentle man. You are all in my prayers.

MaryAnn Minner

(about 1 year ago)
My condolences to the Family Marty was a great guy and great neighbor will be missed on Cherry Street

Robert Webb

(about 1 year ago)
Heartfelt Sympathy In Your Loss

Richard L Beccaloni

(about 1 year ago)
Our condolences to the family Prayetd

Robin and Dennis Pesotini

(about 1 year ago)
Everyone should be blessed by having an Uncle Franky. He was ALWAYS there for me and our family. I will miss him SO much and his great smile.. XO

Jacqueline Vitek

(about 1 year ago)
Prayers and Condolences... I had the privilege of working with Mr. Dunay many years ago. A very kind and considerate man. I have memories of him visiting my moms restaurant on his lunch break, walking across the street from Kurlancheeks. A true pillar of our community, and a staple of our small town Duryea... Rest Peacefully our dear friend.

Darlene DeBiasi

(about 1 year ago)
Very sorry for your loss.

John Anderika

(about 1 year ago)
Our thoughts are with you and your family. Please accept our condolences

Donald and Maribeth Hineline

(about 1 year ago)
I am a friend of Jackie's and she talked aboutUncle Franks Often, i always felt that I knew him. She spoke of him with such love,fondness and gratitude. Sorry doesn't seem like enough, the earth has lost a wonderful man husband and uncle. I missed out never meeting him but know I loved him through Jackie's love for him.

Patti Goodyear

(about 1 year ago)
So sorry for your loss.

Marcella and Mary Ann Kosik

(about 1 year ago)
I WILL ALWAYS LOVE YOU BROTHER

IRENE KOSIK

(about 1 year ago)
Sign the Guestbook