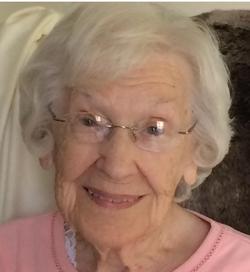 Mrs. Martha (Bess) Zaldonis, 98, passed away on February 5, 2019 in W. Granby, CT surrounded by her family.
She was born on July 29, 1920 and was raised in the Pittston area of Pennsylvania, where she was a lifelong resident. She graduated from Pittston High School, Class of 1939, and also attended the University of Scranton night school.

During WWII she moved to New York City where she worked at Bickford's restaurants as an assistant manager. After the War, she returned to Pittston junction to assist her sister Helen run and manage Danko's store. In 1950 she married her high school sweetheart Anthony T. Zaldonis of Duryea. Together they built their dream home on Main Street. Martha was a devoted wife and mother who unconditionally loved and supported her adoring husband and children. She was a mentor to her children, a caregiver to her family and a beloved member of her community. Since 2000, she was the Secretary/Treasurer of ZOM Construction Company and the Duryea Realty Company, Inc.; two local business interests shared by partners and other corporate officers. She was an experienced chef who knew the art of fine cooking, a talented seamstress, and was totally devoted to her extended family.

She was an active member of the former St. Joseph's Church in Duryea, where she was a member of the Confraternity of Christian Women.

She is preceded in passing by her infant brother, Frankie; parents, Frank and Pauline Radetsky Pacuska, husband, Anthony T. Zaldonis, brother Henry (Murf) Pacuska, and sisters; Regina Jorgensen, Mary Kay Lash, Helen Danko, and Frances Vaxmonsky.
She is survived by her children; Betsy Z. Benkowski of Potomac, MD, Anthony T. Zaldonis, MD, of W. Granby, CT, and John A. Zaldonis of Murrysville, PA and their respective spouses, Joseph, Eileen and Diana; her 8 grandchildren, Justine and Greg Benkowski, John, Pauline and Maura Zaldonis, and Jared, Jenna and Josh Zaldonis, plus her brother John (Poncho) Pacuska of Fountain Valley CA; in addition to her many loving nieces and nephews.
A funeral will be held on Saturday, February 16, 2019, at 10:00 am from the Bernard J. Piontek Funeral Home Inc., 204 Main Street, Duryea with the Mass of Christian Burial at 10:30 am in Holy Rosary Church, 127 Stephenson Street, Duryea. Interment will be in St. Joseph's Cemetery, Duryea. A viewing will be held on Friday from 5:00 pm to 8:00 pm at the funeral home. To leave an online condolence for Martha's family, please visit the funeral home website, www.piontekfuneralhome.com.
PLEASE NOTE: YOUR ONLINE CONDOLENCE WILL NOT APPEAR UNDER THE GUESTBOOK ENTRIES UNTIL IT IS APPROVED BY THE FUNERAL HOME
Guestbook Entries
So very sorry for your profound loss.

Leona Owens

(over 3 years ago)
Thoughts and prayers are with you. Peace and Love.

Bob and Linda Rebek

(over 3 years ago)
GOD bless her , may she rest in peace

GERALD KEARNEY

(over 3 years ago)
Rest In Peace Aunt Bess. I have so many beautiful memories of you. My condolences to all of your extended family.

Jennifer Tam

(over 3 years ago)
Sign the Guestbook