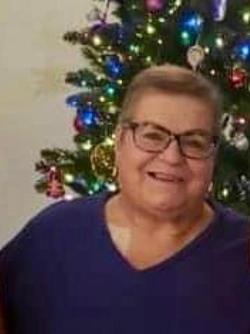 Marlene A. Jaworski, 69, formerly of Duryea, of Old Forge, passed away Friday, December 17, 2021, at Regional Hospital of Scranton.
Born in Pittston, she was the daughter of the late Bernard and Eleanore Kosick Ryzner and was a graduate of Pittston Area High School, Class of 1970. Prior to her retirement, she was employed by the former Wachovia Bank, Taylor and by Topps Chewing Gum Co., Duryea.
Marlene was a loving mom, grandma, great grandma, niece, sister, aunt, great aunt and friend. She loved spending time with her family, especially her grandchildren and great granddaughter. Marlene loved animals and was a dedicated volunteer of One Life to Live Pet Rescue, Scranton.
In addition to her parents, she was preceded in death by her brother, David J. Ryzner.
Surviving are:
Her companion, Joseph Celuck of Old Forge
Daughter, Amber Jaworski of Duryea
Son, Brian Jaworski and his wife, Michele, of Inkerman
Grandchildren, Caitlin, Cheyanne, Tyler, Blake and Allison
Great granddaughter, Abby
Brother, Robert Ryzner and his wife, Theresa, of Duryea
Nieces and nephews
Great nieces and nephews
Her puppies, Shadow, Rosey and Reese
A Mass of Christian Burial will be held on Wednesday, December 22, 2021 at 9:30 am in Queen of the Apostles Parish, 715 Hawthorne Street, Avoca with the Rev. Phillip J. Sladicka officiating. Interment will be Holy Rosary Cemetery, Duryea at the convenience of the family. A viewing will be held on Tuesday from 5:00 pm to 8:00 pm at the Bernard J. Piontek Funeral Home Inc., 204 Main Street, Duryea. Family and friends are asked to go directly to the church the morning of the funeral. In lieu of flowers, memorial contributions may be made to One Life to Live Pet Rescue, 1721 Olive Street, Scranton, PA 18510.To leave the family an online condolence, please visit the funeral home website, www.piontekfuneralhome.com.
PLEASE NOTE: YOUR ONLINE CONDOLENCE WILL NOT APPEAR UNDER THE GUESTBOOK ENTRIES UNTIL IT IS APPROVED BY THE FUNERAL HOME
Guestbook Entries
Marlene will be missed. I met her when I was volunteering and she was always kind and helpful! She knew my mother in Law and she always asked about her when she was sick. Sending love and healing to her family!

Lisa and Jim Jopling

(8 months ago)
I love you Marlene! I'm going to miss our daily phone calls. I miss them already. Save a place for me. My condolences to Joe and your family, you are all in my thoughts and prayers.

Ellen Van Luvender

(8 months ago)
I am so sorry for your loss praying for your family. Heartbreaking Marlene was a beautiful person and will be missed.RIP Marlene.

Kimberly Krah

(8 months ago)
Condolences going out to Joe and everyone in Marlene's family. She had such a loving heart and I am going to miss my friend so much! We were all very lucky to have had her in our lives. Even if it wasn't long enough. Sending love and hugs to all of you!

Debbie Stezar

(8 months ago)
Amber and Brian, I am so sorry for your loss. Aunt Marlene loved her family and her pups! Condolences from us all.

Chris Lewis, Bob Wicken and Lorraine Yaverski

(8 months ago)
My heart goes out with sincere condolences to Lovey and the family of Miss Marlene ... You will be missed ...

Donna M Ashford

(8 months ago)
My deepest condolences to Joe, Amber, Brian and family, my heart breaks for your loss. Marlene, you will missed every day, for you were someone special to all you met. Your friendship was a blessing to me and I will hold the memories of that friendship forever in my heart. Rest in peace my sweet friend.

Therese Brutko

(8 months ago)
I am so sorry to hear of Marlene's passing. I worked a few volunteer events with her for OLTL Rescue. She was always so nice and so passionate and dedicated to rescue. She will be very much missed by all who knew her. If you knew her you liked her

Doris Koloski

(8 months ago)
Christmas will forever remind me of her magnificent spirit, gentle smile and loving heart. Rest in heavenly peace.

Nancy Miles

(8 months ago)
Christmas will forever remind me of her magnificent spirit, gentle smile and loving heart. Rest in heavenly peace.

Nancy Miles

(8 months ago)
I was so very sorry to hear about Marlene's passing. I used to volunteer with Marlene & she was always so friendly and kind. She was a very sweet woman and will be missed so much!

Charlene Yablonsky

(8 months ago)
Bobby and family… both my sister, Lynn Ann, and I send our deepest sympathies to all of you. Memories of Marlene started way back when we were next-door neighbors on Pettebone Street… Take comfort in your own cherished memories and let them sustain you in the years to come.

Marty Jon Ryzner

(8 months ago)
May you rest in peace, my lifelong friend, Marlene. You will be deeply missed by everyone who knows you. My heart is broken for your precious family and everyone mourning your loss. Please give Dale a hug for me. xxoo

Michelle Dale

(8 months ago)
Marlene was such a giving person. My condolences to her family.

Rose Ann Paradis

(8 months ago)
Heaven has truly gained an Angel. Prayers for your family.

Chuck and Tammy Jaworski

(8 months ago)
My condolences to your family. My thoughts and prayers are with you.I went to school with Marlene.

AnnMarie Rossi

(8 months ago)
I will always remember you as outgoing and full of life.

Sue Jones

(8 months ago)
SO SORRY FOR YOUR LOSS.

DONNA WHISPELL MACK

(8 months ago)
Bobby just seen on Facebook about Marlene I'm so sorry for your.loss

Ann Ash

(8 months ago)
Condolences to your whole family thoughts and prayers

Linda wruble

(8 months ago)
Love you Mar! I don't know how to get along without you! Best friend forever!!!

Kathy Brown

(8 months ago)
Sign the Guestbook