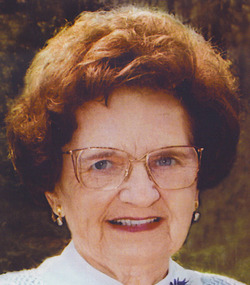 Mrs. Marie Komensky, 97, beloved mother, grandmother and great grandmother, passed away Sunday, May 28, 2017, at the Jewish Home of Eastern Pennsylvania, Scranton.
Marie, who was also known as "Amma Mecky," a name affectionately given to her by her grandson, Steven, was born on April 11, 1920 in Duryea, Pa. She was the daughter of the late John and Jennie Barbush Salansky and graduated from Duryea High School. Marie lived in Duryea for most of her life before moving to Clarks Summit to be closer to her daughter and family.
Simply stated Marie was goodness, love and faith. Although family obligations meant that her early dream of becoming a nurse never came to fruition, she ministered to family, friends and all who required her help with her quiet compassion, calm reassurance, loving hands and, of course, her wonderful cooking. She was particularly known for her Pigs in the Blanket and Kolache, which were made with love and shared with family and friends. She proudly coached her daughter and granddaughter, Katrina, in the art of Kolache-making. Marie was also known for her gift of letter writing where she expressed her thoughts with loving kindness through her written words. Her letters to loved ones will be cherished forever.
Marie's life was selfless and devoted to faith and family. She was a member of Nativity of Our Lord Parish, Duryea. She lived her faith everyday through her countless acts of kindness and sincere gratefulness for her blessings and in maintaining a spiritual bond with the Blessed Mother and St. Ann. Marie believed the reason God allowed her to be on earth so long was to pray for others. One could not help but admire her for her faith, beautiful spirit, grace and strength.
Her children, grandchildren, and great-grandson were the brightest lights in her life. Her unconditional love, dedication, pride and passion for them was treasured. Marie's energy and spirit showed through in all she did. She loved to sing and dance and enjoyed spending time at Lake Winola with family and sharing a glass of Riunite wine with friend, Clara Schmaltz.
She was preceded in death by her husband, Joseph Walter, who passed away March 3, 1984, son, Joseph, who passed away March 26, 2015, daughter in law, Carol Komensky, who passed away May 5, 2017 and sisters, Dorothy Kehayros, Agnes Tonetti and Genevieve Salansky and brothers, infant Paul, John, Andrew and Thomas Salansky.
Surviving are:
Daughter, Mary Jo Schmaltz and husband, Dr. Harry, of Waverly
Grandchildren:
Steven Schmaltz of Philadelphia
Katrina Schmaltz of New York City,
Jacinta Vrabel and husband, Stephen, of Philadelphia,
Lieutenant Colonel Joseph Komensky and wife, Lora, of Albuquerque, New Mexico
Great Grandchild, Joshua Komensky of Albuquerque, New Mexico
Nieces and nephews
The family would like to express sincere appreciation to Dr. Stephen Jaditz, the management and staff at The Jewish Home of Eastern Pa, Elan Gardens and Compassionate Care Hospice for the special care and love given during Marie's last years. Special thanks to Jackie and Kimberly.
A Mass of Christian Burial will be held on Friday, June 2, 2017, at 11:00 am in Holy Rosary Church, 127 Stephenson Street, Duryea. Interment will be in St. John's Cemetery, Duryea. Friends may call on Friday morning from 10:30 am to 11:00 am at the church. Arrangements are by the Bernard J. Piontek Funeral Home Inc., 204 Main Street, Duryea. To leave the family an online condolence, please visit the funeral home's website, www.piontekfuneralhome.com. Memorial contributions may be made to St Ann's Monastery 1250 St Ann St. Scranton, PA 18504 and St. Joseph's Center, 2010 Adams Ave, Scranton, PA 18509 or remember Marie by doing a simple act of love and kindness.
PLEASE NOTE: YOUR ONLINE CONDOLENCE WILL NOT APPEAR UNDER THE GUESTBOOK ENTRIES UNTIL IT IS APPROVED BY THE FUNERAL HOME
Guestbook Entries
Mary jo, and family, I am so very sorry,for your loss. Aunt Marie was such a wonderful sweet lady.May she fly with the angels and sleep in peace with the Lord.

Janice Gromelski Miller

(about 1 year ago)
One of the best things about becoming friends with the Schmaltz family was getting to know and love Marie. She was like a surrogate grandmother to our kids and never failed to share her love and kindness. She often sent over some kielbasi for us to enjoy. Her love for her family was so admirable, and she lit up when she spoke of them...never in a bragging way, but in a humble "I love them so much". We will miss her deeply, but are comforted by her strong faith in God and know she is truly an angel now.

The Webster Family

(about 1 year ago)
Dear Mary Jo and family, so sorry to hear of your mom's passing. She was such a wonderful woman, and a great friend to my mom. I'm sure they're both in heaven now enjoying each other's company again. My deepest condolences to your family at this most difficult time. May she rest in peace.

Jim Rava

(about 1 year ago)
Sign the Guestbook