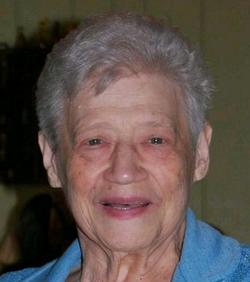 Mrs. Lucy M. Polak, 91, of Falls, passed away peacefully onto her heavenly home on March 3, 2018, at Riverside Rehabilitation and Nursing Center, Taylor.
Lucy was born in Duryea, on December 14, 1926, to the daughter of the late John and Anna Franko Ignatovich. She was a graduate of Duryea High School and worked at the Pentagon in Washington, D.C. It was then after she met and married her love of fifty four years, Edward A. Polak Sr. in Holy Rosary Church, Duryea. After years spent working together at the former White Swan, Falls, Lucy went to work at the former Topps Chewing Gum Co., Duryea where she retired 19 years later.
It was at their home in Falls, where many memories were made with their son, Eddie, wife, Jan and three grandchildren, John, Chrissy and Eddie. Many holidays, summers and special times were spent together with grandma and grandpa Polak.
Lucy adored her son and only child Eddie, who was there for her always. He was her pride and joy and so loved. Lucy's three grandchildren were her world. She deeply loved each of them and her memory will continue to live on in their hearts. Her heart only grew more when she became a great grandmother to Canio, Luca, Rocco and Bianca Lucia. It was then that grandma Polak became Ba Ba Lou. It was pure joy to experience the happiness on Ba Ba Lou's face every time she was around the "kiddos". It was a true blessing, she was a blessing to all.
It was her strong faith and love for the church that made Lucy a devoted member of Nativity of Our Lord Parish, Duryea.
Lucy was preceded in death by her husband, Edward A. Polak Sr., who passed away on November 27, 2000, brother, Albert Ignatovich and sister, Charlotte Salitis.
Surviving are:
Son, Edward Polak Jr. and his wife, Janice, of Falls
Grandson, John Polak of Falls
Granddaughter, Christina Symons and her husband, Joseph, of Toms River, New Jersey
Grandson, Edward Polak III and his girlfriend, Maura Williams, of Falls
Four great grandchildren
Brother, Joseph Ignatovich and his wife, Lucille, of Lake Winola
Nieces and nephews
Longtime friend and neighbor, Virginia Inglima of Falls
The family would like to thank Dr. Martin Moran and the staff of Riverside Rehabilitation and Nursing Center for the care and compassion that was shown to Lucy.
The funeral will be held on Wednesday, March 7, 2018, at 10:30 am from the Bernard J. Piontek Funeral Home Inc., 204 Main Street, Duryea with the Mass of Christian Burial at 11:00 am in Holy Rosary Church, 127 Stephenson Street, Duryea. Interment will be in the Parish Cemetery, Duryea. A viewing will be held on Tuesday from 5:00 pm to 8:00 pm at the funeral home. In lieu of flowers, memorial contributions may be made to Nativity of Our Lord Parish, Duryea. To leave an online condolence, please visit the funeral home website, www.piontekfuneralhome.com.
PLEASE NOTE: YOUR ONLINE CONDOLENCE WILL NOT APPEAR UNDER THE GUESTBOOK ENTRIES UNTIL IT IS APPROVED BY THE FUNERAL HOME
Guestbook Entries
Ed and Jan and family so sorry for your great loss. Wishing you find peace with your beautiful memories of your mother and grandmother..

Jean Caruso

(over 2 years ago)
So sorry for your loss, Lucy will be in the hearts of many. Blessed to have known her. In our thoughts and prayers.

Sue weber

(over 2 years ago)
To your entire family, I'm very sorry for your great loss. What a beautiful woman, May God Bless you and keep you.

Laura Dennis

(over 2 years ago)
We are all so sorry for your loss. Love and prayers to all the family, especially her great grandchildren. May she forever be their Guardian Angel.

Marie Walling

(over 2 years ago)
We are so sorry for your loss. Your family is in our prayers and thoughts.

Mr & Mrs Matthew Zdaniewicz

(over 2 years ago)
We are so sorry for your loss. Your family is in our prayers and thoughts.

Mr & Mrs Matthew Zdaniewicz

(over 2 years ago)
Lucy Polak, always smiling, and always trying to feed me. They don't make people better than that. Made me feel special and always told a great story. I'm so sorry for your loss.

Jim McDermott

(over 2 years ago)
So sorry again for your loss....Our thoughts and prayers are with you. Hope you can reminisce on fond memories and enjoy the time of being able to have all the family together during this time. Love Jenny & Mike

Jenny & Mike Castellanos

(over 2 years ago)
Our love and prayers are with you. Lucy was so special to our family and we will miss her so much. God bless you all for the great blessing you were to her.

Linda Gloman

(over 2 years ago)
Our thoughts and prayers are with you... she was a true joy to be around and we will cherish our memories.

Ed & MaryAnn Symons and family

(over 2 years ago)
I am so sorry for your loss thoughts and prayers to your family.

Michele ( Porasky) Michaels

(over 2 years ago)
Sorry for the loss of someone so loved..our family loves of you very much!

John /Gloria Williams

(over 2 years ago)
So sorry for your loss Ed Jan and your entire family. Your all like family to me throughout the years and I know how you all adored Lucy. In my thoughts and prayers.

Art Coolbaugh

(over 2 years ago)
Deepest sympathy to all the family. Lou always had a smile for everyonr.

Mabel Shaver Boyle

(over 2 years ago)
I have many fond memories of Mrs Polak and she was laughing in all of them. I know she left all of us with many happy memories. Praying for the whole family. Love you

Tammi and Brent Tanner

(over 2 years ago)
I am so sorry for the loss of your mother and Gradma. I remember her fondly. We were in the Falls Hose Company's Women's Auxillary together and worked together on the picnics and bingo. She was a remarkedly strong woman and such fun to be around. Your family has all my sympathy and prayers.

Ellyn Fortney

(over 2 years ago)
May the care and love of those around you provide comfort and peace to get you through the days ahead. Our most sincere condolences to a truly wonderful family.

Mr. & Mrs. Kevin Murphy and family

(over 2 years ago)
So sorry for your loss

Tim and Sandy Vancosky

(over 2 years ago)
Sign the Guestbook