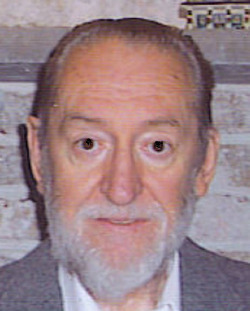 Mr. Louis D. Sapolis, 79, of Duryea, passed away Thursday, January 22, 2015, surrounded by his loving wife and family.
Born in Duryea, he was the son of the late Louis and Mary Kupcho Sapolis. He was graduate of Duryea High School, Class of 1953, he was a member of the Solid 7 Football Team and attended King's College. Prior to his retirement, he and his wife, Mary Ann, owned Mary Ann's Luncheonette, Duryea for twenty years.
He was a member of Nativity of Our Lord Parish, Duryea.
He was the best loving husband, father and Pop Pop. He had a love of history, a passion for cooking especially for his family and was an avid gardener.
He and his wife, the former Mary Ann Resavy, celebrated their 58th wedding anniversary this past November 19th.


Surviving in addition to his wife are his loving family:
Daughter, Maureen Berger and her husband, Harry, of Allentown
Twin Daughter, Doris Newman and her husband, Mike, of Voorhees, NJ
Twin Daughter, Doreen Muchorski of Chesterbrook
Daughter, Marian Serafin and her husband, Rich, of Laflin
Son, Louis Sapolis of Duryea
Grandchildren:
Jonathan, Michael, Matthew, Jordyn, Eric, Alexis and Evan
Sister, Marie DeCarlo and her husband, Jack, of Mt. Prospect IL
Nieces and Nephews
Funeral will be held Monday, January 26, 2015, with the Mass of Christian Burial to be held at 9:30 am in Sacred Heart of Jesus Church, Duryea with the Rev. Joseph Verespy officiating. Interment will be in SS Peter & Paul Cemetery, Duryea. Friends may call Sunday from 2:00 to 4:00 pm at the Bernard J. Piontek Funeral Home Inc., 204 Main Street, Duryea. Family and friends are asked to go directly to the church the morning of the funeral. In lieu of flowers, memorial donations may be made to Nativity of Our Lord Parish, 127 Stephenson Street, Duryea, PA 18642. To leave the family an online condolence, please visit the funeral home website: www.piontekfuneralhome.com.
PLEASE NOTE: YOUR ONLINE CONDOLENCE WILL NOT APPEAR UNDER THE GUESTBOOK ENTRIES UNTIL IT IS APPROVED BY THE FUNERAL HOME
Guestbook Entries
Marian, I am so sorry to hear of your Dad's passing. Cherish all of the memories you have over the years of time with your Dad. We are keeping you and your family in our thoughts and prayers. You were a devoted daughter who always made time to be with your Dad. Things will get easier for you , I promise. Know that he is resting peacefully now and watching over you and your family. Time heals the heart.

June Bodnar

(almost 6 years ago)
Lou, I am so sorry to hear of your dad's passing. I have very fond memories of him from when I was working at Maryann's. May you have peace and fond memories. "Life is pleasant. Death is peaceful. It's the transition that's troublesome."

Amy (Lapinksi) Bartels

(almost 6 years ago)
So sorry Marian to hear of your father's passing. May the many beautiful memories of him comfort youduring this difficult time. We will pray for strength and love for you and your family.

Susan and Martin Evans

(about 6 years ago)
To Darlene and Family - Our heartfelt sympathy to you. "There's never a teardrop that God does not see. He knows when a sparrow falls from a tree. There's never a moment when God doesn't care. Never a time when he won't hear our prayer."

Joe and Emma Richmond

(about 6 years ago)
So sorry for your loss. Sending prayers for the family.

Elizabeth and Joe Zbylicki

(about 6 years ago)
I will miss my beloved uncle. He was always a loving presence in my life and a splendid father to my dear cousins, a loving husband to my darling aunt. And what a devoted brother to my mom! I know he is resting in God's arms today.

Suzanne Ross, niece

(about 6 years ago)
May God Bless your Dad and your family!

Mary Skibiszewski GMH Mortgage

(about 6 years ago)
Sign the Guestbook