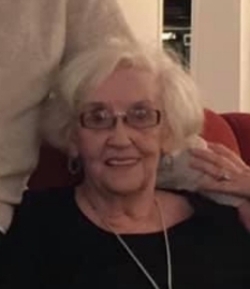 Lorraine Ann Emma, 76, of Duryea, passed away peacefully at her home on Thursday, December 31, 2020.
Born in Duryea, she was the daughter of the late Anthony Kaczmierczyk and Helen Matiko Kress and the step daughter of the late Michael Kress. She was a graduate of Duryea High School, Class of 1961 and East Stroudsburg College, Class of 1965. Prior to her retirement, Lorraine was employed as a teacher, in the area garment industry and retired from the Social Security Administration.
Lorraine enjoyed spending time with her family, especially her grandchildren, Holly Grace and Journey Hope. She also enjoyed reading, shopping online and cooking.
Surviving are:
Daughter, Maria Emma of Duryea
Son, Joseph J. Emma Jr. and his wife, Karen Walsh-Emma, of Pittston
Granddaughters, Holly Grace Emma and Journey Hope Emma of Pittston
Sister, Corinne Bendowski of Plains
Many nieces and nephews
A Mass of Christian Burial will be held on Saturday, January 9, 2021, at 9:30 am in Holy Rosary Church, 127 Stephenson Street, Duryea with the Rev. John Polednak officiating. Interment will be in SS Peter and Paul Cemetery, Duryea. There will be no viewing. In lieu of flowers, memorial contributions may be made to Blue Chip Farm Animal Refuge, 974 Lockville Road, Dallas, PA 18612. Arrangements are by the Bernard J. Piontek Funeral Home Inc., 204 Main Street, Duryea. To leave an online condolence for Lorraine's family, please visit the funeral home website, www.piontekfuneralhome.com.
PLEASE NOTE: YOUR ONLINE CONDOLENCE WILL NOT APPEAR UNDER THE GUESTBOOK ENTRIES UNTIL IT IS APPROVED BY THE FUNERAL HOME
Guestbook Entries
Dear Michael & Maria, so sorry for your loss , have so many good memories coming up there growing up , really miss those days , remember to keep your mom in your Heart - xxox

Andy and Rita Matiko

(19 days ago)
Joe, Maria, Karen, Holly, and Journey, We are so sorry for the loss of your Mom and Grandmother. Sending comforting and healing thoughts.

Marcia Wazeter and Al Jesikiewicz

(20 days ago)
Maria & Joseph I am so sorry for your loss. I remember your mom as such a sweet woman. I grew up on Center St, and she was there visiting often. Sending love and prayers to you and your family...

Sharon Jones-Malecki

(21 days ago)
So sorry for your loss. I worked with Lorraine at SSA she was a great lady. Sending hugs and prayers for all. RIP Lorraine.

Phyllis Miko

(21 days ago)
Dear Maria and Joseph, We send our deep sympathy to you, Karen, Holly Grace and Journey Hope and all your family on this great loss. Your mom was a wonderful woman, and I know all of you will miss her so much. May God comfort you and ease your pain. Love, Ellen and Art

Ellen and Art Becker

(22 days ago)
I am so sorry to hear of Lorraine's passing. She was a lot of fun to work with. Prayers to her family.

Teresa Michaels

(22 days ago)
I am very sorry for your loss our thoughts and prayers are with you and your family your mom was a very nice person she will be deeply missed

Ron Richards

(22 days ago)
So sorry for your loss of your mom prayers to you and family

Frank Cawley

(23 days ago)
I was so sorry to hear about Lorraine's passing. She was such a lovely, loving person. May she rest in peace.

Margaret Emma Boyt

(23 days ago)
So very sorry for your loss. May the love you shared comfort you during this difficult time.

Mike and Amanda Sekusky

(23 days ago)
Dear Joe and Karen , So sorry to hear of your mother's passing , I remember her from my Insalaco days , she always brought a smile to my face

Jim Francis

(23 days ago)
A FRIEND, CO WORKER . YOU WILL BE MISSED. NEVER A DULL MOMENT, I CAN HEAR THAT VOICE YELLING DOWN AT US .SORRY FOR YOUR LOSS GOD BLESS AND THE MEMORIES ARE MANY. PRAYERS FOR YOU MARIA AND THE FAMILY.

CATHY

(23 days ago)
Our hearts are broken for your whole family. So very sorry for this loss of a wonderful mother and grandmother. We are here if you need anything.

Jacki and Chris Kasa

(23 days ago)
Dear Maria and family. Sending our sincere condolences for your loss. Lorraine was a very sweet woman who was devoted to her family. I am sure your hearts are in pain but she is in the hands of our lord and there is no other better place to be. Sending our love and prayers.

Lots and Scot Felkowski

(23 days ago)
Sign the Guestbook