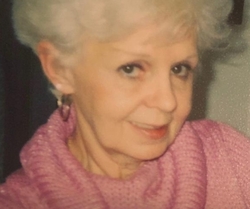 Mrs. Loretta Luder, 73, of Duryea, passed away Saturday, April 18, 2020, at Allied Services Center City Skilled Nursing, Wilkes Barre.
Born in Duryea, she was the daughter of the late William and Helen O'Boyle Nayavich and was a graduate of Duryea High School. Prior to her retirement, she was employed by the former Penn Gas, Pittston.
She was a member of Nativity of Our Lord Parish, Duryea.
Loretta was a loving mom, nana and great grandma. She was avid Dallas Cowboys Fan. In her younger years, Loretta and her sister, Mary Jane would sew clothes from their home for the local factories.
Loretta was preceded in death by her former husband of 34 years, Thomas A. Luder Sr., who passed away on November 16, 2010, her son, Thomas A Luder Jr., who passed away on July 10, 2005, her brother, William Nayavich and her sister, Ann Marie Pesarchick.
Surviving are:
Daughter, Tammy Russick and her husband, Paul Sr., of Avoca
Daughter, Lori Kush and her husband, Frank, of Kingston
Daughter in law, Barbara Luder of Duryea
Grandson, Paul Russick Jr. and his wife, Stephanie, of Avoca
Granddaughter, Alyssa Russick of Duryea
Granddaughter, Angelica Luder of Duryea
Grandson, TJ Luder of Duryea
Grandson, Josh Luder of Duryea
Granddaughter, Gracie Remus of Kingston
Granddaughter, Rebecca Remus of Kingston
Great granddaughter, Reagan Kathryn Russick of Avoca
Great Granddaughter, Sadie Lou Russick of Avoca
Brother, James Nayavich and his wife, Barbara of Pittston Township
Brother, Joseph Nayavich and his wife, Patricia of Dupont
Sister, Mary Jane Margavage of Duryea
Nieces and nephews
Funeral services and interment will be held at a later date in St. John's Cemetery, Duryea. Arrangements are by the Bernard J. Piontek Funeral Home Inc., 204 Main Street, Duryea. To leave an online condolence for Loretta's family, please visit the funeral home website, www.piontekfuneralhome.com. If desired, memorial contributions may be made in memory of her son, Thomas A. Luder Jr. c/o The American Cancer Society, 1300 Old Plank Road, Mayfield, PA 18433.
PLEASE NOTE: YOUR ONLINE CONDOLENCE WILL NOT APPEAR UNDER THE GUESTBOOK ENTRIES UNTIL IT IS APPROVED BY THE FUNERAL HOME
Guestbook Entries
So sorry for the loss of your Mom ...Mother in law.. grandma.great grandma.... sister..sister in law...Aunt .. Great Aunt.... friend. Have known you all a very long time ... keeping you all in our prayers!!

Judy and Tom Lambert

(3 months ago)
To Tammy, Barb and family; So sorry to hear of the loss of your Mom; please know that thoughts and prayers are with you at this difficult time...

Barb Novak

(4 months ago)
So sad...you will be missed aunt..and be loved forever!

Jeff Nayavicb

(4 months ago)
We are very sorry for your loss. We will keep you in our prayers.

Gerard and Patty Pernot

(4 months ago)
Prayers with your family at this difficult time

Michael Mesaris

(4 months ago)
Sending prayers

Cheryl Scartelli

(4 months ago)
Prays to the family. My Loretta RIP.

Ed Truelove

(4 months ago)
My condolences to Loretta's entire family, she now at peace in the arms of the Lord.

Bunny Vanyo-Thames

(4 months ago)
Very Sorry for your loss My prayers are With you

William Curry

(4 months ago)
So sorry for our loss. One of my favorite stories ia as a little girl I would hide her keys so she wouldn't leave me. Although she is no longer here in body she will always be in my heart. Much love and prayers.

Lisa Fathel

(4 months ago)
Prayers to the family may Loretta be resting in peace. I remember her wedding with the ice sculpture's. What I remember Loretta was a beautiful person and loving mother, RIP

Pam Vanyo

(4 months ago)
loretta was a very special person in my life. we were friends since high school.R.I.P.

donna rohland

(4 months ago)
Sign the Guestbook