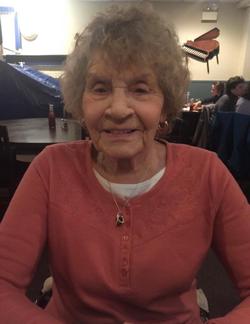 Mrs. Linda F. Vogel, 86, of Duryea, passed away peacefully on Saturday, January 8, 2022 at Geisinger Wyoming Valley Medical Center, Wilkes Barre, with her beloved family by her side.
Linda was born on August 27, 1935 in Bremerhaven, Germany. Linda was the daughter of the late Hans and Lina Steinbach Weers.
While living in Germany, Linda met Paul K. Vogel, the love if her life, who was stationed in Germany while serving in the United States Air Force. Linda and Paul would later get married on May 11, 1955 while Paul was serving in the USAF. It was from there on that they began their wonderful journey together. They traveled the world together for 22 years and raised four children along the way until Paul's retirement from USAF in 1974. They settled in Duryea to spend the rest of their time together with their family. Linda loved her children, grandchildren and great grandchildren dearly, enjoying every minute with them. Linda loved life and lived it to the fullest.
Linda was preceded in death by her husband, Paul, who passed away on July 21, 2016, and sisters, Marion Dunn and Christa Dressler.
Surviving are:
Son, Ronald Vogel and his wife, Bonnie, of Exeter
Son, Randy Vogel and his wife, Robin, of Duryea
Son, Rick Vogel and his wife, Pam, of Duryea
Daughter, Wendy McCawley of Duryea
9 grandchildren
12 great grandchildren
Nieces and nephews
Due to the ongoing pandemic, funeral services and interment will be private at the convenience of the family in Mt. Olivet Cemetery, Carverton. There will be no public viewing. Arrangements are by the Bernard J. Piontek Funeral Home Inc., 204 Main Street, Duryea. To leave an online condolence for Linda's family, please visit the funeral home website, www.piontekfuneralhome.com.
PLEASE NOTE: YOUR ONLINE CONDOLENCE WILL NOT APPEAR UNDER THE GUESTBOOK ENTRIES UNTIL IT IS APPROVED BY THE FUNERAL HOME
Guestbook Entries
Very sorry for your loss, Wendy and family. She was a good lady for sure.

Mike

(7 months ago)
My Deepest and Sincere Condolences to you Wendy and your entire family on the loss of your Mom. She was a wonderful woman and a breath of fresh air and always put a smile on everyone's face. Especially singing in the car with you. May she rest in peace and sing with the angels now.

Lee Ann Butch

(7 months ago)
So sorry for your loss. Such a nice woman. God Bless

John Galuska

(7 months ago)
My condolences to you and your whole family May the Lord bless and protect you....

Kenneth Murphy

(7 months ago)
So sorry for your loss thoughts and prayers are with you.

Lorrie Slatky

(7 months ago)
I'm very sorry for your great loss. She looked like she enjoyed life and was a happy soul judging from your posts. May she find comfort and peace with your father in heaven.

Diane Angeli

(7 months ago)
My deepest condolences to you Wendy and the rest of your family on the passing of your mom. She was a wonderful person.

Kelly Korea

(7 months ago)
So sorry for the loss of your mom and grandmother. Prayers for family

Pam Graziano

(7 months ago)
To all my cousins. Aunt Linda always had that Spice and fun for life. Oh and she loved Uncle Paul and you kids so much. Sending my Love. Patty Vogel Foti

Patty vogel foti

(7 months ago)
Allison and Jim, We are so sorry for your loss. Keeping you and your family in our thoughts and prayers.

Amber Dolinish and Kevin Klima

(7 months ago)
my dear aunt now you are united by your parents and sister. Your niece Heidi is with you too .. I think of you every day. in love your Jasmin (Mini) Germany

Jasmin von Glahn ( Gust)

(7 months ago)
Wendy, were very sorry to hear about your Mom, you and your family are in our prayers.

Louise & James Tighe

(7 months ago)
Rocky and family, we are very sorry for the loss of your sweet and loving mother. May she Rest In Peace.

Mary MacIntyre & Debbie Powell

(7 months ago)
I'm very sorry to hear about your Mom, your Mom & Dad were two great people, my thoughts and prayers are with you and your family.

Shawn Tighe

(7 months ago)
We are very sorry to hear of the passing of Linda. I always remembered her as a very elegant woman. Our thoughts and prayers go out to her family during this difficult time.

Paula and Joe Boyko

(7 months ago)
So sorry to you Wendy and your family for your loss

Allan Borgna

(7 months ago)
Very sorry for your loss.

John Anderika

(7 months ago)
Sign the Guestbook