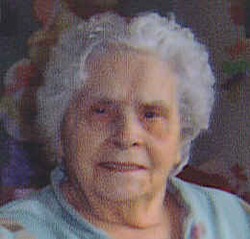 Mrs. Josephine Rose (Peggy) Abent, 86, of Avoca, a guest at Highland Manor, Exeter passed away June 22, 2013.
Born in Avoca, she was the daughter of the late Martin and Victoria Janoski Soy. She attended Avoca Schools. Prior to her retirement, she was employed by the former Pittston Apparel, Pittston.
She was a member of Queen of the Apostles Parish, Avoca.
She took great pride in her crafts, baking, playing bingo, and always helping other people She will be sadly missed by her family and friends.
She was proceeded in death by her husband, Charles, who passed away on April 2, 2009, infant son, Charles, son in law, James Loftus, brothers, John, Michael, and Joseph and sisters, Stella Healey, Frances Cavalari, Agnes Opett, Mary Nasatka, Sophie Evanich, Anna Panattieri, and Theresa Blake.
Surviving are:
Daughter, Margie Tucker and her husband, Thomas, of Pittston
Daughter, Irene Loftus of Scranton
Son, Pastor John Abent, Pastor of Saints Baptish Church, Berlin, Md. and his wife, Laurene
Daughter, Christine Loftus and her husband, Robert, Dunmore
Son, Mark Abent and his wife, Donna, of Cerritos, Ca.

Grandchildren:
Michele Hochstein, Ronald Pantucci and his wife, Elizabeth, Tommy Tucker, Robert Loftus, Kyle Abent and Mark Abent
Great Grandchildren:
Cody, Jack, Sophie, Violet, Matthew and Brandon
Funeral services will be held Friday, July 26, 2013 at 1:45 P.M. in the Independent Bible Church, Duryea with her son, Pastor John Abent and Pastor Albert Cremard officiating. Family and friends may call from 1:00 P.M. till the time of services at the church. If desired, memorial contributions may be made to the Independent Bible Church, PO Box 2093, Duryea. To leave the family an online condolence or for further information, please visit our website: www.piontekfuneralhome.com. Funeral arrangements are by the Bernard J. Piontek Funeral Home Inc., 204 Main Street, Duryea.

Guestbook Entries
Mrs. Abent was one of the nicest neighbors I ever had. I so enjoyed her crafts for my refrigerator. I used to see her in church and we would talk about various things. She was a lovely woman and did not ever bother anyone. I miss her and know she is in a better place. My condolences to all of you she was a special lady. God Bless her and also Jim. I know he is taking good care of her.

Ellen Scatena

(over 8 years ago)
Peggy was a wonderful neighbor. I have many great memories of her. My prayers are with her and her family.

Eileen Martin

(over 8 years ago)
Hi Grandma, Wishing you a happy birthday in heaven. I love you and think of you every day. xoxoxoxox

Michele Hochstein,granddaughter

(over 8 years ago)
Dear mom, It is your first birthday in heaven. I can't bring you flowers, a card or your favorite chocolate candy, but I could send you my love, kisses and prayers. I miss you everyday, and you are always in my thoughts. Happy birthday!! Please wish Jimmy a Happy Birthday from me and you too, since you are together now. I love you. xoxoxox

Margaret Tucker, daughter

(over 8 years ago)
My Dearest Mom :You are in heaven because you were and angel Love Christine

Christine Loftus, daughter

(over 8 years ago)
I remember my mom who always took care of me when i was sick all the time and never left me alone I remember my mon who made her delicious home made pizza and her cookie and pies . I remember when she made all her delicious cookies for ny Wedding Shower especially her pepper cookies. My Mom was a great baker and a cook she though me well. I remember mom always made me my birthday cake it was call a chinese wedding cake it was so good and she new I like it because she always made it for me. My Mom has some tuft times and so did her daughters but we got through it . So Mom you are in a better place now with the angels and MY Beloved Jim is making sure of that, he will take good care of you because he is the greatest husband i ever had and i miss him very much. SO Mon when see Jim please give his a kiss and a hug for me . Love Irene

Irene Loftus , daughter

(over 8 years ago)
Rose Abent, my Mom was an amazing mother. I was the last of 6 children and was always called the spoiled brat by my brother and sisters at times due to things that when I was young did not understand, or that I was the youngest one and maybe got away with things at times when I was younger. But as I got older, that may have given me more time with my mother because all of my sisters and Brother had moved out of the house and I had more special alone time with my Mom and Dad. And I would cherish the times I had with them. I was around my Mom while she was cooking, Cleaning, Watching TV and going places with her that I would love to be near her even though it was just everyday things; she would make things more interesting. Mom would always have Supper on the table no matter how tough things were. Dad would grow many things in the garden to bringing home Fish that he just caught and Mom would always make sure there was always something on the dinner table to fill your belly with. She would go out of her way to make sure that during every holiday, they were filled with joy and happiness. From having a filled Easter basket with candy to having a Christmas tree with many presents under it. And with every holiday the food of what she would create and bake were a taste of heaven. The homemade food was just out of this world. Your belly would sing with happiness… Mom had a lot of great Stories when she was younger, one of my favorites was when she was running away from someone chasing after her and asking for her name. She said "SUGAR AND CRANE IS MY NAME, ASK ME AGAIN AND I WILL TELL YOU THE SAME". Her stories were amazing...her Charm, Wisdom and Love where never ending… It's like when you ran low on any of these; she would give you a big hug and fill your heart with all of these beautiful qualities that she so lovely shared with you. And after that hug, you are filled with Charm, Wisdom, and love that would keep you going. I'm proud to call her my MOM and I was one of the lucky ones to be called her son. Growing up and being raised by her was one of the best things God has ever given to me on this planet. Even though we did not have much, I knew deep down that God has given me heaven on earth with her endless & forever lasting love that would live in my heart forever. Others knew her as Aunt Peggy, Rose, She had many many relatives and friends that where touched by her kindness and her endless love. She would go out of her way to help you out no matter what, She was there for you anytime… I moved to California back in 1982 because of carrier opportunities. But I missed my Mom & Dad. Mom would Travel out to California to Visit me and my wife Donna, (some know her as Misty). We were very fortunate to have her come out there almost every year for many years to come. When me and my wife (Donna Kane),AKA "Misty" where married out in Las Vegas, she was there. When we went to walk on the California beach for the first time, she was there. When our first & second Son were born (Mark & Kyle). She was there and she gave them their first baths. All of the never ending Love and support from her was amazing. Rose Abent, My Mom, was always there for us. I asked her one day, what can I do for her? You know what she asked for…… She asked me to take her to the game show THE PRICE IS RIGHT. I took her to that show dozens of times and she even talked with BOB BARKER and shook his hand. BOB even told her from his famous saying" COME ON DOWN ROSE, THE PRICE IS RIGHT". She was thrilled. For once I felt that I can finely give her something. Later she told me that she would love to go to Hawaii and we sent her there. She was so happy; she taught she was in paradise. She had a special glow about her for years to come. Mom will always be missed and that Love she has given me and others in these precious times here on earth I will cherish forever….. Thank You MOM for being my MOM…… And Thank You GOD for giving us Rose….It will never be the same here on Earth without you Mom… I miss you…… Always in your Heart and Thoughts forever…. Love Your Son Mark and Misty and Markie and Kyle.

Mark Abent, Son

(over 8 years ago)
I wanted to mention some of the things that made mom laugh so hard. I had a dream when I younger about Indians riding on horses over the bridge by our house. It was so real, and I would always tell my mom and her sisters that it was real. They would all laugh so hard, and continued to tease me about it forever! Even as an adult when I would drive my mom and Aunt Fran back and forth to bingo, they would laugh and laugh with me about a lot of things....but the Indian dream got the most laughs! I thin Aunt Agnes even peed her pants from laughing so hard! Another cooking memory is the homemade bread mom would always make. We , as kids, waited by the oven and she would cut it while it was still hot, and smear butter all over it for us kids. I don't think I have ever tasted better bread. Oh, and I can't forget the fried dough she made! The "dough dodgers"! I can still hear her saying that. Alzheimer's took my mom from me years ago, but I never gave up on her. She never forgot my name, and her address. Love you mom.

Margaret Tucker, daughter

(over 8 years ago)
My mother was a beautiful woman, inside and out. She was our loving mother, always showing her love to all of her children in so many ways. Her heart was full of kindness , and she always put herself before others. One memory I have of her kindness and generosity was when she would bake enough extras to give to her family and friends. I remember being a young girl, walking miles to deliver her baking to friends and family she felt needed it. Not only was she thoughtful, but she made sure each "care package" was beautifully packed in a pretty basket covered in warm towel to keep her baking nice and warm. Not only was she gentle and loving, but she was also graceful and strong. She was our protector. She did not always have it easy, but never gave up, and did everything she could to keep us safe. We also did a lot of fun things together, like picking coal from coal cars, and walking into town to pick up some goodies. My children loved and enjoyed her so very much. Her crafts kept her busy, and she was so talented! People from all over would order things from her to hang on their refrigerators, and decorate their homes. She make the prettiest silk flowers, and enjoyed making them for everyone. She taught my daughter how to do a lot of those things, along with teaching us all how to cook the most delicious Polish meals. She made pierogi and crescent rolls by the hundreds sometimes! Good thing she was a night person, staying up until 2 or 3am putting together all of her creations. Every Sunday at mom's was a regular thing...the meals, the talking, the kids running around. She loved all of it. She loved having everyone around, and having her children and grandchildren visit her. It was hard watching mom slowly slip into her disease. First it was forgetting little things, then forgetting recipes, and finally having to turn to a nursing home for help. I was there just about every day during mom's time at the nursing home. Some thought she didn't know anything or remember anything because of the Alzheimers, but she DID remember a lot when reminding her of moments and people in her life. Showing her pictures of her children, singing to her, reading her stories,watching the polka shows on Saturday nights at the nursing home with her all kept her going, and smiling. She even danced while in her wheelchair. She always called me by my name until the very end when her body began to fail her. She had a baby doll that she always carried with her in her wheelchair, and her bed. A few weeks before she became bed-ridden, she gave her doll away to another woman at the nursing home. I think she knew what was happening, and that her time was limited. The day before her death, I was exhausted and was thinking about not going to see her that day. But, I did. I am so very happy that I did because she actually found the strength to lift her head and kiss me that day. She whispered something to me, but I could not understand what she said. I spent that day with her, as hard it was watching her lay in bed in such a quickly deteriorating condition. She barely looked like mom anymore, but the look in her eyes told me mom was still in there. The same mom I have always loved so much. The next morning she passed away. I am happy that I could be with her during her last moments. I miss her so much. I am comforted by the fact that her disease no longer has a hold on her, and she is all better now. I love you mom,and so did everyone you knew. You touched so many with your gentle spirit and kind ways. I know you are at peace with your siblings, and you must be so happy to be with little Charlie again! He has been waiting for you for a long time. You are home now. xoxoxox

Margaret Tucker, daughter

(over 8 years ago)
Aunt Peggy gave far more than she ever got. I recall when she had to take me to the doctors office 2 times in 1 summer, once for a dog bite and the other for crashing Mark's bike over a tree stump ( both while on the paper route), she told me don't worry about the bike it can be replaced but I can't. When you get older you always want to go back to a time and place in your life, mine is getting off the Greyhound bus with my Gram when we got to Aunt Peg's she would have a Red Velvet cake waiting in the kitchen with plenty of Polish cuisine. It is not so much the food (but I did enjoy it), but more the way I felt, I felt loved and wanted and that's how Aunt Peggy made you feel always. I would visit every other summer and in life as a whole, would not add up to many years, but yet, those are the times I have deeply embedded in my mind, body and soul and Aunt Peggy was/is a major part of those memories. I feel greatly blessed to have had her in my life, she went back home with her sister's, you will be missed, but you will NEVER be forgotten. Love Jimmy

JAMES (JIMMY) CARPENTER

(over 8 years ago)
Marge, Michele and Family, I am s sorry for your loss, My the Lord comfort her and keep give her peace. My God watch over your family in your time of sorrow. All our Love Cyndi Russick and Leo Hennigan III

Cynthia Russick

(over 8 years ago)
I love you grandma. Your kindness, empathy and selfless ways have always inspired me to be the best person I can be. Every memory of my time with you is sweet. I'm sad you are gone, but I know God has made you whole again. I hope you are smiling down on us all. I hope to see you in my dreams. Xxoo

Michele Hochstein

(over 8 years ago)
Sign the Guestbook