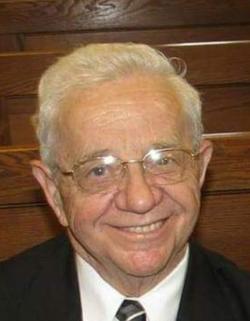 Mr. Joseph Long, 83, of Duryea, passed away Monday, December 16, 2019, at Geisinger Wyoming Valley Medical Center, Plains Township.
Born in Scranton, he was the son of the late Joseph M. and Mary Etta Miner Long. He served in the United States Marine Corps from 1953 to 1973. Prior to his retirement, he was employed by Schott Optical, Duryea and Sandvik, Waverly. In addition to working for Schott and Sandvik, Joseph was employed by the Bernard J. Piontek Funeral Home Inc. for many years.
Joseph was a member of Nativity of Our Lord Parish, Duryea.
He was a member of the Sons of Union Veterans of the Civil War, Marine Corps League, Purple Heart, Black Sheep, Sandvik Steel Retirees, and the American Legion Post 585, Duryea.
Joseph was an all around good guy always willing to help anyone who may need it. He always tried to make everyone happy, especially his wife. He enjoyed spending time with his family, was a friend to everyone and enjoyed bowling at Elko's, Dupont. 
He was preceded in death by son, Joseph Tucker, brother, Bob Long and twin brothers, Donny and David Long.
He and his wife, the former Mary Jo Butler, celebrated their 37 wedding anniversary this past February.
Surviving in addition to his wife are:
Son, Andrew Long and his wife, Nancy, of  New Windsor, New York
Daughter, Michele Denicola of Duryea
Daughter, Mary Margaret Mazzaccaro and her husband, Patrick, of Duryea
Daughter in law, Andrea Petito Long of Dunmore
Granddaughter, Gabriele Long and her fiance, Patrick Hilson
Grandson, Andrew Long
Granddaughter, Lauren McCormack and her husband, Adam
Grandson, Larry Denicola
Granddaughter, Kelly Eltora and her husband, Austin
Grandson, Eric Denicola
Grandson, Aaron Denicola
Granddaughter, Brianna Mazzaccaro
Great grandchildren:
Connor, Claire and Lucy McCormack
Brother, Eugene Long and his wife, Bonnie, of Florida
Sister, Mary Elizabeth Bolton of Melbourne, Florida
Aunt, Ida Mae Wall of Dalton
Nieces and nephews
His faithful and loving furry companions, Lola and Gus
Funeral will be held Friday, December 20, 2019, at 9:00 am from the Bernard J. Piontek Funeral Home Inc., 204 Main Street, Duryea with the Mass of Christian Burial at 9:30 am in Holy Rosary Church, 127 Stephenson Street, Duryea with the Rev. John Polednak officiating. Interment will be in Fort Indiantown Gap. A viewing will be held on Thursday from 5:00 pm to 8:00 pm at the funeral home. The American Legion Post 585, Duryea will conduct military services on Thursday evening at 7:00 pm. If desired, memorial contributions may be made to the donors favorite charity. To leave an online condolence for Joseph's family, please visit the funeral home website, www,piontekfuneralhome.com.
PLEASE NOTE: YOUR ONLINE CONDOLENCE WILL NOT APPEAR UNDER THE GUESTBOOK ENTRIES UNTIL IT IS APPROVED BY THE FUNERAL HOME
Guestbook Entries
Joe's sincere friendship was offered to me more than 30 years ago, as he invited me to join the Ezra Griffin Camp 8 of the Sons of Union Veterans of the Civil War. I will miss his earnest conversations and his ready smile, though I firmly believe we will see one another again, the other side of the Barrier he has just crossed. Joe served his family, his community, the SUVCW, several other organizations, and our nation, well and truly, simply because it was the right thing to do. My sympathies to Mary Jo and to all his family. I'm sure you are proud of his record of service, even as we all mourn his passing.

Lee Stone

(7 months ago)
I was so sorry to hear of Joseph's passing. He was such a wonderful man and I always looked forward to seeing him and his military memorabilia at the bank. I still have the pen he gave me from an old Marine. My deepest condolences to his family during this time. RIP.

Laura Harding

(7 months ago)
Joe was a great friend to me and my Grandfather. He was a great man; I will always remember his service to his God, family, and country. Semper Fidelis.

Major Dan Gershey

(7 months ago)
So very sorry for your loss. Love an peace at this difficult time.

jeanie kuenze

(7 months ago)
Deepest condolences to all of Joe's family, friends, Camp 8 and Auxiliary 10, and the Pennsylvania Department. Joe exemplified the term better angels of our nature. He was the best of what America has to offer.

Susan Mertz PDP and Alfred Carty PDC

(7 months ago)
Deepest condolences to all of Joe's family, friends, Camp 8 and Auxiliary 10, and the Pennsylvania Department. Joe exemplified the term better angels of our nature. He was the best of what America has to offer.

Susan Mertz PDP and Alfred Carty PDC

(7 months ago)
I worked with Joe at Sandvik for many years. After his retirement he would come to visit and bring us wonderful "MaryJo Long cakes". I remember when I first started at Sandvik I would get inter-office envelopes and they always had stickers on them. When I found out it was Joe who put them on the envelopes I asked him why he did that. He said he hoped the stickers would make people smile when they saw them. That was Joe - always looking to brighten someone else's day. What a wonderful person. May the wonderful memories help you through this difficult time.

Jennifer Staples

(7 months ago)
We are very sorry for your loss. He was a fine person ,who we had many talking sessions.

Mary and Bob McCormack.

(7 months ago)
He was a very nice person, who i was in his company a few times.We had conversatioins and i found him very friendly.I am sorry for your loss,

(7 months ago)
So very sorry for your loss. May he rest in peace.

Ed & Cindy Parry

(7 months ago)
From a fellow Marine, Semper Fidelis.

Anthony DeLacy

(7 months ago)
Sorry I could not be there to say good bye. May you Rest In Peace with the lord. Joe was in my life since I was a little girl. He was my favorite uncle . He always had a smile on his face. My condolences go out to his family for thier loss.

Sharon ferraro

(7 months ago)
It was my honor to have known Joe. He was an advisor, mentor, and most of all a friend. He was a special person who will be missed. My prayers for MaryJo and his femily.

James P. Jones

(7 months ago)
The passing of a great man who fought the good fight till the very end. It was an honor to know Joe and serve with him.

George D Gyuriska Sr

(7 months ago)
So very sorry for the loss of this good man!

Bill Fischer

(7 months ago)
Our family chain is broken and nothing Seems the same, but as GOD calls us One by one (The chain will link again) Love ya Brother.

Mary Bolton Long (SIS).

(7 months ago)
My Marine Brother, you will be missed i will miss your calls You were not one to talk for long but i loved to hear from you You always ended w (Be Good). Heavan has a special Angle my Brother Some day we will meet once again Will be in my thoughts forever.. I Love you .

Mary Bolton Long

(7 months ago)
Maryjo my heart goes out to you. So sorry to hear about Joe. I will miss his smile and kind ways.

Betty Baker

(7 months ago)
A good name is rather to be chosen than great riches, and loving favor rather than silver and gold. (Proverbs 22:1) Joe was a good man who lived this in front of us all. A good man indeed......and greatly missed.

Scott R. Teeters

(7 months ago)
Joe was a wonderful man. I'm so glad that my husband Mark and I got to know him. He was such a good friend and had a great sense of humor. He will be missed by all. Our thoughts and prayers go out to Mary Jo and family. God bless all of you.

Alana Zurinski

(7 months ago)
My uncle Joe was a hero, a mentor and an all around good man. I have always looked up to him. I have always enjoyed talking to him about the Civil War, he was so knowledgeable about. I only wish I could have spent more time with him. He will be missed very much but he will never be forgotten. RIP my Uncle Joe.

Joseph Robert Kessler

(7 months ago)
Anyone affiliated with the Allied Orders was blessed to know Joe's passionate patriotism and hearty sense of humor. Mary Jo, your supportive and vigilant love of Joe strengthened us all. Grateful for the footsteps left on our hearts, we send prayers from SW PA.

The Bill Walker's

(7 months ago)
brother Joe was instrumental in reviving John F Hartranft Camp 15 at Harrisburg during the late 1990's. He endlessly traveled from Scranton area to Harrisburg to obtain Camp 15 history, charters, old bank accounts and recruit new personnel to lift camp 15 out of a paper camp to an active, viable, productive body of active caring brothers. God bless your soul brother Joe and our very sincere condolences to Mary Jo and family and the brothers and sisters of Camp 8.

David W Demmy Sr

(7 months ago)
I had the distinct priveledge of hiring Joe and working together with him for many years. One of the true gentlemen I've had the pleasure of knowing. RIP my friend.

Bill Dempsey

(7 months ago)
Mary Jo, Anne and I are very sorry for your loss. You are in our prayers. Joe will be missed by all that knew him. I'm so glad that we got to visit you two in November. Let us know if there is anything we can do for you. Requiescat in pace, Joe.

David Sosnowski

(7 months ago)
RIP Joe. You will be missed. Larissa will miss your $2 bills she got all the time from you.

Danielle Shaffer, Mallory & Larissa Ellsworth

(7 months ago)
A kind and decent man who loved History in all forms and sought to preserve it. Rest in Peace - your comrades and loved ones welcome you with open arms.

Carla M. Huss

(7 months ago)
Our deepest sympathy. Mary Jo our thoughts and prayers are with you and your family. Joe was a great guy.

Dorothy and Craig Kelly

(7 months ago)
Joe: The Knight chosen to guard the grail. You were the best of the best.

Mike Grayson

(7 months ago)
Rip comrade

John mcglynn

(7 months ago)
Deepest sympathy to you dear friend.

Jean Donovan

(7 months ago)
Joe was a devoted husband to Mary Jo and his family. He maintained friendships over many years and made time to spend with them. A friend of Joe's was a friend for life. He was a leader in the GAR Camp #8 of the Sons of the Union Veterans always free to share historical information, fundraising, participating in events and in making arrangements for the preservation of historic books. He had a smile and wry sense of humor that was engaging. He will be missed. Our love and prayers go out to Mary Jo.

Roseann Martinetti

(7 months ago)
My sincerest condolences Mary Jo and all the family. Joe was my mentor over the past 30 some years. RIP Brother Joe. You will be greatly missed.

Bob Shaffer

(7 months ago)
We have lost a great man. We will miss Joe so very much. Our thoughts and prayers are with you Mary Jo.

Barb and Steve Indan

(7 months ago)
Sorry for your loss, Joe is a great man

Mark Lewis

(7 months ago)
Worked with Joe for many years at sandvik, he was so nice to all who worked with him a great man

Charles Herman

(7 months ago)
A fantastic person. Rest in peace my friend.

John Mlaker

(7 months ago)
We loved Joe and love his wife, Mary Jo. Prayers for the family. Fly high! Semper Fi, Corporal.

Cindy snd Victor Fox

(7 months ago)
We will miss you - you were always so welcoming and cheerful. Mary Jo - we are thinking of you!

Laura and Bob Kane

(7 months ago)
So very sorry for your loss...always in my thoughts and prayers

Laurie Mazzaccaro

(7 months ago)
Denicola Family, I remember your grandfather well from SAS days. May he Rest In Peace. You are all in my thoughts at this sorrowful time.

Joanne Derwin

(7 months ago)
Mary Margaret, My deepest sympathies to you and your family. Keeping all of you in my thoughts and prayers. Peace and G-d bless.

Mona R. Griffer

(7 months ago)
Michele, You and your family are in my thoughts and prayers. I'm so sorry for you loss.

Marian Sapolis Serafin

(7 months ago)
Sincere condolences. RIP my friend.

FH Decker

(7 months ago)
Joe and I would like to extend our condolences to Joe's family. May he R.I.P.

Paula and Joseph Boyko

(7 months ago)
Please accept our deepest sympathy Mary Jo our thoughts and prayers are with you and your family.

Dolores Slatky

(7 months ago)
Mary Jo my thoughts and prayers are with you. He was so brave and funny

Linda Snook

(7 months ago)
Joe, you were like a second father to me, mentoring me thru some tough times. True friends are hard to come by, but you were true blue. I will never forget that big smile and sense of humor. Rest in Peace Trooper. At Ease.

Tim Astleford Sr

(7 months ago)
I got to know Joe during my years at Sandvik. He was a pleasant, good natured person who always had a smile.

MaryAnn Hendrickson

(7 months ago)
We have lost a great friend and American Patriot. Till Valhalla brother. I will miss your smile.

(7 months ago)
Mary, Pat and Brianna, we are very sorry for your loss. May he Rest In Peace. The Nissen Family

The Nissen Family

(7 months ago)
I had the pleasure of working with Joe for a number of Years at Schott Glass and remained friends over the last 30 years. He was one of the happiest go lucky guys you would ever meet. He will surely be missed. Rest in peace.

Paul/Andrea Smihosky

(7 months ago)
I had the pleasure of working with Joe at Sandvik towards the end of his career. I always loved when Joe would bring in various pictures from his tours in Vietnam and the Purple Hearts he was awarded. He knew my Uncle Joe Bednarczyk of Vandling, also a former Marine. Joe, you always had a smile on your face and I did win a few times with your lottery tickets that I loved to tease you about. Rest In Peace my friend

Dave Shollock

(7 months ago)
Sign the Guestbook