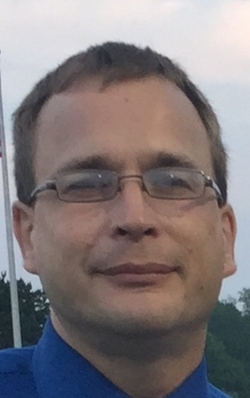 Mr. Jeffrey Branas, 46, of Pittston, passed away Friday, August 4, 2017, from a tragic accident.
Born in Duryea, he was the son of William Branas of Scranton and Mary Louise Mullin Branas of Duryea. He was a graduate of Pittston Area High School. He served in the United States Air Force. He was employed by the VA Medical Center, Wilkes-Barre for over 20 years and was the lead HVAC Technician.
He was a member of Nativity of Our Lord Parish, Duryea.
Jeff was a loving and devoted husband, father, son, brother and friend. He was kind hearted and would help anyone who asked something of him. To know Jeff was to love Jeff.  He was a man of few words, but his actions spoke louder than his words. He was talented and gifted in fixing and repairing most everything and made his house into a beautiful home for his family. He will also be missed by Charlie, the family's dog and Bentley and Annabelle, the two cats.
He was preceded in death by his infant son, Matthew Branas and his father in law, Frank (Chich) Arcaro.
Surviving in addition to his parents are:
The most special person in his life was his wife, Fran Arcaro-Branas.  They both showed to each other what true love was all about. The love and compassion that they shared would surpass any love story that could be written.
Daughter, Rachael Branas of Duryea
Son, Aaron Branas of Exeter Township
Daughter, Alexandria Branas of Honesdale
Daughter, Sabrina Lyons at home
Daughter, Julianna Arcaro at home
Brother, Michael Branas and his wife, Jean Marie, of Swoyersville
Mother in law, Carol Arcaro of Pittston
Funeral will be held Thursday, August 10, 2017, at 9:30 am from the Bernard J. Piontek Funeral Home Inc., 204 Main Street, Duryea with the Mass of Christian Burial at 10:00 am in St. Mary of the Assumption Church at Prince of Peace Parish, 123 West Grace Street, Old Forge. Interment will be in Old Forge Cemetery, Old Forge. Friends may call Wednesday from 5:00 pm to 8:00 pm. The Greater Pittston AMVETS will conduct military services on Thursday morning. To leave the family an online condolence, please visit the funeral home's website, www.piontekfuneralhome.com
PLEASE NOTE: YOUR ONLINE CONDOLENCE WILL NOT APPEAR UNDER THE GUESTBOOK ENTRIES UNTIL IT IS APPROVED BY THE FUNERAL HOME
Guestbook Entries
I am so sorry for your loss. I was shocked and saddened by the news. My prayers are with your family.

Ron Baloga

(8 months ago)
My heart is still heavy with the sadness of Jeff's sudden and tragic passing. My thoughts are with his family in this time of mourning. Godspeed and RIP, Jeff.

Christopher D. English

(9 months ago)
Our prayers are with you and your family during this very difficult time.

Joan and Ken Smykal

(9 months ago)
A very special person was taken from us all. A man who loved his family and friends. He is a son, a husband, a father, an uncle, a brother, and a dear friend. One who could always be counted on to be there for you if you needed him. No matter where our lives took us, our relationship was strong never wained. Life is short and fragile. I know that Jeff would want us to celebrate his life and not be saddened by his passing. As long as we remember him, he shall be with us, always. For me, he was my brother, and I shall carry his memories within my heart for the rest of my days. Until we meet again in the Halls of Valhalla, rest peacefully my brother.

LeRoy (Lee) Harvey

(9 months ago)
Rest In Pease my Brother

Felix M. Otero

(9 months ago)
To the family of Jeffery , I am so very sorry for your loss.

Cheryl Lokuta

(10 months ago)
So sorry for your loss. Thoughts and prayers to your family during this time of great sorrow.

Deb Karrott

(10 months ago)
Very sorry for your loss. Such a wonderful person. Thoughts and prayers to you all. God Bless.

Cheryl Kelly(VAMC)

(10 months ago)
My heartfelt sympathy & many prayers for The Branas Family on your tremendous loss of your beloved Jeff.

Joan Lockwood Smith

(10 months ago)
As a co worker at the va, I am so sorry to hear of your loss. Jeff was a very smart man and it was a pleasure to work with him numerous times. He will be missed.

Robert H Miller

(10 months ago)
Mary Louise I am so sorry for your loss of Jeffrey. I am unable to attend services, as I am currently in the hospital, you and your family will be in my prayers.

Madeline Branas

(10 months ago)
So sorry for your loss

Debra Lukowicz Lake

(10 months ago)
So Sorry for your loss, I had the pleasure of working with Jeff at times side by side as a contractor like many others on my team at the VA. He was a true partner and friend to many people and will be missed

Scott Lothian

(10 months ago)
I'm very sorry for your loss. Jeff was a good guy all the way around.

Gregory Knoble

(10 months ago)
Please accept my condolences .

Lisa Scrobola (VAMC)

(10 months ago)
We are so very sorry for your loss. We had the pleasure of working with Jeff at the VA for many years. He was a great man and will be missed very much by so many. God Bless.

Joseph & Danielle Hussey

(10 months ago)
A great coworker who will be sorely missed

William Uggiano

(10 months ago)
You and your family are in my prayers

Jeffrey Breyan

(10 months ago)
My deepest condolences to the family. I was so saddened to hear this news. Jeff was one of my best friends through high school and even had the patience to teach me how to drive a standard transmission using his pickup truck. May his family find the strength to get through this devastating time.

Christina Zuraski Keller

(10 months ago)
Mary Lou, I am so sad for you, I hope you Will find peace in time as I know the hurt will never leave , but your love will remain and family will support you and carry you on. You are loved.

Betty barbour

(10 months ago)
I am very sorry for your loss. Jeff was a hard worker, always willing to help out, and very friendly. He will be greatly missed in the VA Medical Center. My thoughts and prayers are with his family and friends.

Dana Nelson

(10 months ago)
I am so so sorry for the loss of your son Marylou. My thoughts and prayers are with you and your family. God be with you

Richard and Loretta Dziak

(10 months ago)
Mary Lou and family, you are in my thoughts and prayers and may your wonderful memories sustain you at this difficult time.

Ruth Gaboury

(10 months ago)
my deepest condolences...I used to call him uncle Jeff. Him ans my dad were always golfing or fishing. He fixed my dad up with my mom so thanks to him I exist....I will miss him.

Joseph Gula

(10 months ago)
So sorry for your Loss Mary Lou and Loved ones Prayers sent out to you all.

Cheryl Pina

(10 months ago)
Very sorry for your loss. Prayers are with you! Children should not go before you!!

Joyce McMahon

(10 months ago)
Dear Branas Family, Please accept my deepest sympathy. I remember Jeff as a funny and thoughtful guy from our teenage days who I am confident became a wonderful husband and father. May God provide you with His comfort and peace during this difficult time.

Jackie (Borthwick) Galvin and family

(10 months ago)
Mary Lou we are so very sorry for the loss of your son and also sorry for all of his family and friends. Something a parent should not have to go through. Please know we are thinking of you during this terrible time. Big hugs my friend xoxoxo see you back in Florida

Barb Norm Bedard

(10 months ago)
Mary Lou, my hear breaks for you. I wish I could give you a big hug and tell you everything will be okay, but a parent should never have to bury a child. Please know you are in my thoughts and prayers.

Ruth Ann Coon

(10 months ago)
To Jeff's Family I am sorrowed by your loss. Jeff always said "Hello" and never had a bad word to say about anyone or anything. He will be missed.

Ernie Schuldaski

(10 months ago)
So sorry for your loss Mary Lou. Our thoughts and prayers are with you and yours. Bill & Barb Slone

Bill and Barb Slone

(10 months ago)
So sorry for your loss of your son Mary Lou. Are thoughts and prayers are with you and yours.

Barb& Bill Slone

(10 months ago)
So very sorry for your loss my thoughts and prayers are with you.

Debbie leavitt

(10 months ago)
Mary Lou, deepest sympathy to you and your family during this sorrowful time.

Donna Nonnenmacher

(10 months ago)
Please accept my heartfelt condolences on the loss of your loved one.

Bharatgiri Gosai (Biomed)

(10 months ago)
Our condolences to you and your family Mary Lou, on the loss of your son. Please know that we are thinking of you during this difficult time.

Sharon and Garry Gaukel

(10 months ago)
So sorry for your loss. Thinking of you and your family Mary Lou.

Jane and Don Thornhiil

(10 months ago)
Our deepest thoughts and prayers with each and every one of you during this tragic time.

John & Judy Brazeau (Senate Manor)

(10 months ago)
Mary Lou , know that you and your family are in our thoughts and prayers ..

Edie Shinn

(10 months ago)
My depest condolence to you and your family my toughest and prayers are with you Mary Lou in this difficult time

Barbara MURRAY

(10 months ago)
Marylou and family - our heartfelt deepest sympathy to you and your family. We are keeping you in our thoughts and prayers at this difficult time. May God give you His strength and peace. Sending hugs and love ---

Joan and Bill Fredericksen

(10 months ago)
So sorry for your loss. My thoughts and prayers are with you and your family.

Denise Moran-Stalica

(10 months ago)
We are so sorry for your loss. Our prayers to the Family in this time of sorrow.

Joseph and Elizabeth Zbylicki

(10 months ago)
So very sorry for the families loss.

Jennifer Baker

(10 months ago)
I am so sorry for your loss. This man was my best friend for over 20 years . He fixed me up with my wife who is also deceased so I absolutely know that he's in good company. I pray that God will bless you and your family.

John Gula

(10 months ago)
My deepest condolences to your family.

Thomas Gershey

(10 months ago)
Very sorry to hear of your loss. My thoughts and prayers are with you and your family.

Joann Hadsall

(10 months ago)
Never expected this call, can't even tell you how sorry I am. I'm an HVAC contractor that has worked for Jeff for the last 11 years, when ever he called me for AC service whether it was for maintenance or an emergency, like the operating room is overheating he never got excited. he was very cool and calm and never paniced, I wish all my customers were like Jeff, he was a pleasure to work for, he will be so sadly missed.

Larry Budash

(10 months ago)
So sorry for your loss thoughts and prayers with you and your family

Jane decker

(10 months ago)
So very sorry for your loss. Had the pleasure of meeting him a few times WONDÈRFUL MAN and family. Our deepest condolences and prayers for all of you. Love you guys...

Cindy Rappenglueck and family

(10 months ago)
Reachel prayers and thoughts are with you and your family so sorry for you loss. God be with you at this time love you sweet

Joanne van ness and family

(10 months ago)
So very very sorry for your loss. My thoughts and prayers are with you all at this most difficult time. Hoping God will comfort you and help to heal your aching hearts.

Barbara Bacchiocchi

(10 months ago)
Sign the Guestbook