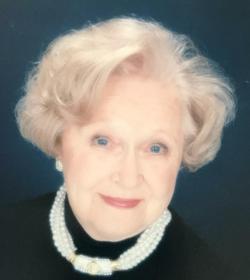 Jeanne A. Wywiorski, of Main Street, Duryea passed away peacefully Thursday, April 19, 2018.
Jeanne was born in Duryea, the daughter of the late Robert and Margaret Marsh Metcalf. A lifelong resident of Duryea, she graduated from Duryea High School. She was the matriarch member of Brick United Methodist Church. Jeanne was a member of the United Methodist Women and served in many church activities throughout her life.
Jeanne was most proud of her unending love and devotion to her children. She placed them above herself at all times and believed higher education was very important to securing a better life for them. To that purpose, she worked hard and saved for their tuition and living expenses. She was so proud of their every accomplishment.
Jeanne loved her family and friends. She was most happy when cooking and baking for dinners, holidays, and special times in their lives. She liked telling stories and had a wonderful sense of humor that filled the room.
Jeanne generously gave to others in so many ways. She noticed those in need and was present with a meal, rides to medical appointments and church, and a visit complete with cookies, cake, or pie.
Jeanne was preceded in death by her husband, Stanley P. Wywiorski and her son, Chris M. Wywiorski. Also, her sister, Elizabeth Clark of Coral Gables, FL; and her brother, Roy Metcalf of Scranton; and her great grandson, John Randall of Old Saybrook, CT.
Surviving are her daughter, Carol Halliday of Chestertown, NY; her son, Robert Wywiorski and his wife, Barbara, of Towanda; her daughter, Gail Malloy of Duryea; her daughter, Beth Persun and her husband, Andrew, of Mechanicsburg.
Her grandchildren, Jane Randall and her husband, Ben, of Old Saybrook, CT; Susan Halliday and her husband, Michael, of Chestertown, NY; Beverly Halliday and her husband, Nick, of Boston, Mass.; Laura Persun and her fiancée, August Gerhardt, of Philadelphia; Alex Malloy of New York, NY; and Christine Persun of Mechanicsburg. Her great grandson, William Randall of Old Saybrook, CT.
Many nieces and nephews and great-nieces and nephews.
Jeanne loved the Lord and relied on her faith for strength in her everyday life. She asked God to give her a long and healthy life and he blessed her with that gift.
Funeral services will be held on Wednesday, April 25, 2018 at 10:00 am at the Brick United Methodist Church, 935 Foote Ave., Duryea with the Rev. Michael Shambora officiating. Interment will be in the Marcy Cemetery, Duryea. A viewing will be held on Tuesday from 6:00 pm to 8:00 pm at the Bernard J. Piontek Funeral Home Inc., 204 Main Street, Duryea. Family and friends are asked to go directly to the church the morning of the funeral. In lieu of flowers, memorial contributions may be made to the Brick United Methodist Church. To leave an online condolence for Jeanne's family, please visit the funeral home website, www.piontekfuneralhome.com.
PLEASE NOTE: YOUR ONLINE CONDOLENCE WILL NOT APPEAR UNDER THE GUESTBOOK ENTRIES UNTIL IT IS APPROVED BY THE FUNERAL HOME
Guestbook Entries
i just heard of jeanne's passing today. she was a special friend and neighbor to my family (gino, helen, jennie, pete and sarah) when they lived across the street from her in Duryea. she was always "such a lady".

edie taroli samson

(almost 3 years ago)
Dear Wywiorski cousins and family, I am very sorry for your loss. Aunt Jean was a great lady and very much a part of my childhood. She was an energetic person and very kind. She will be missed. My thought and prayers are with you all. Love, Larisa Gryczko Avellaneda and boys

Larisa Gryczko Avellaneda

(over 4 years ago)
Your mother was such a bright light and warm presence, and a wonderful friend. Blessed be the ties that bound our families in friendship -- for more than a century, across several generations. Sending love and deepest sympathy to you all.

Mary Frances Donley Forcier

(over 4 years ago)
Celebration of a beautiful long life by a well loved woman. Gail, you are blessed with much of her generosity and caring spirit. Take comfort in knowing she now dwells with our precious Lord and Savior for all eternity!!!

Carole and Sandy Troy

(over 4 years ago)
My deepest sympathies to your family. Aunt Jeanne was one of the most warm and welcoming persons I have ever known. One of my very first memories was walking into her kitchen and seeing her baking up a storm. She was wonderful to my grandparents. I always appreciated her visiting with them and keeping in touch. She enriched all our lives. She lived her life to the fullest. She will be truly missed.

Gerald Gryczko Jr

(over 4 years ago)
I wish I were there with you now but at least my heart and spirit are, my Sister. Much love to you and your family.

Pam Mularcik

(over 4 years ago)
Deepest sympathy!

Patti Gillern

(over 4 years ago)
Beautiful tribute to your mother. My Deepest Sympathy!

(over 4 years ago)
Gail, Thinking of you and your family. You and your family are in our prayers. God Bless.

Lorrie & Brian Willie and family

(over 4 years ago)
Remember to celebrate her life. My most sincere condolences

Thomas Silver

(over 4 years ago)
Gail, I see where you get some of your wonderful qualities. May your memories comfort you and your family.

Tamsen Gooch

(over 4 years ago)
Gail - Wishing you peace to bring comfort, courage to face the days ahead and loving memories to forever hold in your heart. You are in my thoughts and prayers.

Christa Priest

(over 4 years ago)
God bless you and your family. You are in our thoughts and prayers

Pam Baker

(over 4 years ago)
Gail - our thoughts prayers are with you and your family.

Jim and Julia Dorman

(over 4 years ago)
Sign the Guestbook