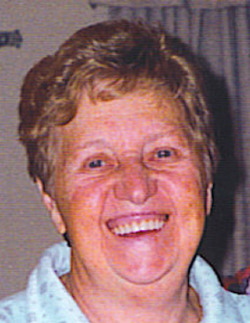 Mrs. Janet V. Haynes, 87, of Pittston Township, passed away Sunday, November 2, 2014, at Riverside Rehabilitation and Nursing Center, Taylor.
Born in Duryea, she was the daughter of the late Anthony and Veronica Trzcinski Kilyanek. She was a graduate of Duryea High School. She was formerly employed in the area garment industry and prior to her retirement she was employed by the former Topps Chewing Gum Co., Duryea.
She was a member of Nativity of Our Lord Parish, Duryea and the Nativity of Our Lord Women's Society. She resided in Pittston Township since 1951, prior to that she resided in Taylor. She and her husband enjoyed polka dancing and were members of the Polka Dot Club prior to his death.



She was preceded in death by her husband, Edward Anthony Haynes, who passed away on July 1, 2011, brothers, Adam, Frank, Casimer, Anthony, Joseph, Edward and Stanley and sisters, Helen Amantea, Mary Grochal and Eleanor Mancini.
Surviving are:
Son, Edward J. Haynes and his wife, Barbara, of Pittston Township
Son, James Haynes and his companion, Shirley Behler, of Bethlehem Township
Three Grandchildren, James, Stephen and Andrea
Four great grandchildren, Gregory, Kaylee, Oscar and Matthew
Nieces and nephews
Great nieces and great nephews
Funeral services will be held Wednesday, November 5, 2014, at 10:00 am from the Bernard J. Piontek Funeral Home Inc., 204 Main Street, Duryea with Mass of Christian Burial at 10:30 am in Holy Rosary Church, Duryea with the Rev. Andrew Sinnott officiating. Interment will be in Holy Rosary Cemetery, Duryea. Friends may call Tuesday 6:00 pm to 8:00 pm at the funeral home. To leave the family an online condolence, please visit the funeral homes webite: www.piontekfuneralhome.com.
Guestbook Entries
Eddie & Jimmy, I am so sorry to hear about your mothers death. Aunt Janet was a very special lady. I have many fond memories of our times at the lake with your family. She is now in heaven with my parents and the rest of the aunts and uncles who have passes into our Lords hands. I Just returned today from a mission trip in Jamaica and will not be able to attend the funeral. I will keep her, you and your families in my prayers.

Christine V. Ullmann

(almost 5 years ago)
Eddie & Jimmy, so very sorry to hear about Aunt Janet and very sad we are unable to make it back to Pa. I will always remember the great times at the lake when we would come back to Pa as kids and the baseball cards she always got for me and my brothers. She's now resting in the hands of Gods with my Dad and the rest of the family. God Bless and comfort you during this time.

Stanley Kilyanek

(almost 5 years ago)
Dear Eddie and Family, Please accept my sincerest condolences on your Mom's passing. My Mom and Janet worked together at Topps. My Mom passed in March of 2013. I am sure with the other friends they had that passed they are all making Bazooka gum upstairs! I graduated with you from PAHS and remember you also. Once again, i am sorry for your loss.

Ellen Scatena

(almost 5 years ago)
Sign the Guestbook