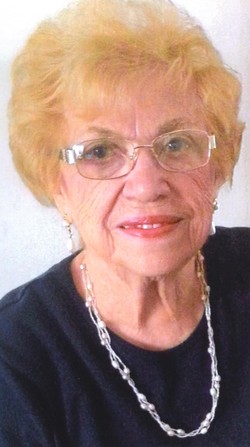 Mrs. Irene M. Kosik, 86, of Dupont, passed away Sunday, March 6, 2022, at Regional Hospital of Scranton.
Born in Duryea, she was the daughter of the late Martin and Anna Pavlisko Dunay and was a graduate of Duryea High School and Empire Beauty School. Prior to her retirement, she was employed by the Pittston Area School District.
She was a member of St. John the Evangelist Church, Pittston. Irene was a loving mother and BABA. She enjoyed spending time with her great grandchildren, cooking and sewing.
She was preceded in death by her husband, Michael E. Kosik, who passed away on January 19, 2016, daughters, Ann Marie Susan Kosik, who passed away on March 26, 1999 and Debra Ann Nesgoda, who passed away on November 18, 2007, brothers, Joseph, Albert, Michael, Martin and Paul Dunay and sisters, Mary Dunay,Theresa Macuga, Pauline Vitek, Ruth Pernot, Ann Breig and Veronica Reese.
Surviving are: Son, Michael Kosik and his wife, Maureen, of Pittston
Granddaughter, Heather Pesotini and her husband, Ronald, of Dupont
Grandson, Richard Nesgoda and his wife, Nicole, of Kingston
Great granddaughters, Piper and Payge Pesotini
Great granddaughters, Sophia and Amelia Nesgoda
Brother, Joseph Dunay of Enola
Sister, Helen Champi of Duryea
Son in law, Richard Nesgoda of Pittston Township
Nieces and nephews
Funeral services and interment will be held on Friday, March 11, 2022, at 10:30 am in St. John's Cemetery, Duryea by the Rev. Joseph Elston. There will be no viewing. Arrangements are by the Bernard J. Piontek Funeral Home Inc., 204 Main Street, Duryea. To leave an online condolence for Irene's family, please visit the funeral home website, www.piontekfuneralhome.com.
PLEASE NOTE: YOUR ONLINE CONDOLENCE WILL NOT APPEAR UNDER THE GUESTBOOK ENTRIES UNTIL IT IS APPROVED BY THE FUNERAL HOME
Guestbook Entries
Deepest condolences to the family.

Steve Farruggia Sr

(5 months ago)
Sorry For your loss I will pray for her and your family

Larry Walsh

(5 months ago)
My deepest sympathy to the family. Irene was such a wonderful woman. I have the best memories growing up of her and Mike ("hey cuz). Always smiles and laughs. I will truly miss her.

Sharon Kridlo-Tonte

(5 months ago)
so sorry for your loss Irene was a good friend

dave komar

(5 months ago)
Thoughts and prayers are with you at your time of grief. So very grateful to have celebrated with her.

Meghan A. Limongelli

(5 months ago)
To the family, so very sorry for your loss, may she test in peace

Robin Pesotini

(5 months ago)
Irene and Mike were very special people. I met them thru Anne Marie known as Dolly at O Z Gedney where she worked. I used to go and work there every 6 weeks or so. They welcomed me into their home and treated me like family. I also met thei daughter Debra and their granddaughter. All were and are very special people. There are not enough words to tell you how sorry I am for your loss of Irene. She really was an angel in discuise. My prayers and loving thoughts are with your family Friday. I am having a procedure on my eye Friday o I would have been there. Fly high my very dear friend until we meet again.

Millie Perry

(5 months ago)
So sorry for your loss.

Andrew & Janet Kosik

(5 months ago)
So sorry for your loss God Bless

Lorrie Slatky

(5 months ago)
God be with you.

John pliska

(5 months ago)
A wonderful woman ,who will be missed by all

Marylou Fereck

(5 months ago)
Condolences to Irene's family on the loss of the head and heart of their family. Irene and Mike will always be remembered as two people who gave of their selves to others all of their lives. Will remember Irene in our prayers.

Regina and Jack Lukasik

(5 months ago)
Sign the Guestbook