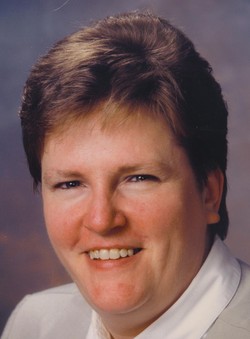 Hazel Richards, 67, of Pittston, passed away Saturday, August 22, 2020, at Geisinger Wyoming Valley Medical Center, Plains Township.
Born in Carbondale, she was the daughter of the late Donald and Martha Jane McMahon Benton and was a graduate of Wyoming Area High School and McCann School of Business. Prior to her retirement, Hazel was employed by the former Bon Ton, Wyoming.
Hazel was a loving and cherished mother, grandmother, sister, aunt and friend. She had a loving and special bond with the light of her life, her grandson and best friend, Sean. The bond was formed from the minute he was born twelve years ago and has only gotten stronger through the years. They enjoyed all the time they spent together, especially their Friday night movie sleep overs.
She was preceded in death by her sister, Pam Stolarski.
Surviving are:
Son, Michael Richards and his fiancee, Amy Velehoski, of Pittston Township
Son, Eric Richards and his wife, Crystalyn, of Pittston
Grandson, Sean Donal Richards of Pittston
Brother, Donald Benton and his wife, Joann, of Exeter
Sister, Beverly Quinn and her husband, Ronald, of Pittston
Sister, Cheryl Urbanovich and her husband, Joseph, of Clark, New Jersey
Brother in law, Jim Stolarski of West Wyoming
Nieces and nephews
Great nieces and great nephews
A viewing will be held on Wednesday, August 26, 2020, from 10:00 am to 11:00 am at the Bernard J. Piontek Funeral Home Inc., 204 Main Street, Duryea. Funeral services will immediately follow in Mt. Olivet Cemetery, Carverton by the Rev. Sharon Dietz. In lieu of flowers, memorial contributions may be made to Susan G. Komen Northeastern Pennsylvania, 150 Adams Ave., Scranton, PA 18503. To leave an online condolence for Hazel's family, please visit the funeral home website, www.piontekfuneralhome.com.
PLEASE NOTE: YOUR ONLINE CONDOLENCE WILL NOT APPEAR UNDER THE GUESTBOOK ENTRIES UNTIL IT IS APPROVED BY THE FUNERAL HOME
Guestbook Entries
My Deepest Sympathies May your Memories of Hazel keep her in your Hearts! Eternal Rest grant unto Hazel Oh Lord and may Perpetual Light Shine upon her

Mary Lynn Kutzer Murray

(25 days ago)
Eric, I'm so sorry for your loss. Prayers from my family to yours.

Henry Concepcion

(25 days ago)
Benton and Richards Families, Heaven has gained another angel. You are all in our thoughts and prayers. We are so sorry for your loss.

Debbie and Bob Hetro

(26 days ago)
My prayers and condolences to all. May you always keep all you joyous memories in your heart to get you through the sorrow of your loss.

Gene Shinal

(26 days ago)
I'm so sorry for your loss Eric! My condolences go out to you and your family!!!

John Mooney

(26 days ago)
Sincere condolences to all. I won't be able to make it,but you will be in my prayers.

Barb Pushinaitis

(26 days ago)
Eric and Crystal, I am so sorry for your loss..Prayers to you Seanie-Your grandma will be in your heart always

The Altmann family

(26 days ago)
Dear Eric, Crystalyn, Sean and Family - Our sadden hearts are definitely with you. Hazel was definitely a great mom and grandmother. She beamed with love and joy when she had her Friday sleepovers with Sean. She loved everyone so much. We were honored to have met and became friends years ago. She will be missed but never forgotten.

Paul and Mimi Sabol

(26 days ago)
Eric, Crystalyn, Sean and Family - you are all in our thoughts and prayers. Hazel was an amazing person. We have nothing but wonderful memories of her. We always enjoyed being with her at all the "life events" of the Richards, Innella, and Sarcinella families. Rest in Peace.

Peter and Rita Janson

(26 days ago)
I am so sorry for your loss. She as well as your family are in my thoughts and prayers.

Frances Randazzo (Momma Fran)

(27 days ago)
So sorry for your loss

Marie Riccardi

(27 days ago)
Aunt Hazle, thank you so much for being there for me when a lot of people couldn't be. You taught me that it is okay to have emotion and to never let anyone take away from me. I love you so much and know I can say you are in a better place now, because you are in the loving arms of Nina

JerMichael Bunch

(27 days ago)
Sign the Guestbook