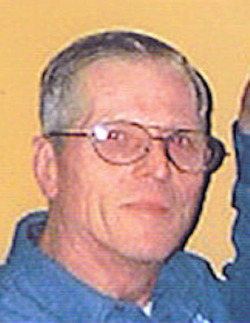 Mr. Gerald John Mikovitch, 69, of Scarnton, passed away Sunday, March 12, 2017, at Hospice of the Sacred Heart, Dunmore.
Born in Duryea, he was the son of the late John and Mary Haberek Mikovitch. He graduated from Northeast High School in 1965. He served in the United States Army during the Vietnam War and was the recipient of a Purple Heart. After serving his country honorably, he worked for the former Dietzer Kitchens and then in construction for many years. He recently retired from NEPA Auctions, Scranton.
He was a member of the American Legion Post 585, Duryea.
Surviving are:
Son, Gerald Mikovitch, Canada
Granddaughter, Grace Mikovitch, Canada
Grandson, Kevin Mikovitch, Canada
Sister, Helen Duszak and her husband, Peter, of Duryea
Sister, Elaine Gamble and her husband, John, of Duryea
Nieces and nephews
Best friend and devoted caregiver, Barbara Michalowski of Scranton
His favorite dog, Zera
He will be greatly missed by all who knew him.
A Mass of Christian Burial will be held on Saturday, March 18, 2017, at 10:30 am in Holy Rosary Church, 127 Stephenson Street, Duryea. Interment will be in St. John's Cemetery, Duryea. There will be no viewing. The AMVETS Honor Guard of Greater Pittston will conduct military services on Saturday morning. Arrangements are by the Bernard J. Piontek Funeral Home Inc., 204 Main Street, Duryea. To leave the family an online condolence, please visit the funeral home website, www.piontekfuneralhome.com.
PLEASE NOTE: YOUR ONLINE CONDOLENCE WILL NOT APPEAR UNDER THE GUESTBOOK ENTRIES UNTIL IT IS APPROVED BY THE FUNERAL HOME
Guestbook Entries
Me and my whole family are so very sorry for your loss, we send our prayers, I was searching for my family ( all of you) Haberek family because of our family history . my sincerest condolences and thoughts and prayers are with all of the family at this time .

Patricia Lee

(over 5 years ago)
Jerry was a friend of mine for 50 years Rip buddy

Jimmy mcandrew

(over 5 years ago)
Jerry was a friend of mine for over 50 years Rip Buddy

Jimmy Mcandrew

(over 5 years ago)
So sorry for your loss. May he rest in peace.

Lisa Weitz

(over 5 years ago)
So sorry for your loss, may he be in peace with the Lord. Sending prayers your way that you will be able to get through this loss.

John and Gyl Mikovitch

(over 5 years ago)
Dear Helen and Elaine, We are very sorry for your loss. Our prayers are sent to console you in your time of need. May he rest in peace.

Joe and Betty Mihalka

(over 5 years ago)
So sorry for your loss, Gerald was a great neighbor and friend for many years. He will be missed

The Holden Family

(over 5 years ago)
Dear Elaine / famiy and Helen Marie/family We are sorry for the loss of your brother. Keeping you all in thoughts and prayers.

Rich,Missy, LauraAnn and Emma Ann Bednar.

(over 5 years ago)
R.I.P. Gerald, all of my prayers are with you and your family at this time.

Mary McAndrew

(over 5 years ago)
Sign the Guestbook