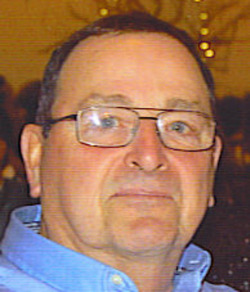 Mr. George A. Charnogursky, 69, of Duryea, passed away Tuesday, July 5, 2016, at Geisinger Wyoming Valley Medical Center, Plains Township.
Born in Scranton, he was the son of the late George and Mary Puchalski Charnogursky. He was a graduate of South Catholic High School, Scranton and Johnson Technical Institute, Scranton. He served in the United States Navy during Vietnam.  He was formerly employed by the Carpenters Union Local 645, Scranton. He was currently employed by PennDot.
He was a member of Nativity of Our Lord Parish, Duryea.
He was a loving husband, father and grandfather. He enjoyed fishing with his son, woodworking and traveling.
He was a member of the American Legion Post 585, Duryea and the Seabees Veterans of America Island 4, Dickson City.

Surviving are his wife of 42 years, the former Carol Zareski.
Daughter, Lori Rinehimer and her husband, Larry, of Wapwallopen
Son, Glenn Charnogursky and his wife, Lori, of Falls
Granddaughter, Lily Rinehimer of Wapallopen
Brother, Stephen Charnogursky of Greenwood
Sister, Ann Marie Charnogursky of Moosic
Nephew, Jared Lutkowski of Moosic
Cousins
Funeral will be held on Saturday, July 9, 2016, at 10:00 am from the Bernard J. Piontek Funeral Home Inc., 204 Main Street, Duryea with the Mass of Christian Burial at 10:30 am in Holy Rosary Church, 127 Stephenson Street, Duryea. Interment will be in St. Joseph's Cemetery, Duryea. Friends may call Friday from 4:00 pm to 7:00 pm at the funeral home. The Seabees Veterans of America Island 4 will conduct services on Friday at 6:00 pm. The Dupont AMVETS will conduct military services on Saturday morning. To leave the family an online condolence, please visit the funeral home visit, www.piontekfuneralhome.com. In lieu of flowers, memorial contributions may be made to St. Joseph's Center, 2010 Adams Ave., Scranton, PA 18509 or the Little Sisters of the Poor, 2500 Adams Ave., Scranton, PA 18509.
PLEASE NOTE: YOUR ONLINE CONDOLENCE WILL NOT APPEAR UNDER THE GUESTBOOK ENTRIES UNTIL IT IS APPROVED BY THE FUNERAL HOME
Guestbook Entries
Our whole family is very sorry for your loss. We will be praying for the Family of George Charnogursky.

David and Charlene Maroni

(almost 4 years ago)
We are very sorry for your loss and will be praying for your whole Family.

To the Charnogursky Family

(almost 4 years ago)
Carol,Loriann,Glenn&your family.I am sorry to hear about the loss of your dad & husband.My deepest sympathy goes out to you and your family.

Lori Thubbron& family

(almost 4 years ago)
A person that departs from this earth never truly leaves, for they are still alive in our hearts and minds, through us, they live on. Please accept our condolences, George will not be forgotten. our condolences, he/she will not be forgotten.

Chilson family

(almost 4 years ago)
I am saddened to hear about George's passing. He truly had a lot to live for but I guess our Lord had something bigger in mind for him. May he rest in peace.

Beverly Gandara

(almost 4 years ago)
My deepest sympathy goes out to you and your family

Eleanor Magowan

(almost 4 years ago)
I'm so sorry to hear about your husband. May Jesus be near you during your time of sorrow. I will keep you in my prayers.

Ruth Reed

(almost 4 years ago)
Sign the Guestbook