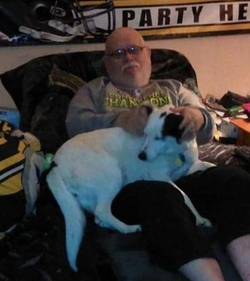 Mr. Franklin (Frank) Micnicoski, 68, of Exeter, pasased away Wednesday, June 17, 2020, at his home.
Born in Taylor, he was the son of Frank and Stella Wasik Micnicoski. He was a graduate of Pittston Area High School, Luzerne County Community College and Kings College. Prior to his retirement, Frank was employed by the former Sugarman's in Eynon and Wilkes Barre for over 20 years and also the former Levy's Bakery, Duryea.
Frank was a member of St. Barbara's Parish, Exeter.
Frank enjoyed watching the birds in his bird feeder in the yard, grilling, cheesy movies on Sci Fi, the Steelers, Orioles, Celtics and Ohio State. He was the former president and coach for the Exeter Little League, former District 16 treasurer of the Little League, and former president and coach of the Exeter Panthers Mini Football.
He was preceded in death by his brother, Thomas Micnicoski and sisters, Christina Jordan and Frances Grochal.
Surviving are his wife, the former Shirley Michaels
Son, Paul Micnicoski at home
Son, Justin Micnicoski at home
His nieces and nephew that he thought of as his own children, Sherri Cupplo, Justine Cupplo and Joseph Grochal
Great nieces, Emma and Olivia Grochal
Loving furry companions, Chloe, Baby and Mr. Kitty
A Mass of Christian Burial will be held on Wednesday, June 24, 2020, at 10:00 am in St. Barbara's Parish, 28 Memorial Street, Exeter with the Rev. Michael Finn officiating. A viewing will be at the church from 9:00 am until the services. A celebration of his life will be held at a later date. Arrangements are by the Bernard J. Piontek Funeral Home Inc., 204 Main Street, Duryea. To leave an online condolence for Frank's family, please visit the funeral home website, www.piontekfuneralhome.com.
PLEASE NOTE: YOUR ONLINE CONDOLENCE WILL NOT APPEAR UNDER THE GUESTBOOK ENTRIES UNTIL IT IS APPROVED BY THE FUNERAL HOME
Guestbook Entries
I'm so sorry about your loss. May he rest in peace

Jennifer Kowatch

(19 days ago)
Prayers Shirley to you and your family, my thoughts with Frank tomorrow. I know he'll stiil be cheering on his teams in Heaven ! God bless.

Marianne McTague

(20 days ago)
Remembering the days we played as kids in the field near Foote Ave and our nights working together as teens at Levy's Bakery. Old friendships fade but never die. Rest peacefully Butchie.

Thomas McHugh

(20 days ago)
My deepest sympathy on the loss of your dear husband, Frank. God bless you and your family during this difficult time.

Karen McKena

(21 days ago)
Shirley and family. Sorry for your loss. May the memories you hold close to your heart help to console you in the days ahead. He will remain always in our prayers.

Mary & Andy Hetro & family

(21 days ago)
Shirley so sorry for your loss! Thoughts and prayers for you and family!

Darcy Grande

(22 days ago)
Sorry for your loss. You are in my prayers.

Ann Sweeney

(22 days ago)
So sorry for your loss prayers love and hugs

Barbara Whitman

(22 days ago)
Sorry for your loss

Regina Hanson

(23 days ago)
So very sorry Shirley!

Phyllis Fayocavitz

(23 days ago)
So sorry for your loss! Prayers !

Joyce Hunte

(23 days ago)
A good man and a good friend for almost 50 years. My condolences to the family. God be with you all at this time.

Wally Sullivan

(23 days ago)
I am so deeply sorry for your loss my thought and prayers are with you and your family

Anne Thomas

(23 days ago)
Sign the Guestbook