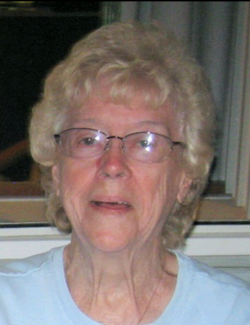 Mrs. Evelyn M. Marsh, 85, of Avoca, passed away Sunday, April 30, 2017, at Linwood Nursing and Rehabilitation Center, Scranton.
Born in Old Forge, she was the daughter of the late George and Melinda Chapman James. She was a graduate of Old Forge High School. She was formerly employed by St. John the Baptist School and Rectory, Maxson and retired from Pride Mobility. She also worked with her husband, William, at Bill Marsh Custom Signs.
She was a member of Nativity of Our Lord Parish, Duryea.
She was a loving mother, grandmother and great grandmother. She was a strong woman having raised her five children on her own after her husband passed away. She was an avid bowler and belonged to the ladies league at Modern Lanes, Exeter. She was a co-founder of the Avoca Public Library and was a member of the Avoca Women's Club.
She was preceded in death by her husband, William S. Marsh, sisters, Mae Billings, Ruth Christy and Harriet Morris and brother, George James.
Surviving are:
Daughter, Linda Halagarda and her husband, Gary, of Avoca
Son, Jerry Marsh and his wife, Karen, of Duryea
Son, Steve Marsh and his wife, Renee, of Hunlock Creek
Son, Billy Marsh and his fiancee,Lisa Megni of Duryea
Daughter, Marilyn Hulse and her husband, Jerry, of Duryea
10 grandchildren:
Grandson, Collin Halagarda
Granddaughter, Hailey Halagarda
Grandson, Jordan Marsh
Grandson, Matt Marsh
Grandson, James Marsh
Granddaughter, Megan Bartoli
Granddaughter, Marissa Marsh
Granddaughter, Nicole Marsh
Grandson, Jerry Hulse
Granddaughter, Tiffany Copp
3 Great grandchildren:
Great granddaughter, Makayla Marsh
Great granddaughter, Kylie Burke
Great grandson, Jake Hulse
Brother, Fred James of Old Forge
Sister, Pat Guzzy and her husband, John, of Avoca
Nieces and nephews
Funeral will be held Thursday, May 4, 2017, at 9:00 am from the Bernard J. Piontek Funeral Home Inc., 204 Main Street, Duryea with the Mass of Christian Burial at 9:30 am in Holy Rosary Church, 127 Stephenson Street, Duryea. Interment will be in St. John the Baptist Cemetery, Exeter. Friends may call Wednesday from 5:00 pm to 8:00 pm at the funeral home. If desired, memorial contributions may be made to the Avoca Ambulance or the Avoca Fire Department, 740 Main Street, Avoca, PA 18641. To leave the family an online condolence, please visit the funeral home website, www.piontekfuneralhome.com.
PLEASE NOTE: YOUR ONLINE CONDOLENCE WILL NOT APPEAR UNDER THE GUESTBOOK ENTRIES UNTIL IT IS APPROVED BY THE FUNERAL HOME
Guestbook Entries
Jerry and Steve. So sorry to hear about the loss of your mother. Our thoughts and prayers are with you and your families. Gene McKitish and family.

Gene McKitish

(over 5 years ago)
Very sorry to hear of your passing.

Amanda and Christopher Morris

(over 5 years ago)
Dear Linda and family, we send our sincere sympathy for your loss. Your mom was a beautiful, wonderful woman and we are all better people for having known her. My mom was 85 also when we lost her. Thinking of you on your very sad journey.

Cathy Torchia

(over 5 years ago)
Steve, sorry that your mom lost her battle. I know first hand your love and devotion to your mom. My deepest sympathy to you and your family.

Frances French

(over 5 years ago)
Jerry so sorry about your Mom Prayers are with you and your family

Anne McDonnel

(over 5 years ago)
Linda and family, so sorry for your loss.

Audra Kaspriski Clark

(over 5 years ago)
Marilyn, so sorry about your Mom. She was a wonderful person

Lisa Mullen

(over 5 years ago)
Our thoughts and prayers are with all of you at this time. There are many memories

Kathy James

(over 5 years ago)
My condolences on your loss. Aunt Evelyn is part of many fond memories from my childhood through our family's explosion of marriages, grandkids, celebrations, and unfortunately losses. I have missed her these past years since her illness, and will surely miss her anew when I think of my mother and their closeness. They were friends as well as sisters, and how fortunate to have had each other.

Diana Roberts

(over 5 years ago)
Sign the Guestbook