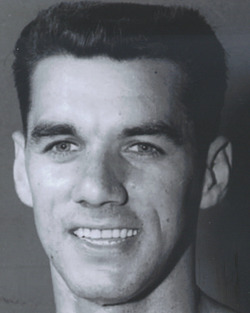 Mr. Eugene (Big Gene) Michael Guarilia, 79, of Duryea passed away Sunday, November 20, 2016, at his home.
Born in Duryea, he was the son of the late Michael Guarilia and Helen Kashuda Guarilia Collura. He was a graduate of Duryea High School, Potomac State College, West Virginia and George Washington University, Washington, DC.
Eugene played professional basketball # 20 for the Boston Celtics from 1959 to 1963 and won four world championships during this time. Prior to his retirement, he was employed by the Pittston Area School District as a teacher.
He was a member of Nativity of Our Lord Parish, Duryea
He was a loving husband, father, grandfather, friend, teacher, coach and musician. For many years he was a bass player in the Heartbeats, Sidestreet and the Cadillacs.
He was preceded in death by his two brothers, Gerald and Joseph.
He and his wife the former Elizabeth Knowles celebrated their 56th wedding anniversary this past December 31st.
Surviving in addition to his wife are:
Son, Michael
Son, David and his wife, Charlene
Daughter, Marlene
Grandchildren, Bethany, Andrew and Megan
Aunts, uncles, cousins, nieces and nephews
A Mass of Christian Burial will be held on Wednesday, November 23, 2016, at 12:00 pm in Holy Rosary Church, 127 Stephenson Street, Duryea. A viewing will be held on Tuesday from 4:00 pm to 8:00 pm at the Bernard J. Piontek Funeral Home Inc., 204 Main Street, Duryea. Family and friends are asked to go directly to the church the morning of the funeral. Interment will be in St. Joseph's Cemetery, Duryea. To leave the family an online condolence, please visit the funeral home website, www.piontekfuneralhome.com.
PLEASE NOTE: YOUR ONLINE CONDOLENCE WILL NOT APPEAR UNDER THE GUESTBOOK ENTRIES UNTIL IT IS APPROVED BY THE FUNERAL HOME
Guestbook Entries
Our condolences to Gene's family. He was an amazing, kind and generous person who will truly be missed by many. May he rest in peace.

Frank and Lorraine Haduck

(over 3 years ago)
To the Guarilia Family, our sincerest condolences. Coach was the Ultimate teacher who expected excellence and gave us all many life lessons that carried throughout all of our life's journeys. Gene's spirit and presence will live on always. Keep on Rockin, and may he Rest In Peace.

1978 Pittston Area District 2 Championship Team

(over 3 years ago)
To my friend and colleague Big Gene,I will always have warm memories of you. Rest in peace my friend. You touched a lot of lives. My heartfelt condolences to all the family

Fred licata

(over 3 years ago)
Gene played for a great dynasty. Lackawanna County has lost a true giant.

Richard McHugh

(over 3 years ago)
RIP. My dad, the late Stanley Modeski, Duryea High School, class of 1957, and member of the high school basketball team often talked of him.

Michael Modeski

(over 3 years ago)
Liz & family, Gene was a grrreat person...He will be dearly missed...Gene and your whole family are in my prayers & thoughts...And the band played on...

Rita Skechus

(over 3 years ago)
Our thoughts and condolences are with Elizabeth, Dave and the rest of the Family, Gene was a awesome man, he's looking over all of you, R.I.P. , God be with you all Dennis & Rose Ann

Dennis V & Rose Ann Rink

(over 3 years ago)
Marlene and Family, Sorry for your loss, keeping you in prayer.

Tammy Mclaughlin Sapack

(over 3 years ago)
Dave, my sincere condolences to you & your family. Remember all your father's highlights that will get you through your sorrow!

JIm Snyder

(over 3 years ago)
Played vs. coach and Pittston Area for Riverside in 60s. Very close and exciting games. Brings back many memories. Rest in peace coach and condolences to the entire family

joe lukas

(over 3 years ago)
Our thoughts and condolences are with Elizabeth, Dave and the rest of the Family, Gene was a awesome man, he's looking over all of you, R.I.P. , God be with you all Dennis & Rose Ann

Dennis V & Rose Ann Rink

(over 3 years ago)
Mr. G was loved by so many as a teacher , musician and all around great guy. My life was changed forever just by knowing him. He will always have a special place in my heart. My sincere sympathies to his family. He will forever be in our hearts.

Sandy Nat (Skoranski)

(over 3 years ago)
My condolences to the family. He was a great substitute teacher and nice person.

Rosemary Urban

(over 3 years ago)
Coach: Only triple doubles in heaven. Thanks for everything.

Tony Kleynowski

(over 3 years ago)
David, It is with heartfelt sadness to hear the loss of your father. My thoughts and prayers are with you and your family at this difficult time.

Marian Sapolis Serafin

(over 3 years ago)
A great man with an impressive life.

Jesse Palinkas

(over 3 years ago)
May God be with all who mourn Gene's passing. He was indeed a wonderful teacher, coach, athlete and friend. I don't think I have ever seen him without a smile.

Bill Brodbeck

(over 3 years ago)
I had the the true pleasure and torture of playing against Gene and playing against his Pittston Area team in 1970 and at Weston Field Association league for years. I was in my prime and Gene was 14 years older. Gene was terrifying on the court and as we were the same height we would match up against each other. He must have knocked me to the ground 50 times in our meetings. He would laugh at me and always said get up Flip, your slacking off. After the games in the locker room he would always come over and give me little tips on my play. Gene was a great man with super high intensity. To me, he was one of the greatest players to come out of NEPA. He will be on Gods team now! You are in my prefer BIG GUY.

Bill "Flip" Fleming

(over 3 years ago)
Rest in Peace to an awesome man and a awesome teacher. God Bless Mr. G!!!!

Bryan Steransky

(over 3 years ago)
An exceptional man, my thoughts and prayers for your family. May you rest in peace.

Lewis Evans

(over 3 years ago)
Rest in peace Mr Guarilia. Our thoughts and prayers are with your family.

Steve and Kay (McAndrew) Shamnoski

(over 3 years ago)
Our deepest condolences. Rest In Peace Gene.

Louise & Robert Bergamino

(over 3 years ago)
To one of our best friends and happy to say, "You were our best friends, alot of great memories and may our condolences be with your wonderful family and may you R.I.P.

Mr. & Mrs. Thomas McAndrew

(over 3 years ago)
We are very saddened to hear about gene passing he was a very talented. Man and will be missed by many may the good lord open the gates and rejoice him with open armes you will be very well missed RIP gene

roxann and Paul Reap

(over 3 years ago)
He was an awesome substitute teacher!?! Sorry for your lost of such a great guy.

Erika Wolfe

(over 3 years ago)
My sincerest thoughts and prayers to you. I have nothing but fond memories of Mr. Guarilia from my high school days.

Lee Ann Ostrowski

(over 3 years ago)
So sorry for your loss. He was a great guy. May he Rest in Peace.

Denise Gosse-Crolly

(over 3 years ago)
Rest in Peace, Gene. My thoughts and prayer to your family.

Lynn Girman

(over 3 years ago)
Marlene and Family I am so sorry for your loss.Your Dad was a wonderful person.

Patti Clifford Bartuska

(over 3 years ago)
My sympathy to the family. Mr Guarilia was a kind & good natured man, whose life touched many other's lives . I'm glad I got to visit with him a few weeks ago. I will remember him fondly.

Cindi Farrell

(over 3 years ago)
So very sorry for your loss. Mr. G always encouraged his students.

Betty Tinklepaugh Onions

(over 3 years ago)
Many years ago Gene and I played one on one. He LET me score 2 points...I was on top of the world. He was a character with a kind soul. RIP

Bill Hannon

(over 3 years ago)
So sorry for your loss.He was a great man. May he rest in peace

Donna Marie Padrazas

(over 3 years ago)
To the family of Gene , We are very sorry for your loss. May he rest in peace. He touched many people with his kindness.

Charles and Marie Jasnoski

(over 3 years ago)
He had an amazing soul that will never be forgotten. I pray his memories always live on in the heart of those he's met. Rest In Peace and may your soul fly high and watch above us all.

Lacey Boswell

(over 3 years ago)
Godd bless, rest in peace, Mr G

Ann Clapps

(over 3 years ago)
You were always an Gentleman and a Scholar. . . may you rest in peace.

Tony Kampas

(over 3 years ago)
So very sorry for your loss......Mr. G was a great friend, teacher and an all around person. Heaven gained another angel when God called him to to his heavenly home. You will be missed.....Rest in Peace Mr. G.

Betsy Craig and Family

(over 3 years ago)
Many good times with a great man. My condolences to the Guarilia family.

Jesse George

(over 3 years ago)
My memories of Gene go back to his Duryea High School basketball days and the countless hours on the courts on Swetland St. Riding around in his black Cadillac with the Celtic license was a memory that I still treasure today. He never forgot his Duryea roots , was always" one of the guys", and I will remember him with great admiration and fondness. Bernie Stiroh

Bernie Stiroh

(over 3 years ago)
Our thoughts and prayers are with you

Joseph and Nancy timlin

(over 3 years ago)
Great man, best coach I had. God bless and Rest In Peace.

Dr Joseph Stella

(over 3 years ago)
I'm so very sorry for your loss, He was a great man, teacher and a legend , in music and sports, please accept my condolences and prayers

MaryPat Dessoye

(over 3 years ago)
a great guy may he rest in peace

dwayne france

(over 3 years ago)
To a great person that many people looked up to and admired,it was a privilege to know and learn from you all those years ago. May you rest in peace.

Joe Parente ( Atwell Western Australia)

(over 3 years ago)
Thoughts and prayers for the entire family. Heaven gained a great angel today. You were a great man. RIP. Class of 1981.

Kelly Gowran Steiner

(over 3 years ago)
One of the all time best ! Great teacher, tremendous wit, great communicator. You will truly be missed.

Joseph Zerblas

(over 3 years ago)
Mr. G was one of the greatest teachers I ever had and I had so much respect for him as a educator and athlete as well as a musician. May he rest in peace and may God wrap his loving arms around his family at this time. Class of 1985

Eileen (Gilvary) Bailey

(over 3 years ago)
Big Gene as you know I was proud to be your friend . I will remember you always RIP

Jimmy Collins Jr

(over 3 years ago)
So sorry to hear of Gene's passing. My sympathy to all of you.

Jean E gidio

(over 3 years ago)
My condolences to the family on their loss; truly a fine man. May he rest in peace.

Cheryl Lampman Nowak

(over 3 years ago)
Prayers for the family, Mr. G was one of my favorite teachers, I'm sure heaven has gained a wonderful man. Rest in peace Mr. G

Kelly Gilroy

(over 3 years ago)
We thought that it was "so cool " that our gym/health sciences teacher and basketball coach to also play bass in rock band . Mr. G was always approachable and willing to lend an ear. My condolences to his family.

Kevin Thompson

(over 3 years ago)
Big Gene Heaven needed you for its team. You heart and dedication to everyone in your life was larger than life . A great coach , mentor, musician all of these describe you, but most importantly you were a great person.

Mark Singer Esq.

(over 3 years ago)
Let music follow you forever.

Barry Rogers

(over 3 years ago)
My condolences to the family.

MaryAnn Sheerer

(over 3 years ago)
Mr. G was the greatest teacher and he will be miss greatly R I P Mr. G

Terry Sherman

(over 3 years ago)
A true "Gentle Giant"... we always knew to respect you but also saw your kind and gentle side. May you Rest In Peace .

Brian Zerblas

(over 3 years ago)
So very sorry for your loss. Will keep you and your family in my thoughts and prayers.

Joanne Rubino Notaro

(over 3 years ago)
RIP "big Gene" you were always a great guy! Condolences to the whole family

Geno Tonte

(over 3 years ago)
Condolences to Gene's family. He was a great mentor, inspiration, and friend to all. Rest In Peace Mr. Guarilia.

Jeffrey Bauman

(over 3 years ago)
MR GUARILIA WAS A WONDERFUL MAN AND A GREAT GYM TEACHER!! ALWAYS VERY KIND TO ME!!even years after i graduated-i am a 1985 pittston area graduate-MR GUARILIA was always very happy to see me whether it was when the cadillacs were playing at a local church picnic or if i saw him anywhere!! WHEN WE DO OUR ST ANNS WALK IN july I ALWAYS SAW HIS NAME ON THE WELCOME TO DURYEA SIGN AND I ASKED HIM TO PRAY FOR US ON THE WALK-NOW HE WILL BE OUR GUARDIAN ANGEL WHEN WE GO THROUGH DURYEA-god bless him he will alweays be remembered by me!!

michael english

(over 3 years ago)
From the first time I meet you in school you had an amazing way of communicating with not just me but everyone around... From seeing you play guitar to coming in the restaurant... Rip... Great man... Say hello to my Pop I'm sure he'll make you some chili...

Dante LaFratte

(over 3 years ago)
I send my sincere sympathy to Mr. Guarilia's family and friends. I know he was loved and admired by many. May he rest in peace! I am part of the PAHS, Class of 1969.

Barbara Grella Atkinson

(over 3 years ago)
Such a wonderful man who was bigger than life itself. He mastered every role that was given to him in this lifetime. You will never be forgotten! Thank you for such wonderful memories!

Al and Donna Michalec

(over 3 years ago)
Mr. Guariglia a man with a heart as big as his smile. May you Rest In Peace. One of the best teachers that leaves an impression for years to follow. Class of 1983

Anne Sobeski

(over 3 years ago)
An awesome man that I was proud to know. From playing darts with my husband to subbing in the Middle School and putting up with my antics. You will be sadly missed. God bless your family. Keep them singing up there Gene.

Kim Rugletic

(over 3 years ago)
Rest in peace Gene Guarilia

Mr. Louis Dominick

(over 3 years ago)
Rock on Gene, Rest in Peace.

Bill Rindos

(over 3 years ago)
Wonderful man. From playing darts with my husband to subbing in Middle School and putting up with my antics. You will be sadly missed. God bless you and your family.

Kim Rugletic

(over 3 years ago)
Proud to have been your friend. You were always a welcomed smile. Sleep with the Angles my friend.

Edward Brominski

(over 3 years ago)
Rip Gene loved to hear u play with the cadillacs

Gary and fran obrien

(over 3 years ago)
Rest easy Mr. Guarilia.

Heather Johnson Loftus

(over 3 years ago)
RIP Gene! You will be greatly missed. My deepest sympathy n prayers to the family.

Sharon Tonte

(over 3 years ago)
May you Rest In Peace...

Rob Pliska

(over 3 years ago)
So sorry, may you rest in peace Gene , will never forget you.

John and Gyl Mikovitch

(over 3 years ago)
You were a great friend, confidant , mentor, teacher, patient and above all else a great friend. You taught me the finer points of how to shoot a basketball. You and my dad, Harold, will be meeting again to tell story of both of you working as pin boys in bowling alley. R.I.P. You will be missed.

Dr. William S.Chromey

(over 3 years ago)
May you sit next to God and be in peace! All our love and thoughts! From your friends at lights

Lights Lounge

(over 3 years ago)
Mr. Guarilia was a wonderful teacher, neighbor, and mentor. I always looked up to you, respected and admire you. Thank you for touching my life. RIP Mr. Guarilia.

Becki Kochanowski Talcott

(over 3 years ago)
Rest in Pease ...great teacher class of 1987

Linda Rydzy-Hoffmann

(over 3 years ago)
A great early childhood friend and cousin

Frank kashuda

(over 3 years ago)
Rest In Peace cousin Gene.

Frank Reese

(over 3 years ago)
God Bless Mr Guarilia. He was a wonderful man. Our thoughts and prayers are with the whole family . May he Rest In Peace.

Tony & Jane Guariglia Family

(over 3 years ago)
Big Gene, you were our neighbor , teacher, musician, family man , but most of all a friend to many. You will be missed Rest Easy

Randy Kochanowski and Family

(over 3 years ago)
An Awesome Guy. May he Rest in Peace

Peter Guitson

(over 3 years ago)
Sign the Guestbook